Upcoming Events

Postponed/Cancelled Events

Past Events
April 20-21, 2023

21-04-2023

April 26-27, 2023

27-04-2023

May 3 - 4, 2023

04-05-2023
Directory of past events
Date

Events Name

View Gallery
A Friendly, Informative, Customer-Focused Conference
Enjoy over 4 hours of guided small group discussions with fellow users on a range of topics including sales, marketing, customizing Zoho, and much more.
Grow your professional network by meeting and interacting with like-minded Zoho users and business leaders from various industries.
Get your specific, in-depth questions answered at a complimentary, half-hour 1-on-1 with technical staff.
Attend 15+ product sessions with Zoho experts to learn about new solutions and get tips on how to get the most from Zoho.
Enjoy an intimate event with a 10-1 employee to attendee ratio so we can have quality conversations and answer all of your questions.
Get a sneak peek at our new products, features, and updates before we share them with the world.
Two Days of Product Sessions,
Breakouts, and 1-on-1s
Day 1
7:30 AM - 9:00 AM

Registration and Breakfast

9:00 AM - 11:00 AM

Keynote

11:15 AM - 12:45 PM

Sessions

12:45 PM - 1:45 PM

Lunch

1:45 PM - 5:15 PM

Sessions

5:15 PM - 6:00 PM

Reception and Networking
Day 2
7:30 AM - 9:00 AM

Breakfast

9:00 AM - 9:30 AM

Keynote

9:30 AM - 12:45 AM

Sessions

12:45 PM - 1:45 PM

Lunch

1:45 PM - 3:15 PM

Sessions

3:15 PM - 3:30 PM

Closing Remarks
The same informative, friendly event in three locations.
April 20 - 21, 2023
Pleasanton, CA
April 26 - 27, 2023
Jersey City, NJ
May 03 - 04, 2023
Austin, TX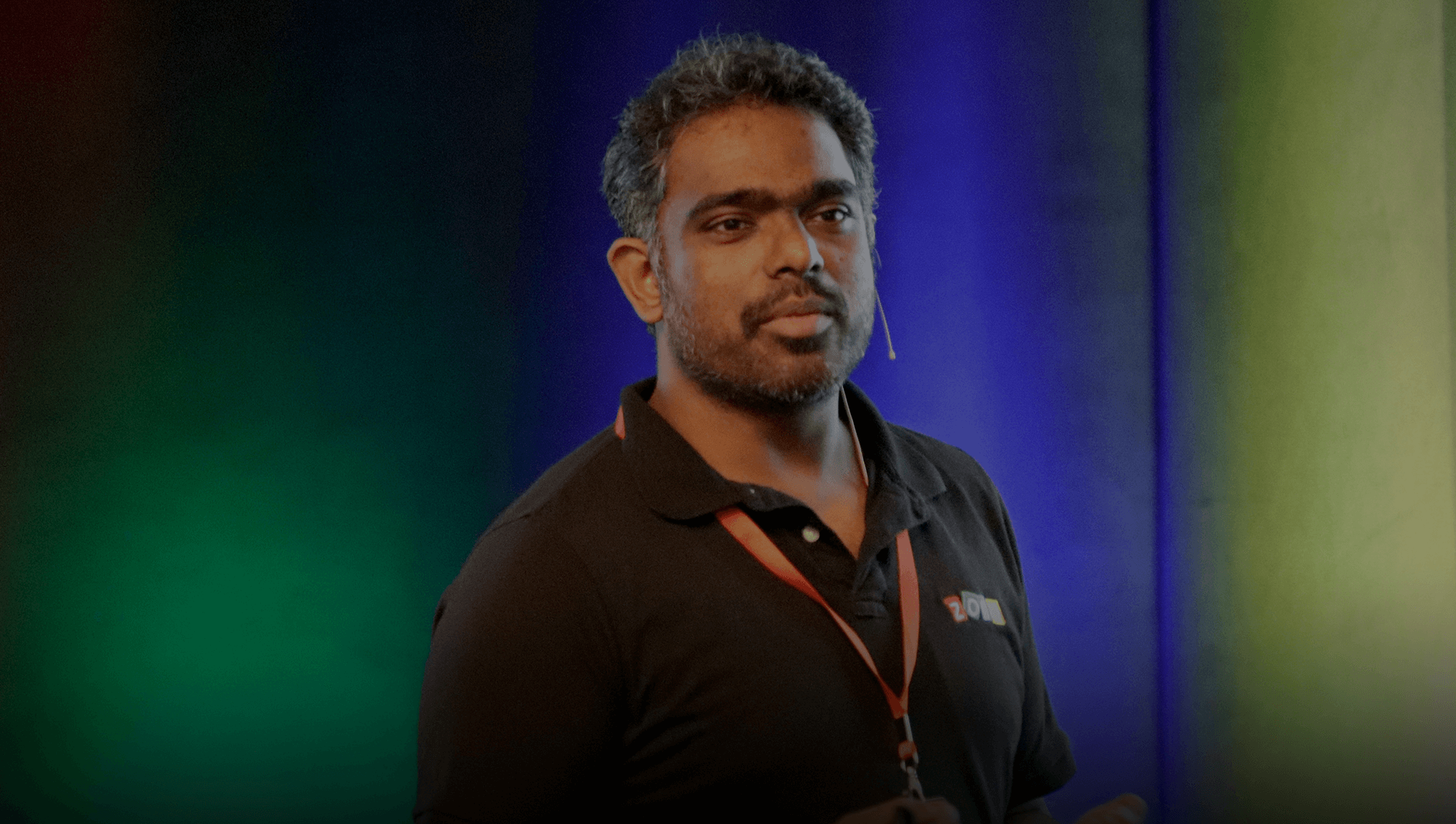 Raju Vegesna, Chief Evangelist
"When people look at our portfolio, they call us crazy. But there is a method behind this madness"
Frequently Asked Questions
What is Zoholics?
Zoholics is Zoho's friendly and informative annual user conference. It is an opportunity to meet our team face-to-face, learn directly from the staff, and meet like-minded customers within the Zoho community.
This year we're taking Zoholics on the road so it's more convenient for you to learn from Zoho staff and customers how to work smarter and grow your business with Zoho. Each event will be limited to 300-400 attendees for a more intimate experience. We look forward to seeing you this year in person!
Who will be there?
Each Zoholics event will have hundreds of Zoho customers and users from the US and Canada. Our customers come from organizations of all sizes and work in lots of industries, so there are always interesting conversations to be had. Plus, our smaller, more intimate events make it easier to meet people.
Speakers at the event will feature Zoho leadership, product experts, and customers. In addition to our speakers, we bring a team of Zoho product experts to give Zoho customers 1-on-1 assistance.
What's the vibe of Zoholics?
Our goal is to make Zoholics the most informative and down-to-earth software conference you've ever been to. We want you to learn a lot, meet lots of people, and have lots of fun.
Each Zoholics will be limited to 300-400 attendees. Our employee to attendee ratio will be 10 to 1 or better so we have time to meet you, learn about your business, and answer all of your questions. Our executives in attendance have speaking sessions, but also hang out for the entire day and are eager to hear from you.
If you are looking for a gargantuan, impersonal conference that features a performance from Ariana Grande and a keynote from the latest New York Times best-selling marketing guru, this will not be the conference for you.
What's new for 2023?
There are two big changes we're making to Zoholics this year:
1. To make Zoholics more engaging and as convenient as possible for you to attend, we're hosting 3 smaller events across the country, rather than one large event in Austin, Texas.
2. For 2023, we have added more than 4 hours of facilitated small group discussions for attendees. Over two days, you will have the opportunity to meet, learn from, and get inspired by fellow Zoho users on a number of topics, including sales, marketing, Zoho customization, and more.
Will there be a virtual component?
Zoholics 2023 will not be streamed. If you can't attend one of our three events this year but want to learn more about our products, we encourage you to check out Zoholics On Demand, our library of pre-recorded Zoholics presentations.
Can you help me convince my boss?
We find that what attendees love about Zoholics is the opportunity to connect with fellow customers and Zoho employees face-to-face in a way they can't always do over the phone or by watching a how-to video. Let your boss know that this is an opportunity to not only learn about Zoho, but to really get involved in the Zoho community and set yourself up with connections you might not make otherwise.
If you want more assistance, email us your situation to us-events@zohocorp.com and we'll get back to you.
What are the vaccination and mask guidelines?
At this time there are no vaccination requirements or mask guidelines at Zoholics events. We will follow all venue requirements, so please check with the venue of the Zoholics event you are considering if you have further questions.
I have a question. Is there someone from the Zoholics team I can contact?