Zia's integration with OpenAI -
An overview
Zoho has added generative AI capabilities to Zia via OpenAI to make your business functions easier. Zia can now create and improvise a variety of content to assist in Sales, Customer Experience, Social Media Management, and much more. To learn all about Zia's AI capabilities and its adaptation across Zoho products, read this article.
Get Started
Help Documentation
Read our user guides to gain in-depth knowledge about Zia's integration with OpenAI and how to use its features.
Videos
Get started on onboarding through our videos, which will help you understand how to leverage Zia's integration with OpenAI and its capabilities in your business.
4:02
OpenAI's Integration with Zoho Cliq
2:00
Ask Zia - Notebook's advanced AI assistant
1:00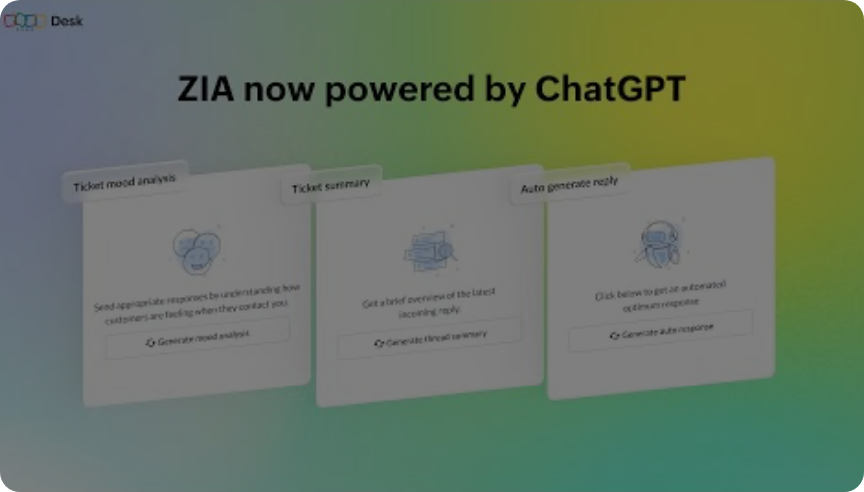 Zia in Zoho Desk, now with Generative AI capabilities
1:32
Remote support with Zia, powered by OpenAI
2.29
Generative AI-assisted analytics, for smart businesses
1:00
Transform by example using the power of generative AI, in Zoho DataPrep
2:08
Content creation now made easy with Zia for Zoho Social
3:35
What's new with the OpenAI integration in Zoho SalesIQ
Frequently asked questions
Find the answers to some commonly asked questions about Zia's integration with OpenAI.
What is Zia's integration with OpenAI?

Zia is Zoho's AI-powered assistant, which was developed to help you get more work done in less time and with greater efficiency. Zia now integrates with OpenAI, which is an AI research and deployment company.

How can my business benefit from Zia's integration with OpenAI?

If you've been using Zoho's suite of business apps, you can benefit from this integration through the automation of some of your business processes. You can now let Zia take care of content creation, respond to customer enquiries, schedule your meetings, and other such activities so you have more time to make your business better.

What are the main features/functionalities of Zia's integration with OpenAI?

Zia's integration with OpenAI comes with generative AI capabilities that can generate a variety of content for emails and social media posts, provide content rephrase suggestions, summarize and identify the tone of content, and much more.

Is Zia's integration with OpenAI free as part of my Zoho subscription?

Zia's integration with OpenAI is available for all Zoho customers who currently have their own key from the OpenAI platform.

To obtain the key:

1. Go to OpenAI Key platform

2. Log in or sign up

3. Click + Create new secret key

4. You can enter a name to identify your secret key

5. Copy the key and click Done