What happens to my data if I cancel my subscription?
If you wish to downgrade from your PAID subscription, the cancellation will come into effect immediately. Although all your data will remain in Zoho Books, you will automatically be prevented from adding or modifying anything.
You can however export your data by going to the respective sections (quotes, invoices, contacts etc) and selecting the export option. Below is a sample screenshot depicting how to export invoices, similar steps may be followed to export any data (quotes, contacts etc) from Zoho Books.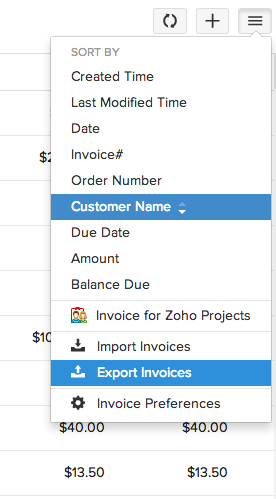 You can always upgrade your subscription anytime to avail of all the features you were working with earlier. However, if you remain inactive for a period of 120 days, your data will be permanently deleted in accordance with our 'Inactive user accounts policy'. Please ensure that you access your account once in 120 days, to keep your data intact.