Zoho Writer

vs pdfFiller
Fillable Document: A comparison
A quick comparison between PDFFiller and Zoho Writer features that allow you to create, edit, manage, and share documents and PDF Forms online.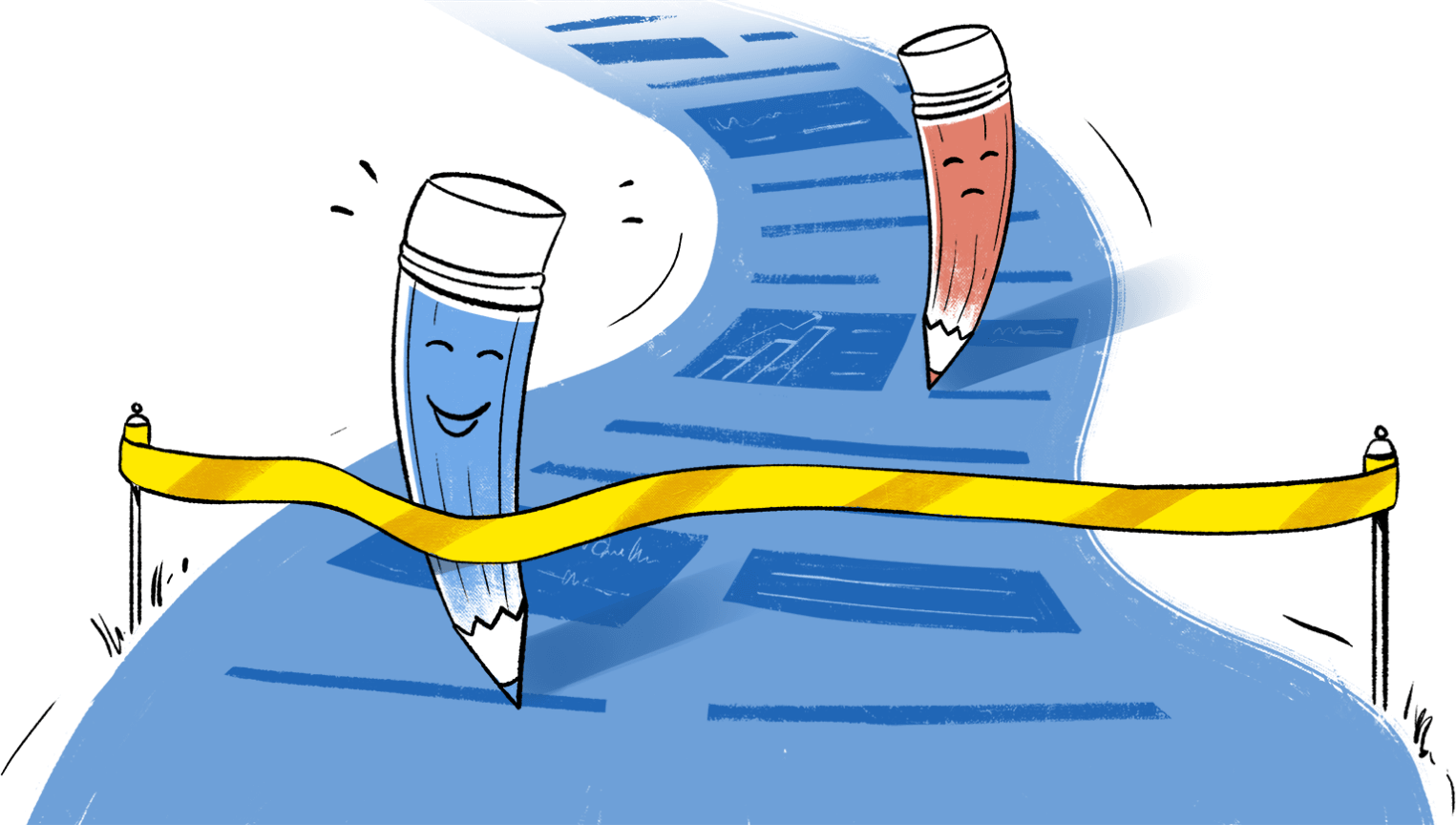 Fillable form creation

When it comes to creating interactive forms, both pdfFiller and Zoho Writer are effective solutions. But when it comes to creating fillable PDF forms, Zoho Writer has the edge, as it offers the capability to create fillable PDFs from scratch, while pdfFiller requires you to start with a static PDF.

Zoho Writer provides powerful editing tools, a smart writing assistant, real-time collaboration and review features, and a document approval workflow. Leverage the collective knowledge of your team to create forms exactly as you need them.

Create PDF forms
(without expensive Adobe software)

Rich form experience with text fields, drop-downs, radio buttons, check boxes, and signature fields.

Add formulas and calculations

Conditional logic to control field visibility

Repurposing PDF forms

Zoho Writer and pdfFiller are almost equally effective at turning existing static PDF forms into interactive and fillable PDF forms. They both allow you to import and edit existing PDF documents, make them interactive, and more.

Turn PDFs into fillable forms
(add your own text, images, links, form fields, etc.)

Transform static PDF into an interactive form

Automatically recognize form fields in PDF
(AI-based field detection)

Prefill data in forms

Reduce turnaround time by prefilling available data when sending forms for data and signature collection. Zoho Writer's fillable and pdfFillable are almost even when it comes to enhancing user experience and accelerating form filling by auto-populating available data.

Create pre-filled form from various data sources

Automatically generate pre-filled URLs in bulk

Post-submit actions

Execute specific actions that suits your business workflow on submit of these forms. Though payment collection is not supported by Zoho Writer's fillable, it certainly has an edge over pdfFiller with a range of automatically executing on-submit activities.

Form sharing and review

While both Zoho Writer's fillable and pdfFiller offer multiple ways to share and review your forms, Zoho Writer goes a step further with the capability to track changes made to your form fields and secure forms with passwords.

Send password-protected forms

Fill out forms on mobile/tablet

Track changes in fillable fields

Review and approve after filling

Track the status of forms submitted for filling

Configurable business workflows

When it comes to executing business logic, like collecting and storing filled data in business apps, Zoho Writer supports more options out-of-the-box, including notarizing documents.

In-app signing after fill

Connect to other business applications

Automatically export filled data to CRM or other apps

Respondent control to download, email, and send for signature

Compliance and security

Both pdfFiller and Zoho Writer's fillable comply with major industry standards and region-specific regulatory and privacy standards.

Complies with security standards and regulations, such as HIPAA, SOC 2, ESIGN, and GDPR.

Customization and branding

You can perform customizations to meet your specific needs, and rebrand your forms, with either Zoho Writer's fillable or pdfFiller.

Custom hooks to send filled PDF or data to other apps

Custom message and redirection on submission

Unique Ids for each output

Templates library

pdfFiller offers a pre-packaged PDF template library to make it easier for you to create PDF forms, while Zoho Writer doesn't currently offer pre-built templates.

Library of fillable PDF form templates

More options

Besides creating and sharing fillable forms or PDF forms for data and signature collection, you will need to know the status of your shared documents to initiate the appropriate business operations and processes. Zoho Writer's fillable forms help you easily track form delivery and signature status with its built-in status tracker.

Track delivery of forms to users

Track post-submission function execution status

Pricing

Though both products offer economical pricing options, Zoho Writer's pricing model is much simpler. A paid add-on is available for $50/month/organization, and is only required if you wish to share/distribute your PDF forms for data or signature collection. You can create PDF forms using Zoho Writer's Free plan. The Free plan also provides unrestricted access to all Writer's features, including proofing, real-time collaboration and sharing, approval workflows, document automation, purpose-built merges, document signing, fillable templates, and mobile apps.

pdfFiller offers three pricing plans and only the premium plan provides access to all the product's features. It does not offer a free edition.

Free Trial

No credit card required

Requires a credit card to enable free trial

Paid Plans

$50/month/organization# . Required only if you wish to share/distribute PDF forms for data/signature collection.
Learn more.

Three plans. Starts at $20/month. Only the premium plan provides access to all features.
Learn more.
* Zoho Writer's Free Edition provides unrestricted access to all product features, including creation of PDF forms. The paid add-on is required only if you wish to distribute your PDF forms for data/signature collection.
# This add-on is not required if you are a Zoho One customer.
The
Zoho Writer advantage
Writer is a powerful, cloud-based word processor that helps you easily and efficiently create online documents, as well as fillable forms and PDF forms.
With Writer, you can:
Collaborate with your team in real time and leverage their collective knowledge to build informative and engaging documents
Automate document creation and simplify business processes with mail merge, fillable forms, and e-signature collection
Receive writing and style suggestions from the smart writing assistant
Publish and distribute documents to multiple channels directly from the Writer platform
Confidently finalize all documents with multi-stage document approval workflows
Create and edit documents from anywhere, on any device, with apps for iOS and Android and mobile web browser support
Writer is compatible with popular platforms like
It also integrates with over 25 productivity apps and document platforms making it an ideal document creation application.