Getting started
Table of contents
Overview
Writer is not just another online word processor; it's a powerful tool for editing, collaboration, and publishing. Even with its wide range of features, Writer's pared-down user interface makes it easy to focus on the work at hand. Sign up now and see how you can get started with the basics such as creating, importing, editing, formatting, sharing, collaborating and publishing documents in Writer.
Creating and Managing
Start from scratch by creating a new blank document. You can type right away and not worry about saving your document. All the documents created are automatically saved with instant access across devices. You can also create a new document from the available templates or import an existing document from your desktop and start editing it.
Editing and Formatting
Once you have a document open, you can edit and change how it looks. Start by renaming your document. Use Writer's smart editing tools to change text and paragraph styles, insert images, shapes, textboxes, tables, symbols, equations and much more.
Sharing and Collaboration
Share files with an individual or a group of people while retaining the control of your document. In addition to sharing documents, you can also work collaboratively with multiple users and edit your files in real-time. 
Review and Revising
Review together in real-time, chat within the document, and get feedback using comments and suggestions. The Review tab in Writer helps to navigate through your document, do spell check, find and replace text, manage comments, and so on.
Proof Reading and Copy Editing
Zia, Zoho's new intelligent assistant is designed to help you write better. Zia detects the most common grammar errors, including incorrect verbs, nouns, pronouns, prepositions, articles, punctuation and so on. Zia suggests accurate corrections, allowing you to improve the content quality significantly.
Publishing and Distribution
Writer's document distribution features make it more than just a word-processor. You can publish your document within your industry or on the web directly, post to blog, send as a mail copy, download or print them, or just make a copy of your document. Writer also allows making your documents available for others publicly without sharing to their individual email address.
Automation and Assembly
Writer comes with powerful document automation tools that help you streamline workflows and save time. You can now create proposals, letters, sign contracts, publish documents, schedule and post your documents on WordPress and much more.
Also, Writer is completely free and you can try it without even signing up. Get access to all the available features. Try it yourself.
Using Writer's dashboard
Writer's new dashboard is a one-stop place to view all of your documents and templates. To access it, go to writer.zoho.com from your browser.
To use the dashboard, do the following:
Click the links on the left panel to filter the documents. Click Home link to view the recent documents created.
Click All Documents link to view a list of all the documents available in your account. Similarly click "Created by me", "Shared by me", "Published by me" links, to view and access the list of documents created, shared and published by you respectively.
Click Offline link to enable Writer offline. This lets you work offline without internet.
​Read more.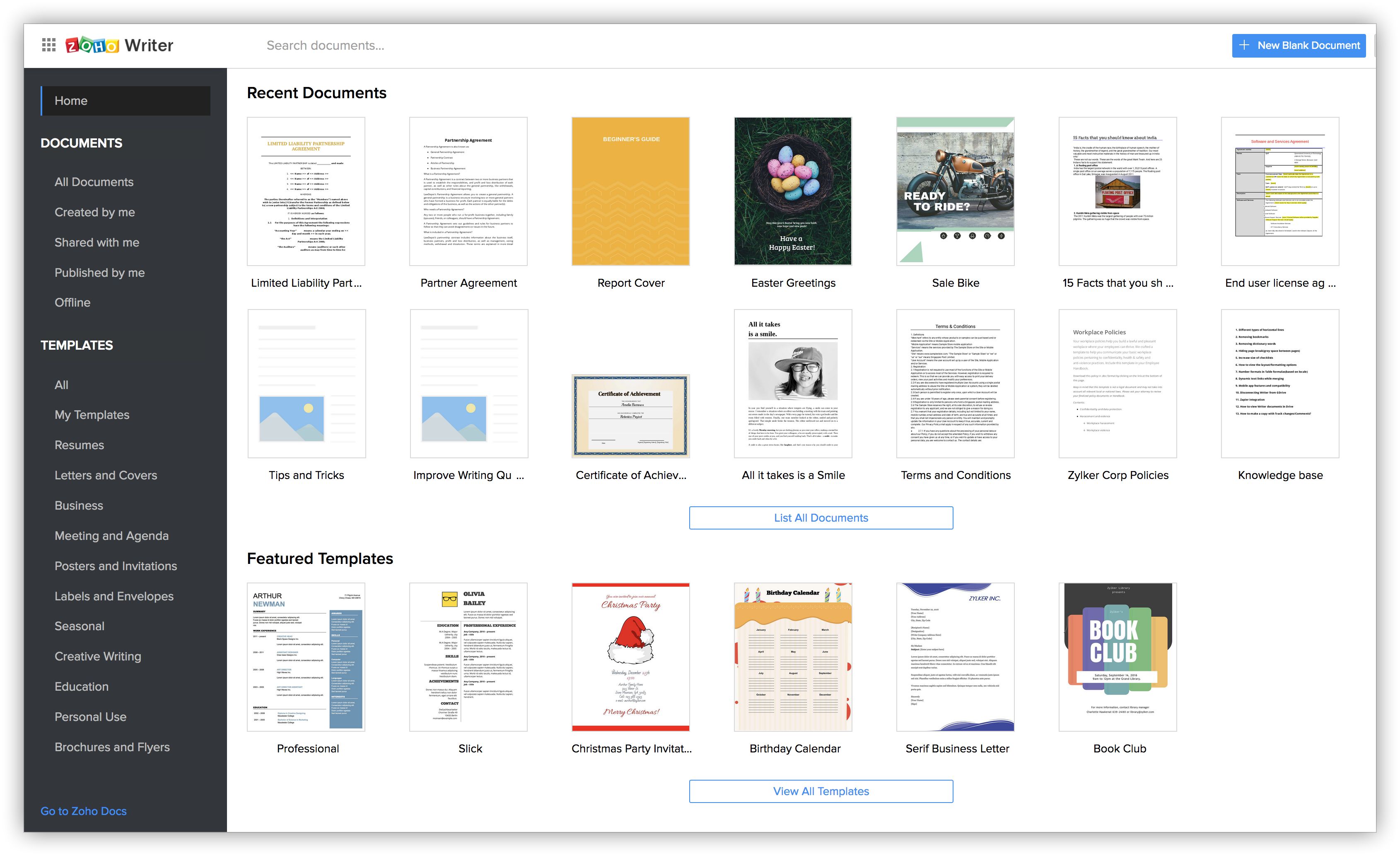 You can also access default document templates from the dashboard. Writer has templates for letters, resumes, invoices, greetings, invitations, brochures and many more. 
Browser and system requirements
Supported browsers
Writer works with the two most recent versions of the following browsers.
Other browsers might work, but you will not be able to use all of the features. Also, please make sure cookies and JavaScript are turned on for your browser.
Supported file formats
For document import:
.docx, .doc, .docm, .dot, .dotx, .dotm, .odt, .txt, .html, .htm, .tex
For document export:
.docx, .rtf, .txt, .html, .odt, .epub, .pdf
Supported languages
The localized versions of the word-processor currently supports the below languages including English, Spanish, French and Japanese. 
| | | | |
| --- | --- | --- | --- |
| English | Korean (한국어) | Portuguese (português) | Polish (polski) |
| Danish (dansk) | Lithuanian (lietuvių) | Russian (русский) | Catalan (Català) |
| German (Deutsche) | Romanian (română) | Swedish (svenska) | Thai (ไทย) |
| Spanish (español) | Estonian (eesti) | Turkish (Turkmen) | Arabic (العربية) |
| French (français) | Slovak (slovenčina) | Czech (čeština) | Japanese (日本語) |
| Hungarian (magyar) | Chinese (中文 (简体)) | Vietnamese (TiếngViệt) | Croatian (hrvatski) |
| Italian (Italiano) | Ukrainian (українська) | Norway (norsk) (Norwegian) | Dutch (Nederlands) |
| Greek (Ελληνικά) | Finnish (suomi) | Hindi (हिंदी) | Greek (Ελληνικά) |
| Tamil (தமிழ்) | Bulgarian (Български) | Urdu | Hebrew |
Mobile and Desktop editions
You can use the Writer's mobile and desktop apps to create and edit documents on any device. Download now.