Overview
Table of contents
Any organization, be it private, government or non-profit, requires generating content such as letters, emails, labels, envelopes and so on. With Writer's document merge and automation features, printing labels and sending personalized letters is as easy as sending emails. You can distribute multiple copies of the same document and send it to multiple recipients, thus saving a lot of time.
Getting started
When you use the Mail Merge feature, you need to create the main document, insert merge fields and configure the recipient list to generate a set of personalized output documents. The basic steps are shown below:
A template is a document that contains the required text and graphics, which are identical for each version of the final merged document. For example, a document with an address on the envelope, a welcome message, a personalized letter, or a legal agreement. 
Although the individual messages will have the same content, some parts of the message require to be customized. For example, you can greet your customers with their name, add a watermark to your letter, include a profile link or an image, add a personalized subject for each recipient while sending the mail, and so on. Once you create a template, insert merge fields as placeholders to personalize your content.
A data source is a file/database that contains the recipients' details including, Name, Address, Contact Number, Email ID, etc,. You can create a new mailing list or import existing data from different sources, such as a CSV file, a Zoho Sheet file, or merge data from Zoho Creator, Zoho CRM, Zoho Forms, or Zoho Contacts.
Now that you know how to create a merge template and configure the data source in Writer, let's be sure how you deliver the document to each recipient. You can choose to generate PDF files, merge and save as individual documents, merge and send via email, or send your merged documents for sign collection.
Mail merge logs give a consolidated summary of your merge sessions. Track scheduled emails, delivery status and errors here.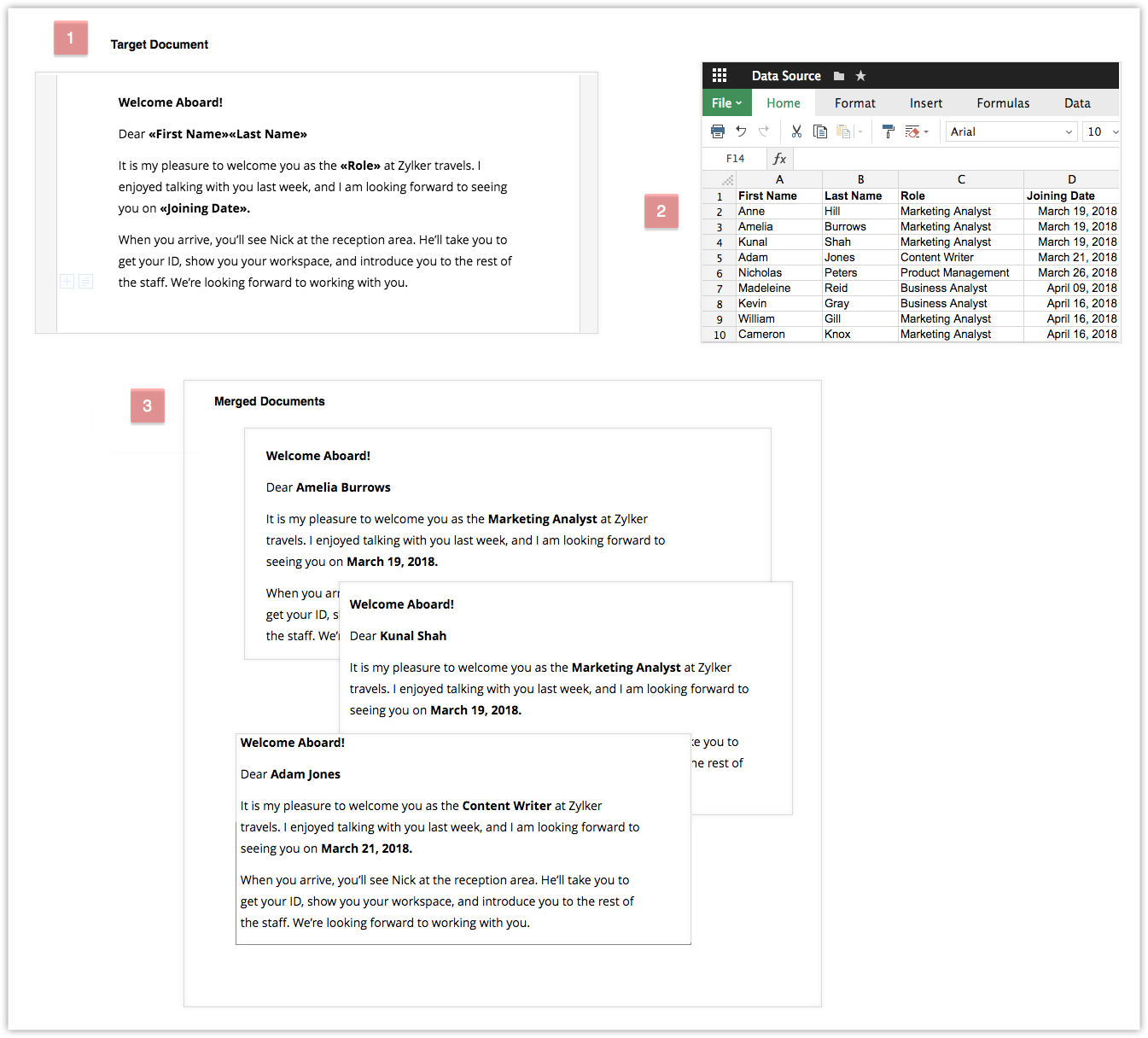 Availability and Limits
The daily sending limit for document merge based on your subscription. 
You can send only up to 500 emails in one shipment.
Free users: 10 emails
Standard users: 500 emails
Premium users: 1000 emails
1000 emails for Zoho CRM, WorkDrive, Zoho People and Zoho Recruit users.
Mail merge limits can be increased by upgrading your account.
To upgrade your account,
Login to https://docs.zoho.com/ and click the Settings icon at the top right corner of your screen.
Select Manage Subscription, choose the plan and the number of licenses required based on the total number of users in your organization. 
Choose the type of payment to upgrade your account.
For more information, click here.