Mail Merge
Mail Merge is a feature that lets you create and distribute multiple copies of the same document to different recipients. While the core content of the document remains the same, you might want each copy of the document to be specifically addressed to each recipient. For this, you need to create and import a data source file. A data source file contains recipients' details like name, address, contact number, email address, etc. in spreadsheet or CSV format. You may also use your contacts list to import recipient details.
Use Mail Merge
To use mail merge,
Switch to the Distribute mode on your document and choose Mail Merge. Alternatively, click the More icon > Tools tab > Mail Merge.
Under Import Data Source, click CSV, Zoho Sheet, or Contacts, whichever is applicable.
Select the data source file and click Import. An Insert Fields tab will appear.
Insert merge fields into the document by positioning the cursor in the document and clicking the appropriate field from the left panel.


Note : Click Preview under Merge To to see a preview of the mail merge.

Under Merge To, click email. A window will appear.
Enter the email field, subject line, unsubscribe URL (if any), and click Send.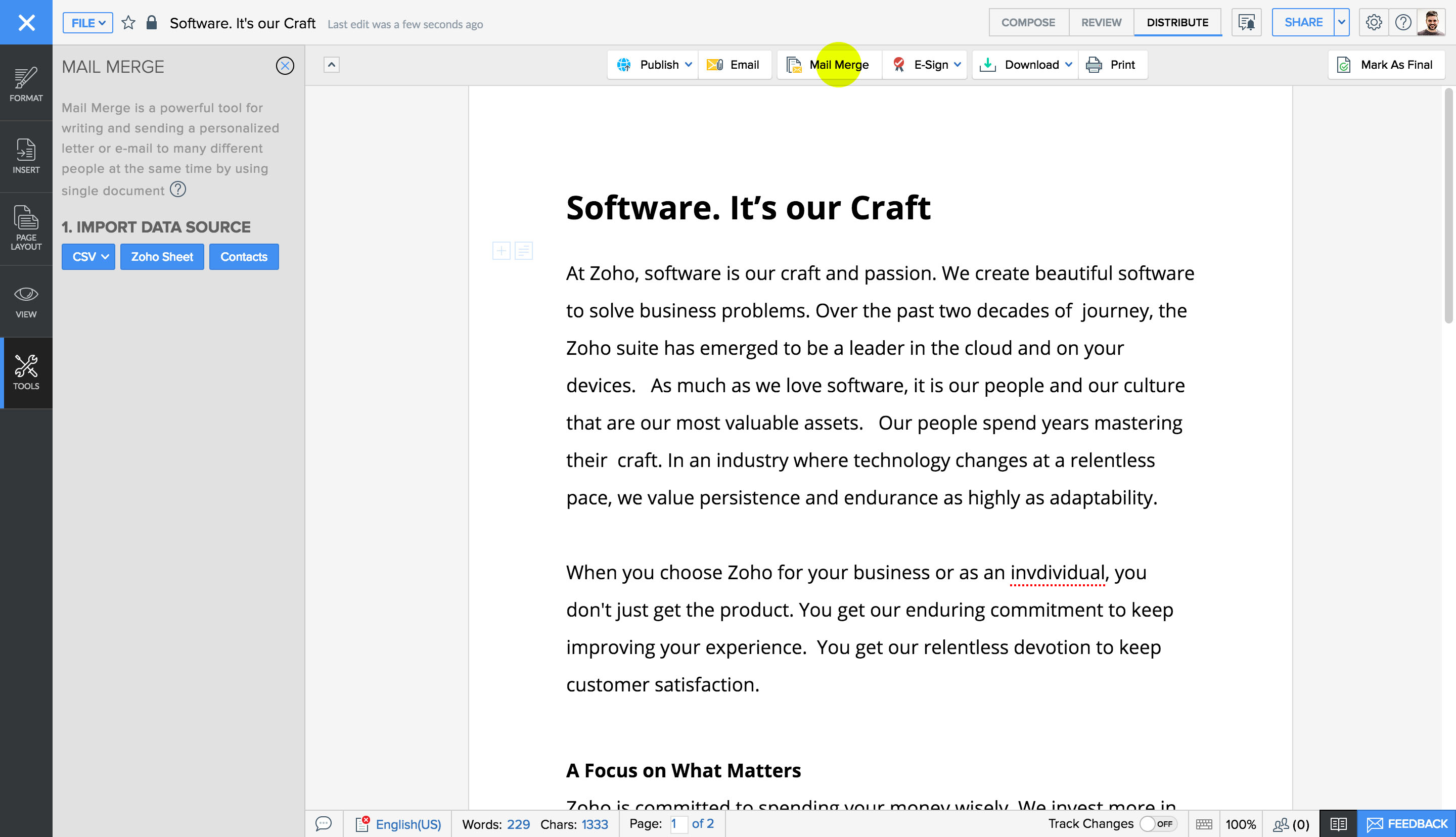 Set rules in Mail Merge
Writer's Advanced Fields option lets you set rules while sending your document to multiple people using Mail Merge. Here's what different advanced fields indicate:​
Next Record field
Next Record field will let you jump over to the next row in your data source. This is especially useful while working on labels or documents with multiple identical fields.​
Open Mail Merge by clicking Tools from the left panel.​.
Select your data source and add it to Writer.​
Now in Insert Fields panel, click on <<Next Record>> button to insert it anywhere in your document.​