Writer is integrated with Zoho Sign, Adobe Sign, DocuSign and Sign Easy to remove the requirement of scanning software, signature pads, or digital certificates to digitally sign your documents.
Note: Before you send documents for signature, you need to sign up with one of the above third party providers. For Adobe e-Sign, please make sure that you sign up for an enterprise account, and not a business account.
Set up your document for electronic signature
Add your Adobe Sign and DocuSign accounts to Writer:

Click the Distribute button at the top-right side of the screen and click .
Alternatively, click More > Tools > Electronic Signature.
Select the required e-sign tool from the drop-down.
Click Next in the pop-up that follows.
Complete adding your account by entering your credentials.
You will be redirected to Writer upon successful login.

You will be asked to upload the document to your electronic signature account. Click Upload to begin the process.
Follow these steps to complete your e-sign process: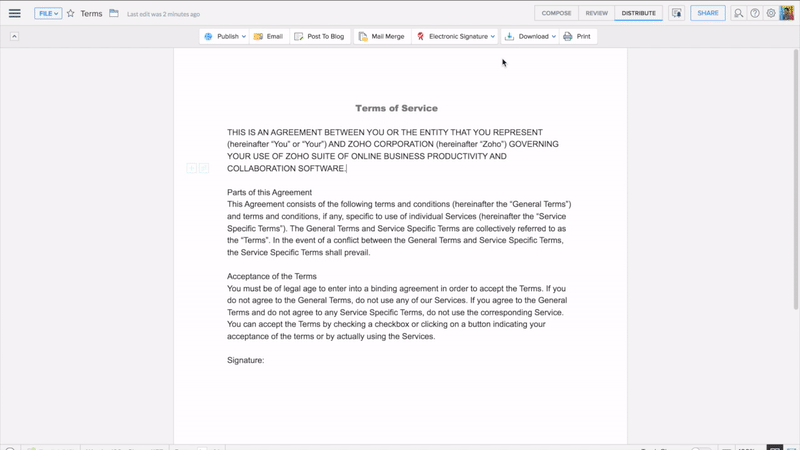 Use electronic signature in Mail Merge
Additionally, you can also send your document for electronic signature using Mail Merge option in Writer. Here's how:
Click More > Tools > Mail Merge.
Select your Data Source and import your contacts.
Click .
Follow steps 1 to 3 as mentioned above.