Configure output options and Run merge
Table of contents
Choosing an output option
Once you have prepared the template with adequate content for document merge, you can configure the output of these documents in the "Output Settings" ribbon.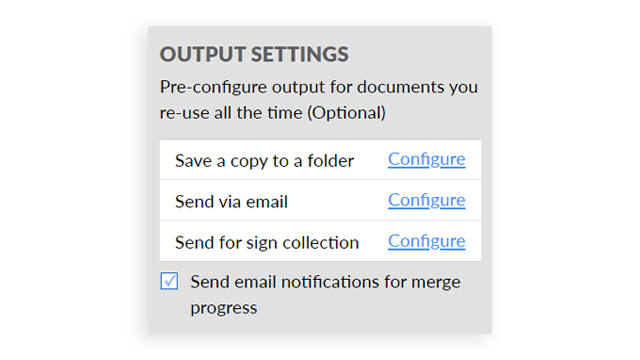 Save a copy to folder
In the output settings ribbon, you will see Configure next to "Save a copy to a folder".
On selecting configure, a dialog box will open where you can create separate documents or combine all documents in to one document. Here, choose a folder, format and name for the document to be saved.
Custom functions post merge
After running the merge, you might want a particular action or a set of actions to be done with all the merged documents, like sending it in a Zoho Cliq chat, attaching it to a CRM record, etc. With Writer's ''Execute a custom function post merge'', which is one of the output configurations, you can create and execute a customized function to fulfill your requirement.
Please note that Writer offers a list of pre-configured custom functions in its gallery to be executed after the merge is run. You can either choose one from the list available or you can create workflows via Zoho's Deluge Custom Functions.
To do this,
Navigate to Output Settings and click Configure next to "Save a copy to a folder".
In the dialog box that follows, check "Execute a custom function" and click Configure.

A dialog box pops open where you can create and link any function via Zoho's Deluge Custom functions.
To learn more about Deluge, click here.
To view the available list of built-in functions that can be executed after the merge is run,
Navigate to Gallery and choose any function as per your requirement.

Points to remember while enabling custom functions:
When you save your document as a Writer document or a Fillable template, Deluge by default converts it to .docx format.
By selecting Post to a Zoho Cliq Chat in the Custom Functions gallery, you can share a copy of the merged document in Cliq channels and not in individual chat.
Also, you have to enter the channel's unique name or ID in which you want to share the copy of the merged document.
To learn about the limits of custom functions that can be executed, click here.
Sending via email
Click Configure next to "share via email".
Enter the email addresses and subject as required.

You can choose to email the document as either an attachment or an inline email where all the content in the merged document is added in the body of the email itself.
To email the document as an attachment, check Attachment and enter the name, format of the attachment and messages if any.
Sending for sign collection
You can configure who can sign the document by clicking Configure next to "send for sign collection".
Enter the signer(s) details and assign a level of authority (i.e) signer, approver or viewer.

Go to Advanced Settings to set reminders and a term of expiry for signing the document.
Note:
You can also enable email notifications when the merge is initiated and completed by checking this box.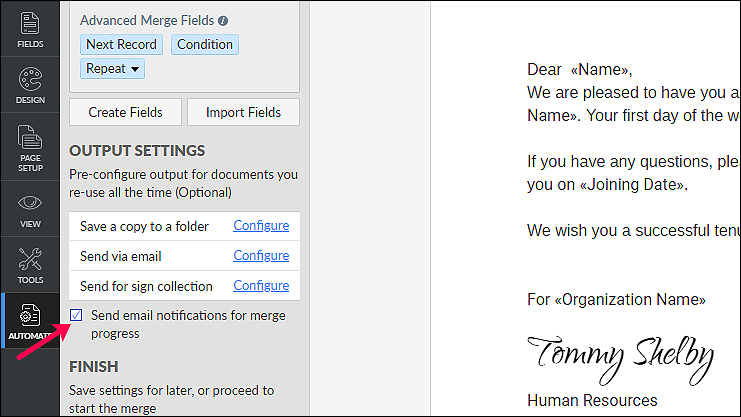 Filtering records for merging
When there are many records in your data source, you can choose a particular set of records while creating a merge template. You can filter the records based on conditions or choose between a particular range.
Under Data Source, click

A dialog box opens where you can set up conditions as well as select the range of records that has to be chosen.
If you want to insert a condition to filter records,
Check Based on conditions.
Select the field for which you want to set up condition(s) from the dropdown list.
Select a condition from the dropdown list and enter the condition.
Click Filter.
If you want to select records using range,
Check Between a particular range..
Choose the starting and ending value so that the records between this range is selected
Click Filter.
Running the merge
Once you have the merge template ready, you can run the merge immediately or schedule it as per requirement. To run merge,
Click Run Merge under the Merge template toggle in the Prepare & Run ribbon.

Under Start Merging, click on Now if you want to run the merge instantly.

Check on schedule for scheduling the merge for later and configure it by picking a date and time.