What's New : Latest updates in Zoho Workplace
Filter By Category

All Category
Updates
New Feature
Enhancement
Integrations
New App
New Service
Improvement
New
Features

Filter By Products

All Products
Cliq
Connect
Sheet
Meeting
Mail
Writer
WorkDrive
ShowTime
Show
2020
2019
Dec
WorkDrive
New
Zoho WorkDrive replaces Zoho Docs in the Zoho Workplace bundle
Zoho Docs will no more be available for Zoho Workplace users and is replaced by Zoho WorkDrive. Workplace's Standard plan users will be mapped to WorkDrive's Basic edition and Workplace's Professional plan users will be mapped to WorkDrive's Starter edition.
Mail
Integrations
Intergromat, Blendr.io, and Workato integrations in Zoho Mail
We have added few more integrations for you in Zoho Mail. Now connect Zoho Mail to external apps such as Integromat, Blendr.io and Workato from the eWidget. 
Read more
Connect
Integrations
Integrate your Zoho Notebook account with Zoho Connect
Any note that you take on Zoho Connect can be synced with Zoho Notebook. Be it notes on posts, forums, manuals, tasks, events, and town hall questions, they are automatically synced with Zoho Notebook using this integration. 
Learn more
Updates
Zoho Workplace Dashboard moves out of beta
The Workplace Dashboard is now available to all the global customers. The Dashboard offers a unified view of the Workplace apps and helps you manage the day to day  notifications and activities. 
Nov
New
Zoho Workplace Dashboard Beta release
Access all your Workplace apps in one window using the Zoho Workplace Dashboard (Beta). You can customize your dashboard with widgets of your choice, rearrange them according to your preference and save a lot of time without navigating between tabs.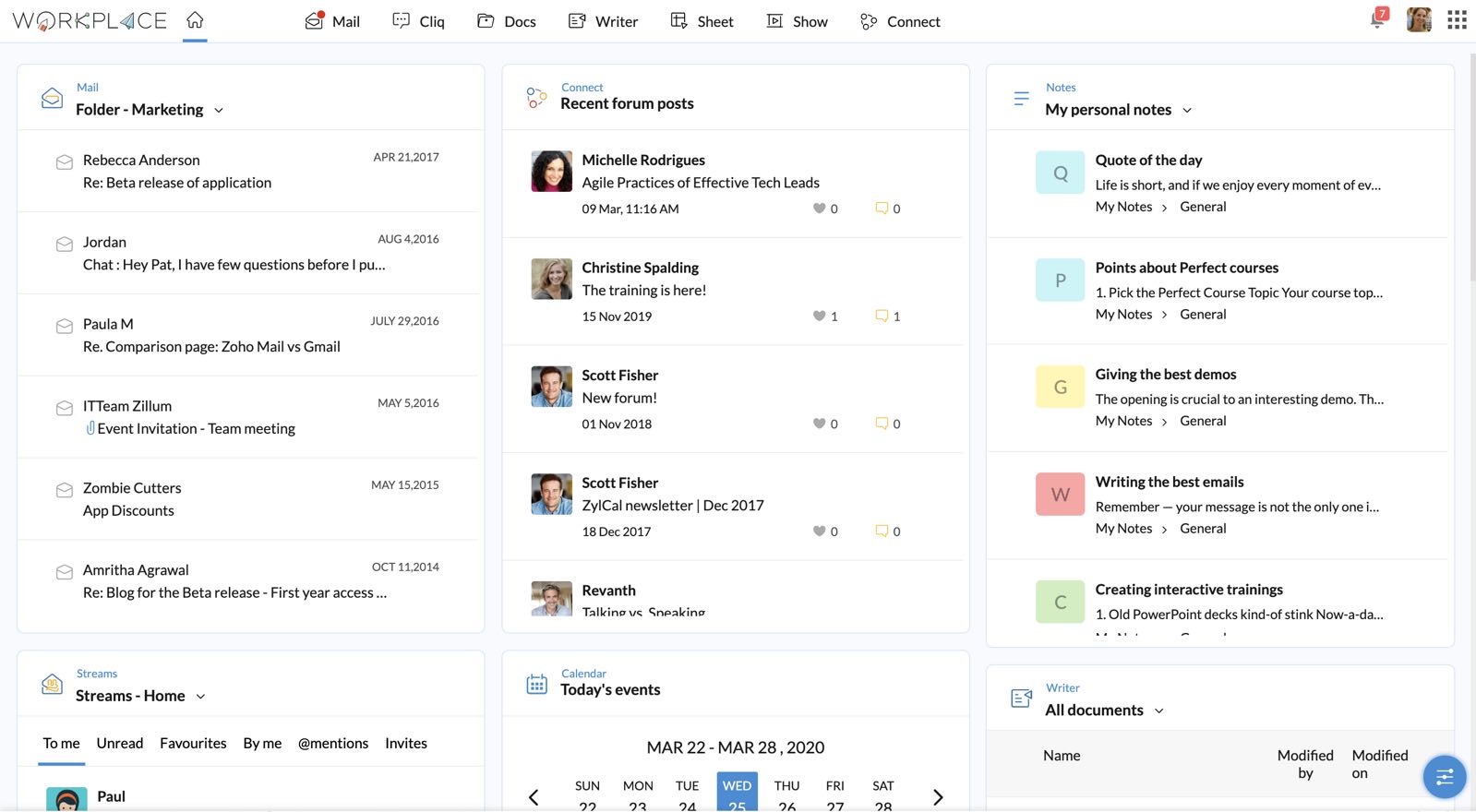 Learn more
Mail
Integrations
Start integrating Zoho Sign with Zoho Mail
This latest extension in Zoho Mail lets you add more authenticity to your emails. You can use digital signatures in your emails, or set up e-sign workflows to collect signatures and obtain approvals on paperwork from the eWidget in Zoho Mail.
Learn more