Electronic timesheets
for temp staffing agencies
Accurate time logs - Faster payments - Happy temps
Electronic Timesheets help maintain your temps' time logs, either on a daily, weekly or monthly basis, and they are then saved digitally. Electronic timesheets not only save time, but also simplify job scheduling and time tracking without compromising efficiency.
Get Started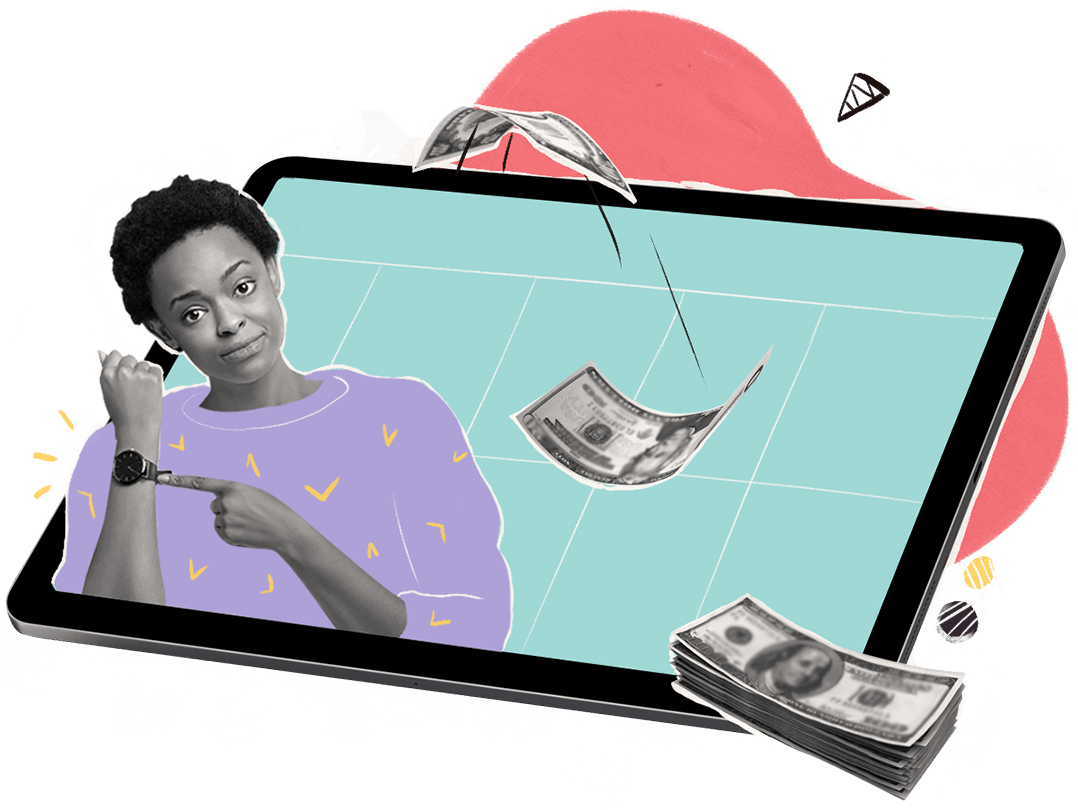 Electronic timesheets over traditional time logs
Accurate
Ensure that your temps are paid on time and clients are assigned the right temps for the job. Accurate time tracking allows for faster payment processing and helps keep everyone on the same page.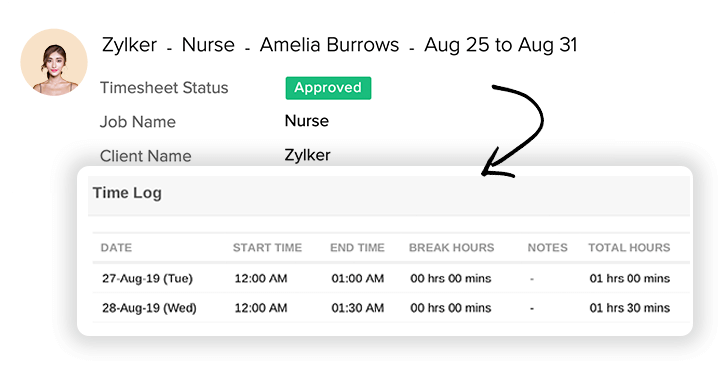 Economical
Electronic timesheets help save a lot of money for your business by automatically updating and storing time log data. Get accurate invoices with clear information on when and where are your temps working, their breaks, and time off.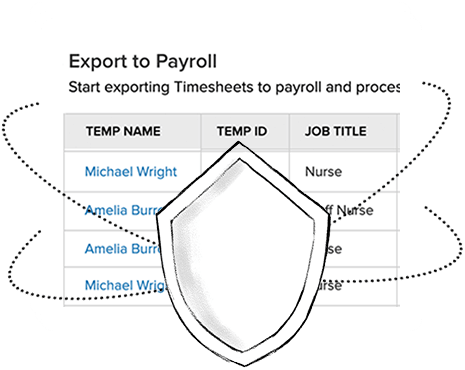 Secure
Relying on spreadsheets or manual data entry can lead to errors and fraudulent activities such as inflating work hours. Electronic timesheets are safer, and they reduce timesheet fraud.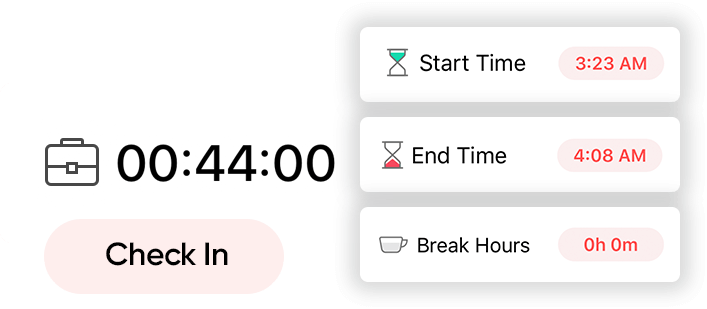 Time-saving
With electronic timesheets, all data is recorded digitally and routine time-tracking tasks are automated, saving your agents time and effort.
Electronic timesheet
features
Easily accessible
Electronic timesheets are convenient and easy to fill out online. Temps can log their work hours from the app or agents can record working hours on behalf of their temps.
Robust analysis
Once data has been entered into the system, agents can immediately analyze this data for trends or potential issues. This leads to more efficiency and productivity. Export data in specified formats for further analysis.
Organized and user-friendly
You can easily generate bulk timesheets for temps working the same job, clone submitted or approved timesheets, and cancel a timesheet anytime, even after it has been approved.
Reminders
When you create a timesheet, choose who can approve them—agents, clients, or try auto-approval. Receive timely reminders to keep the time-tracking and payment process flowing seamlessly.
Enhance your temp staffing business with Zoho Workerly
When you're looking to digitize remote temp staffing, timesheets in Zoho Workerly will help out!
It's a fast and an accurate way to monitor and manage the number of hours spent by each of your temps. To top it off, it makes processing payments for temp work simple.
Optimize your time tracking
Don't just track clock-in and clock-out times. Track every minute of temp work time, including breaks, and gain insights into your most valuable asset: your people.
01 Enter a start and end time
Record a temp's work hours by entering the actual start and finish time manually. Add the temp's break hours to receive a detailed time report.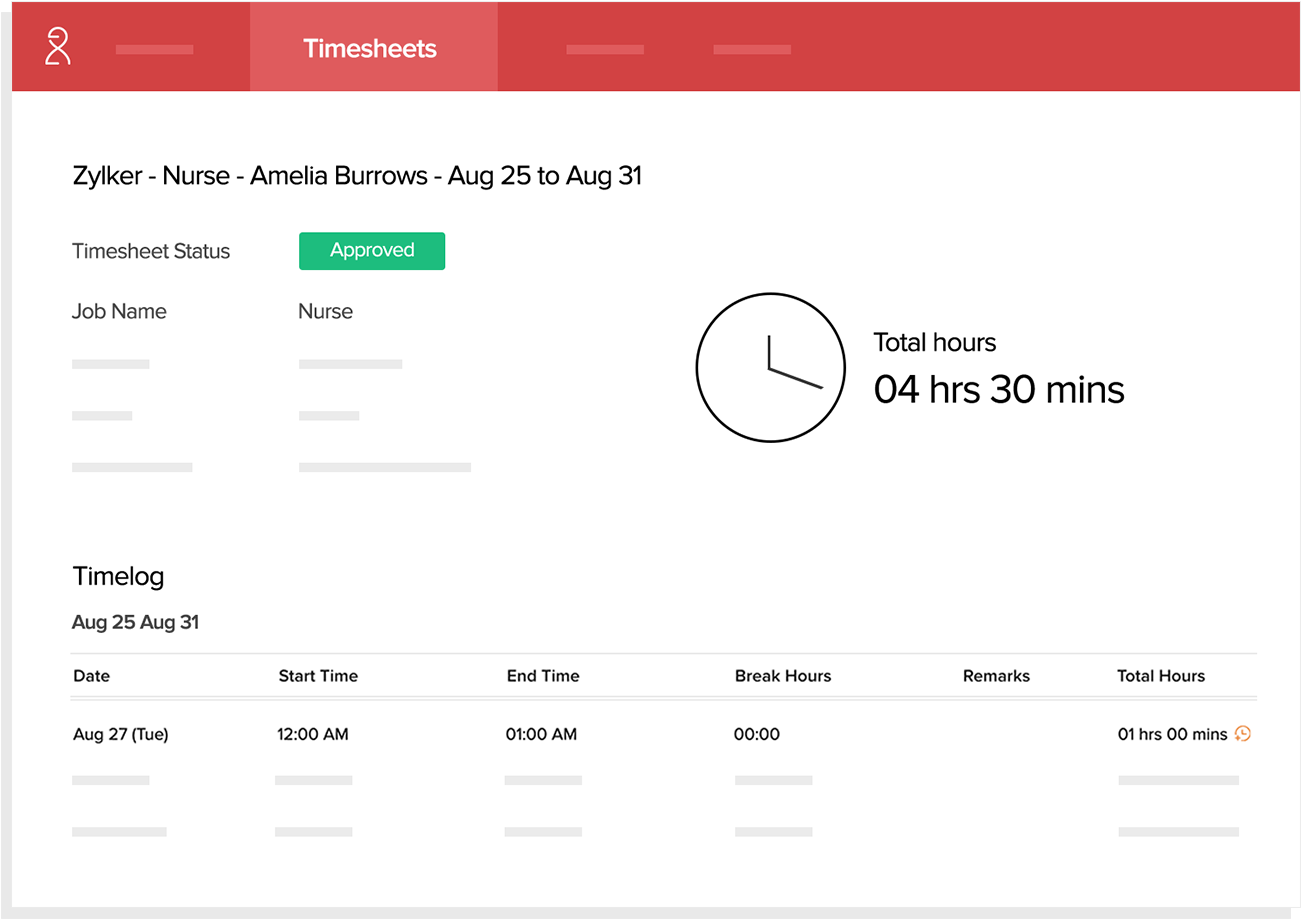 02 Enter a time duration
Agents can also add total working hours directly to the agent portal. This way, the temp's clock-in/out time and break hours are not tracked.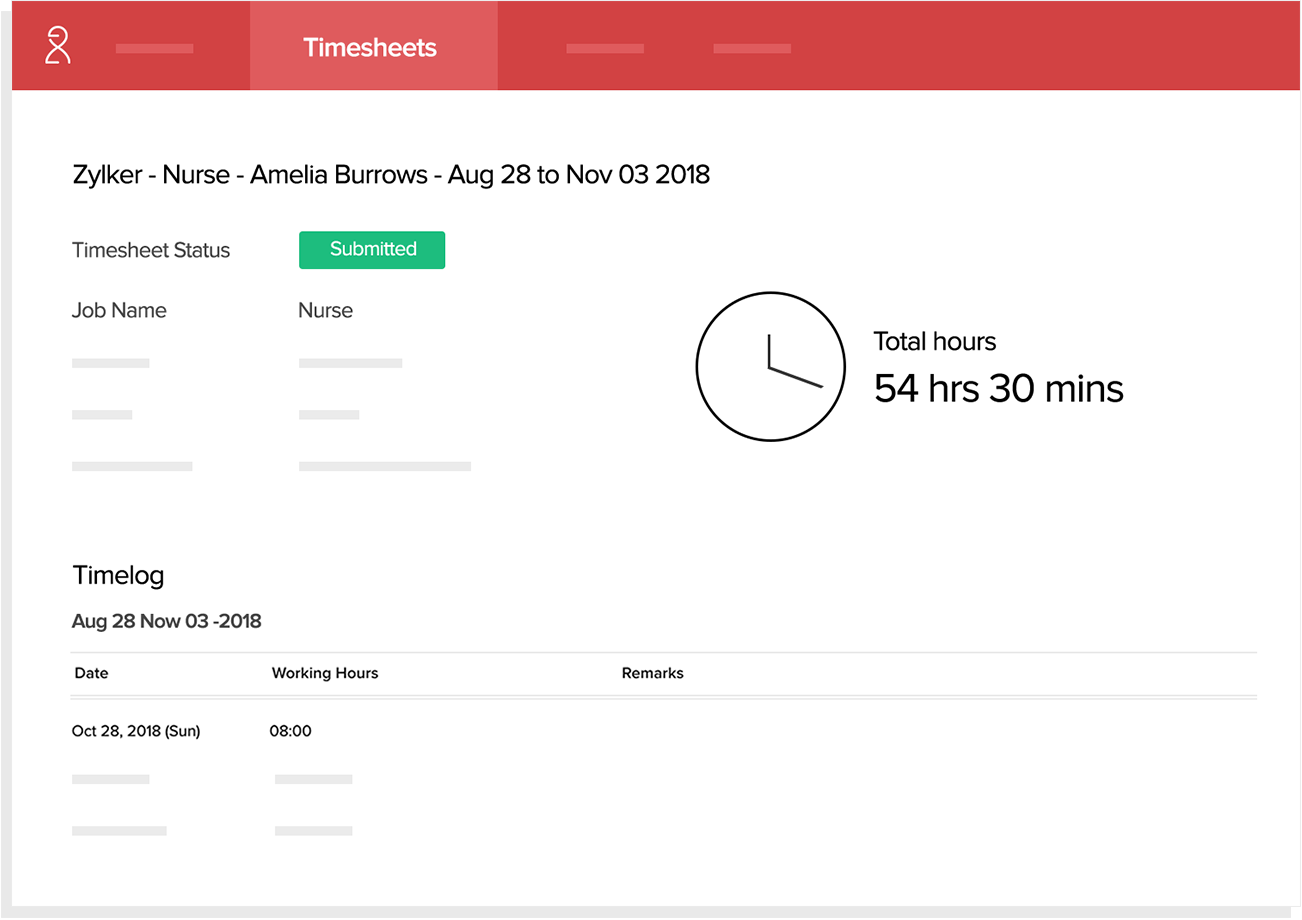 03 Set up a date cycle or a real-time input option
Timesheets can be updated for specific date ranges or with real-time input using Zoho Workerly's mobile app. Temps can simply tap to clock their work and break hours.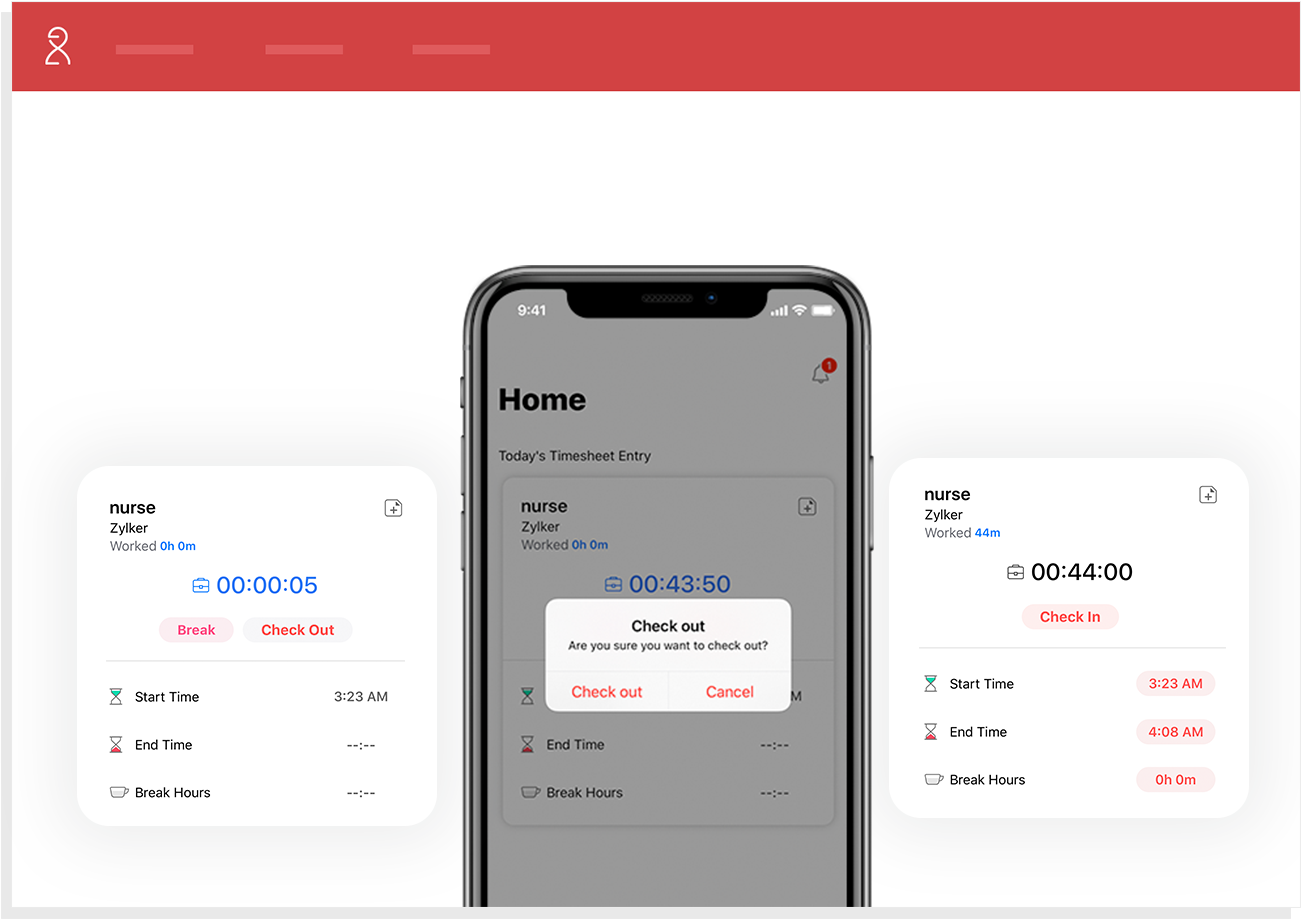 Record a temp's work hours by entering the actual start and finish time manually. Add the temp's break hours to receive a detailed time report.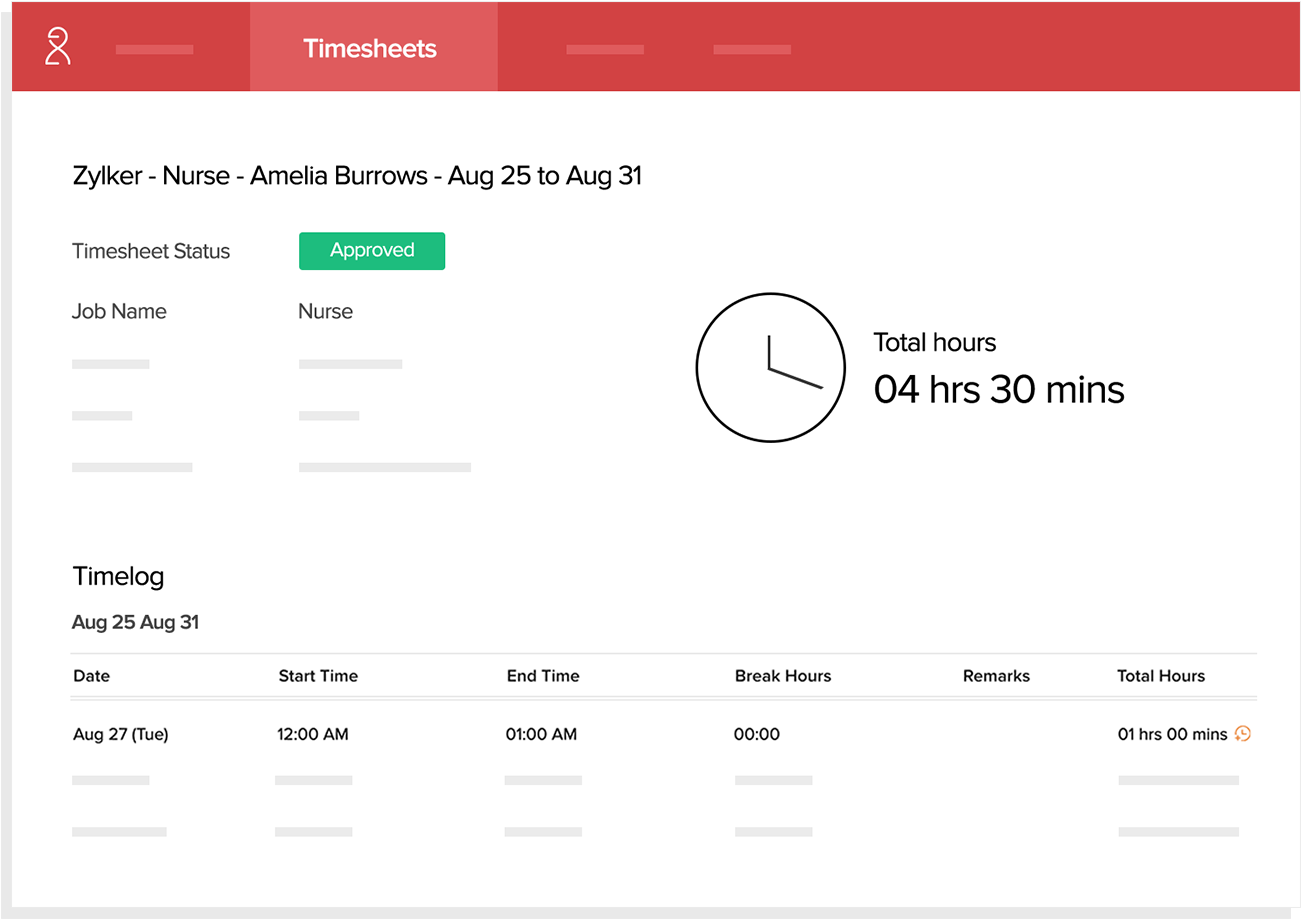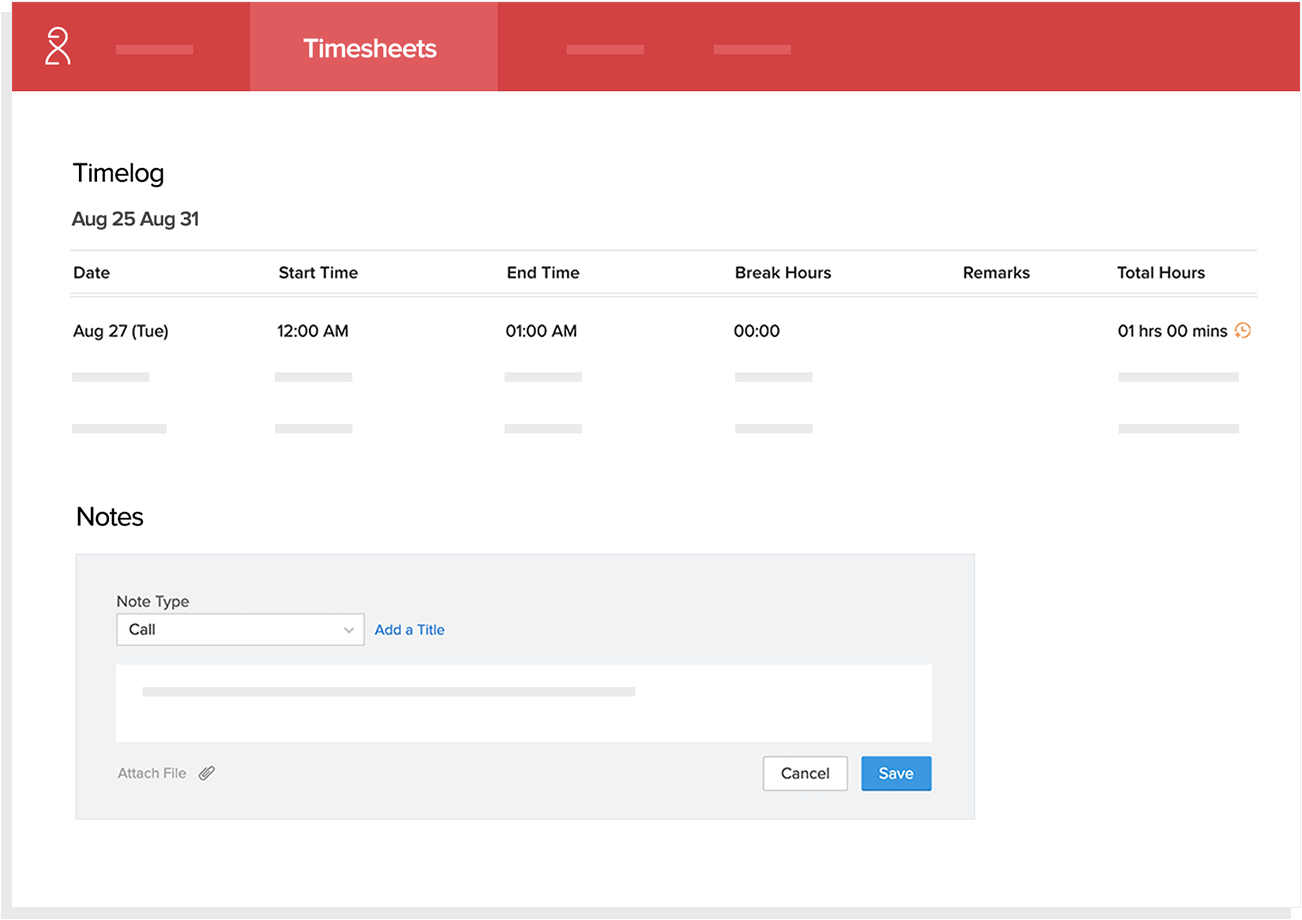 Timesheet notes and attachments
Record details as notes and attachments about how working hours were spent, so you can report on this valuable information. Alternatively, include it on your client's invoices if they request it.
Internal timesheet approval
To streamline the approval process, Workerly lets you choose an approval mode from the Clients module:
Client Approval

Agency Approval

Auto-Approval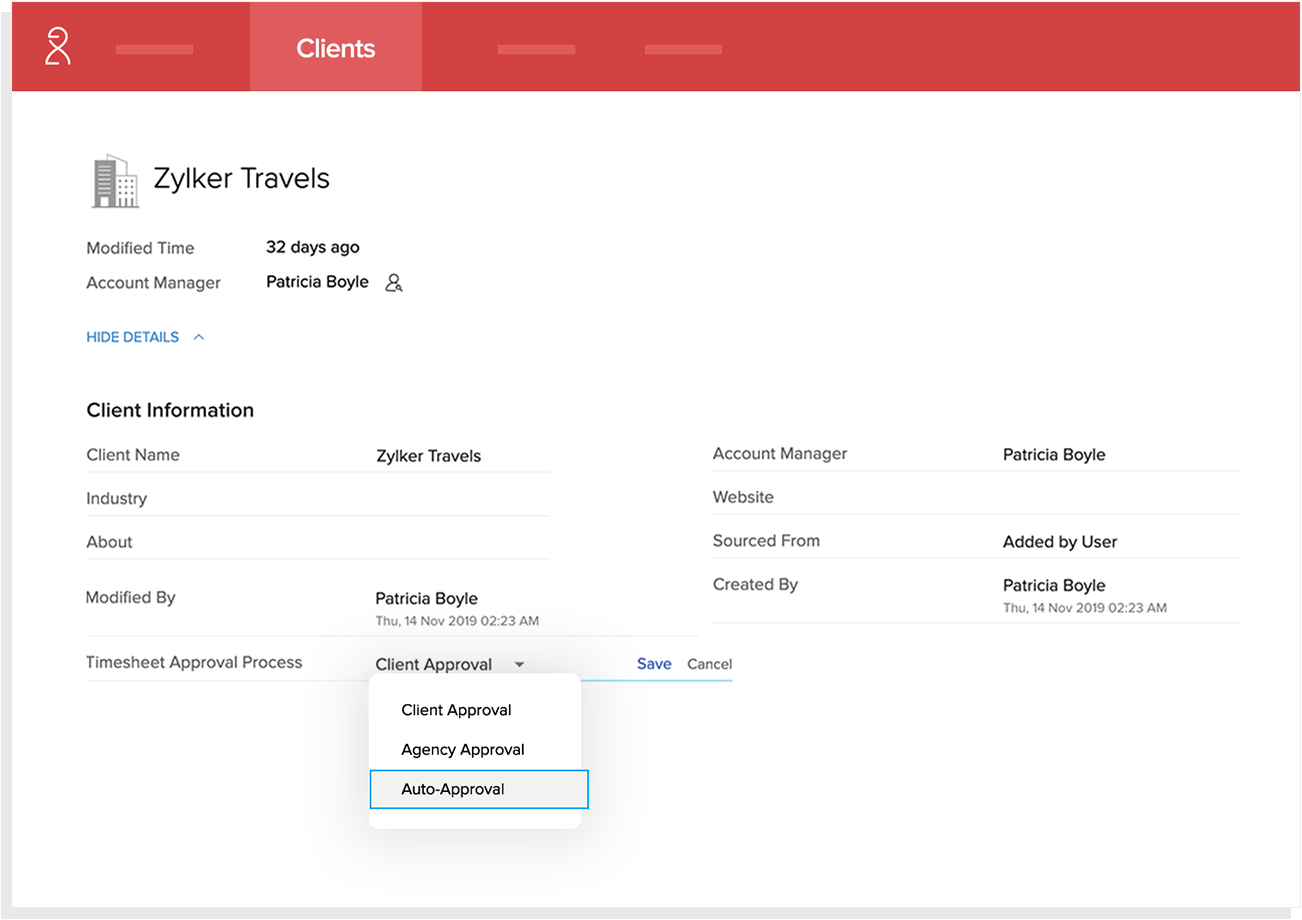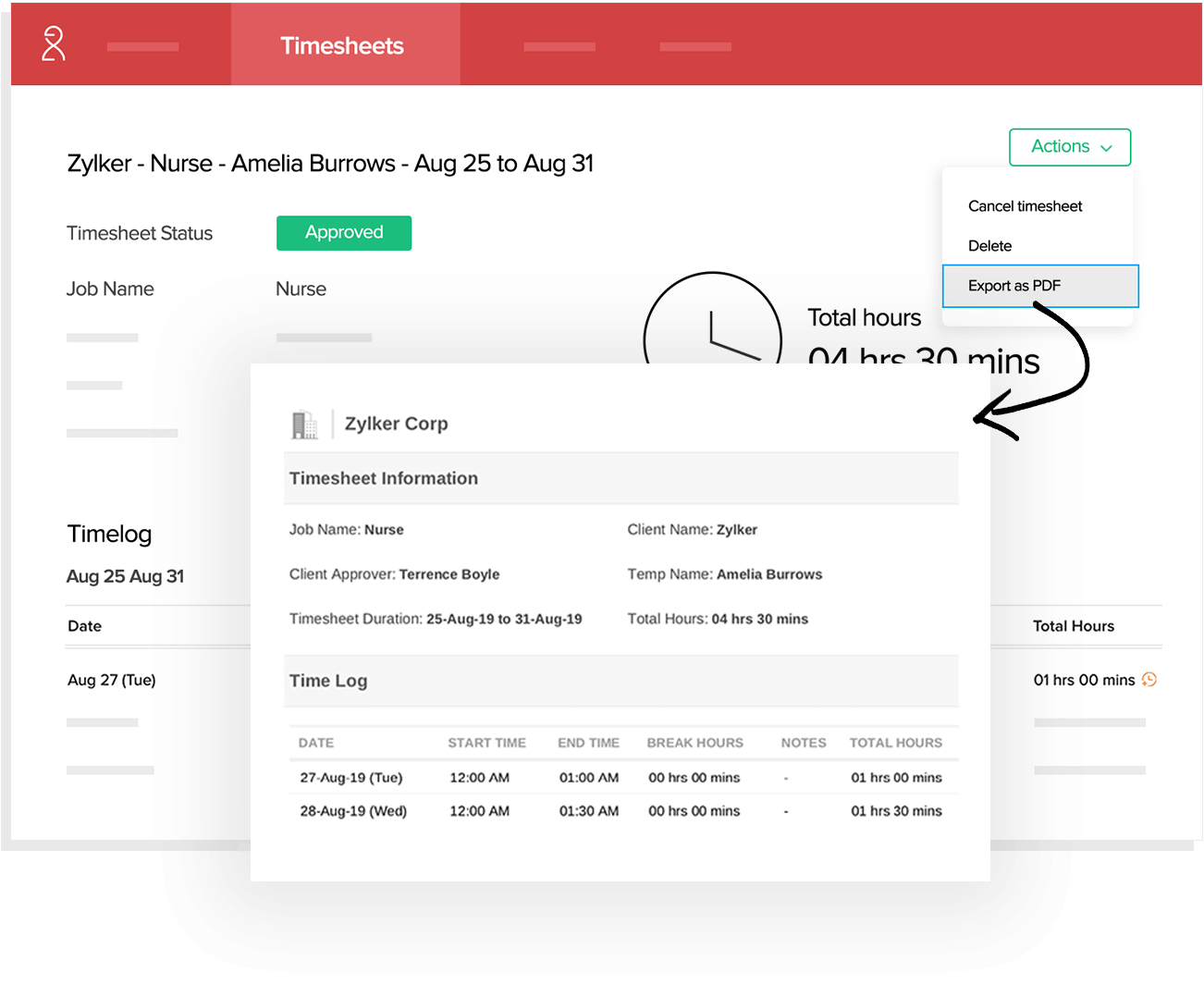 Export and share
Share timesheets quickly by exporting them as PDFs. Copies of submitted or approved timesheets can then be downloaded with a single click!
Export to payroll
Generate reports and get detailed insights on temp work hours and payments. Process all payments by exporting timesheets directly to your payroll system.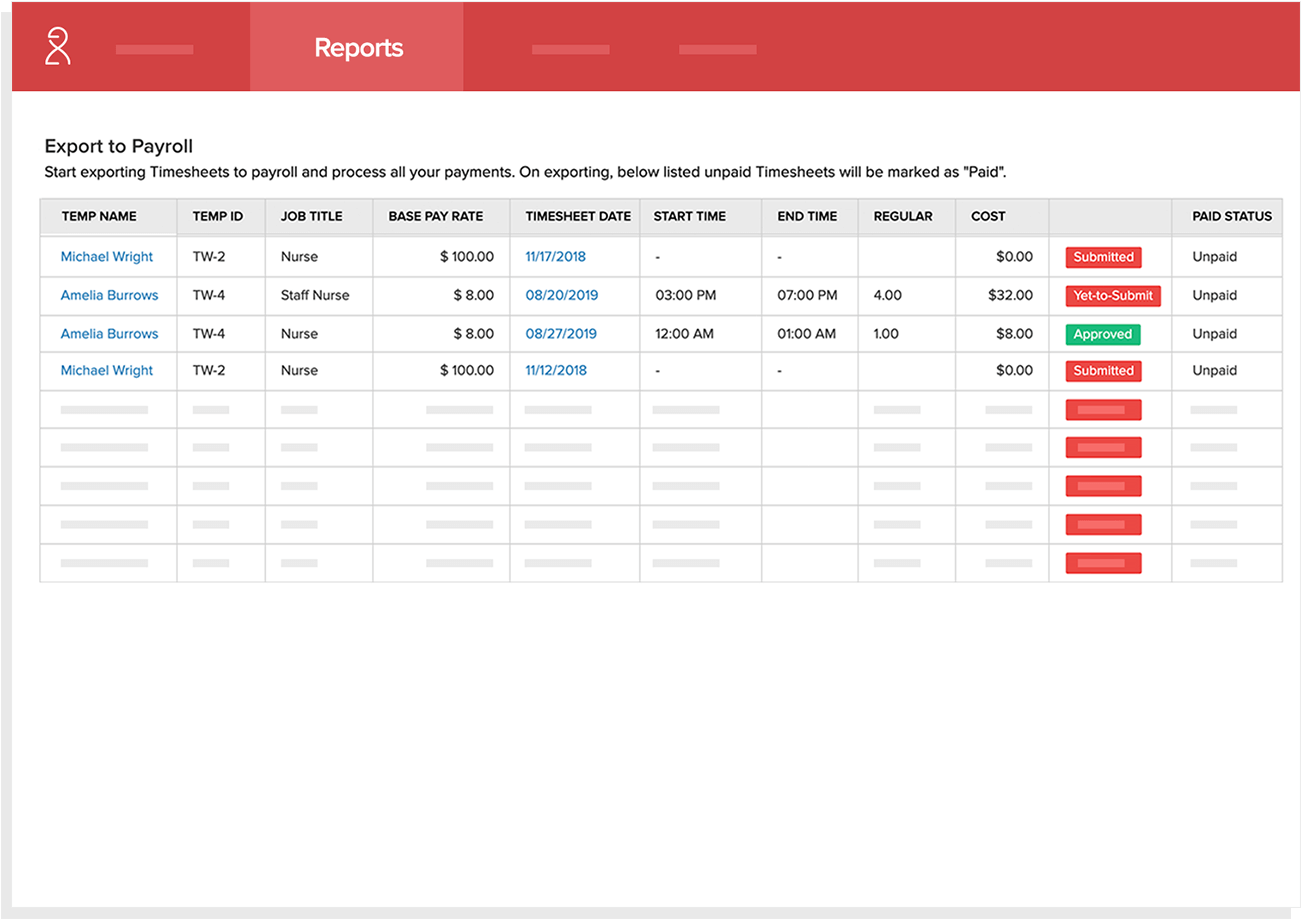 Mobile app
With Zoho Workerly's mobile app, streamline the scheduling experience for your workers. Our Android and iOS apps provide temps with all the schedule information they need so they can log their work hours from wherever they are.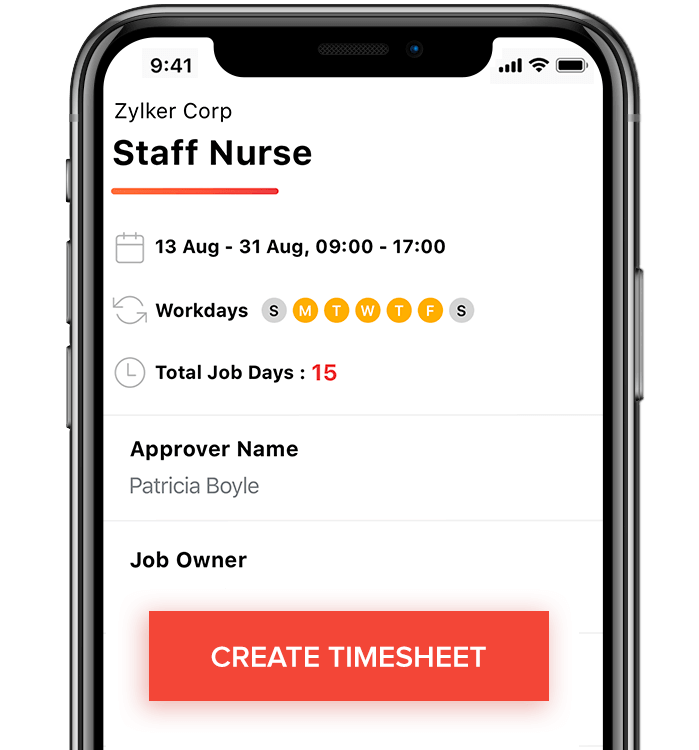 Make the switch to electronic timesheets
Zoho Workerly - The most effective way to manage your timesheets
Get Started