Digitize patient records, payment invoices, test results, and lab information right at the point of entry. From report creation and storage to distribution, automate the process of managing your lab files with WorkDrive.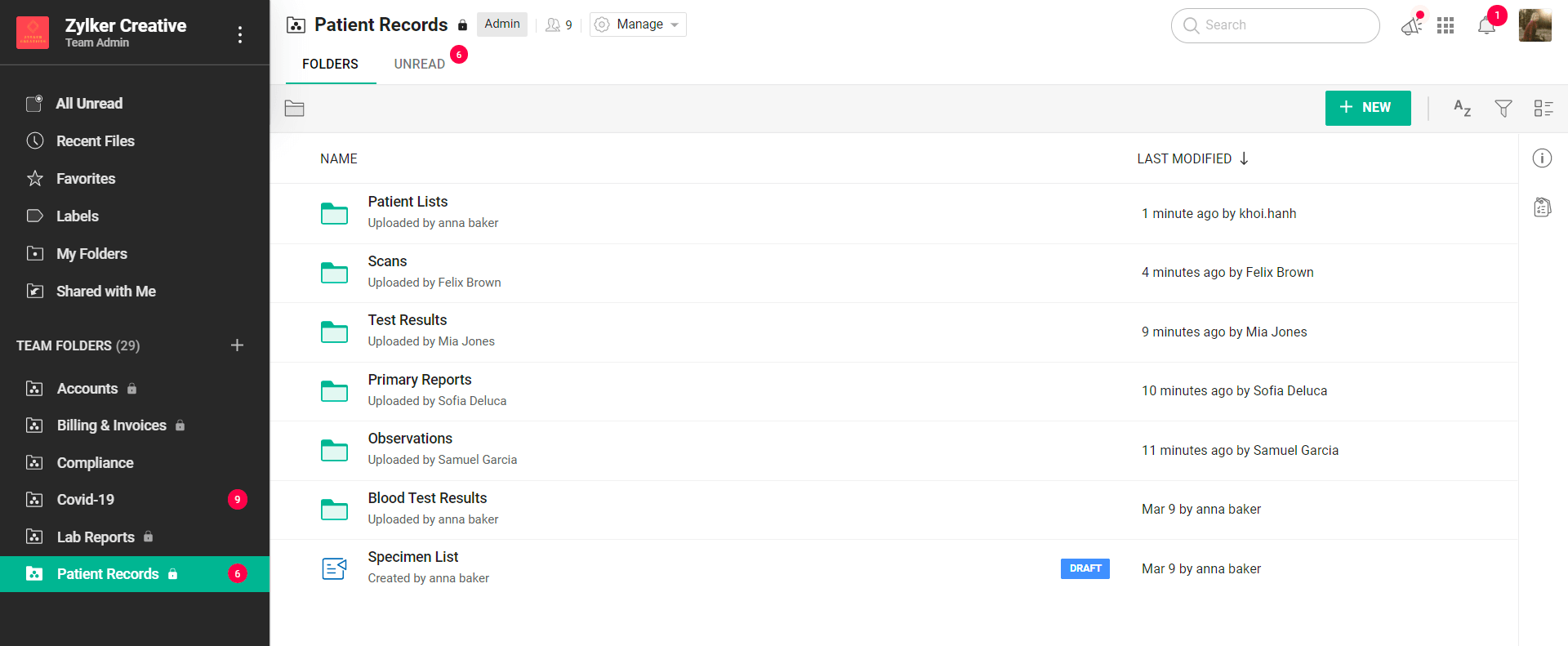 Break down information silos
Create a shared space for your peers to get a unified view of your lab records. Gather all your staff members within Team Folders and work in sync.
Achieve consistent file structure
Laboratories often find it challenging to securely store and categorize their patient records, research, and test processing data. Use WorkDrive's Data Templates to organize reports, scan results, and sort documents belonging to each patient. Add custom fields based on how you want to classify your lab files.
Improve case management
Hassle-free sharing options
Share test results with doctors instantly and make it easier for them to quickly add their observations to draft the final report. WorkDrive offers contextual commenting on files, enabling your assistants and doctors to add information from anywhere, at any time.
Control access
Control who has access to what with secure sharing options. Set role-based access permissions for doctors, researchers, and assistants according to your privacy and confidentiality regulations. Share patient details and test results with granular access levels to the concerned care providers and technicians.
Reduce patient turn-around time
Easily attach scans, images, or PDFs to the report and send them to your patients right away with WorkDrive's secure external sharing options. Your patients can view these files online or right from their mobile phones.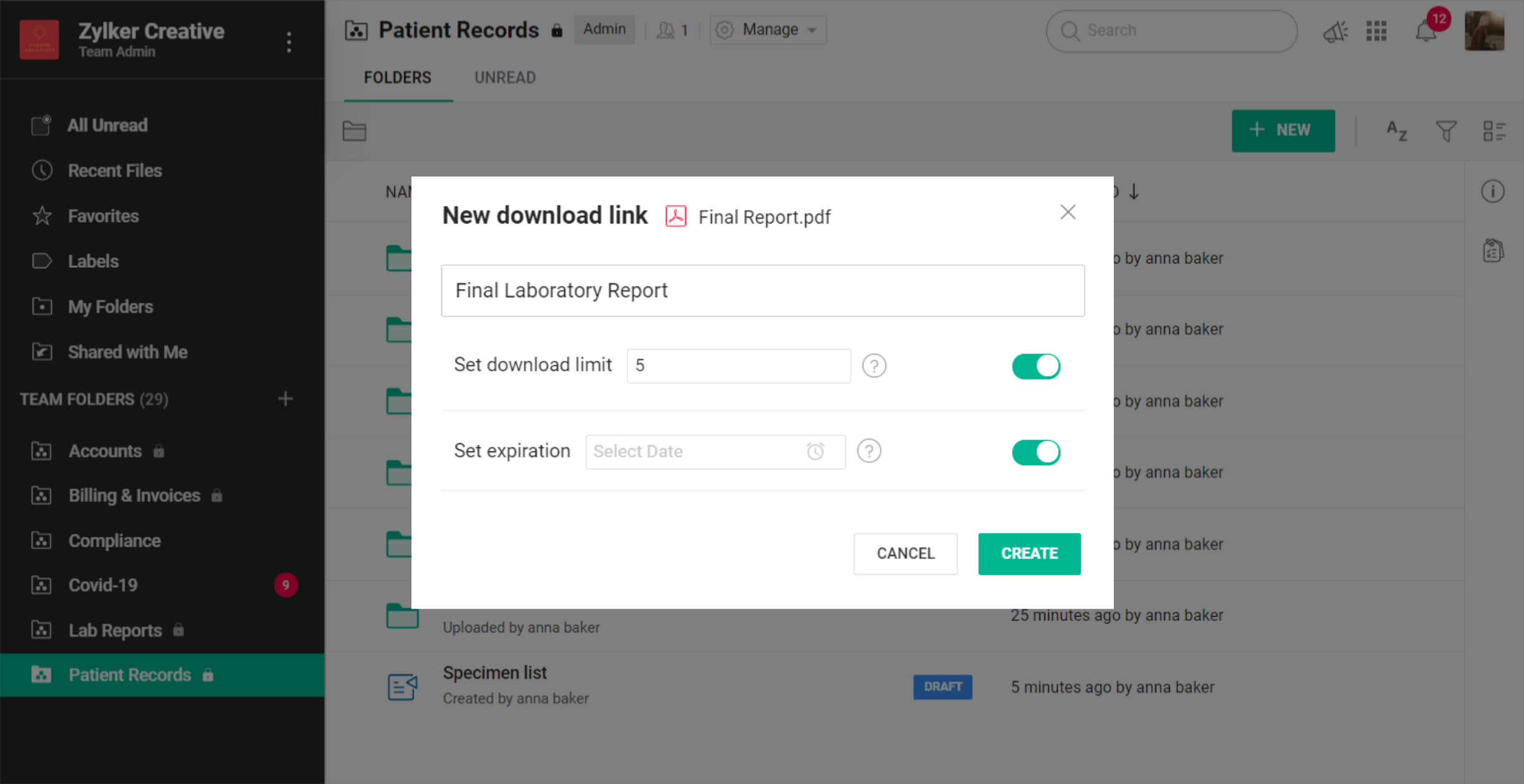 Discover data in a click
Finding the right report at the right time can help doctors diagnose faster. Search for CT scans, blood reports, and test results not only by file name but also with content keywords.
Bring your research to life
Accelerate research by collaborating across departments and externally with other academic medical centers. Share data analyses, test results, abstracts, and methodologies and brainstorm with your peers in real time. Establish an effective lab that facilitates interdisciplinary research.
Review and approve
Managing reviews and finalized reports is crucial for laboratory processes. Fast track document turnaround time, send patient report to your health care provider, and get their comments instantly.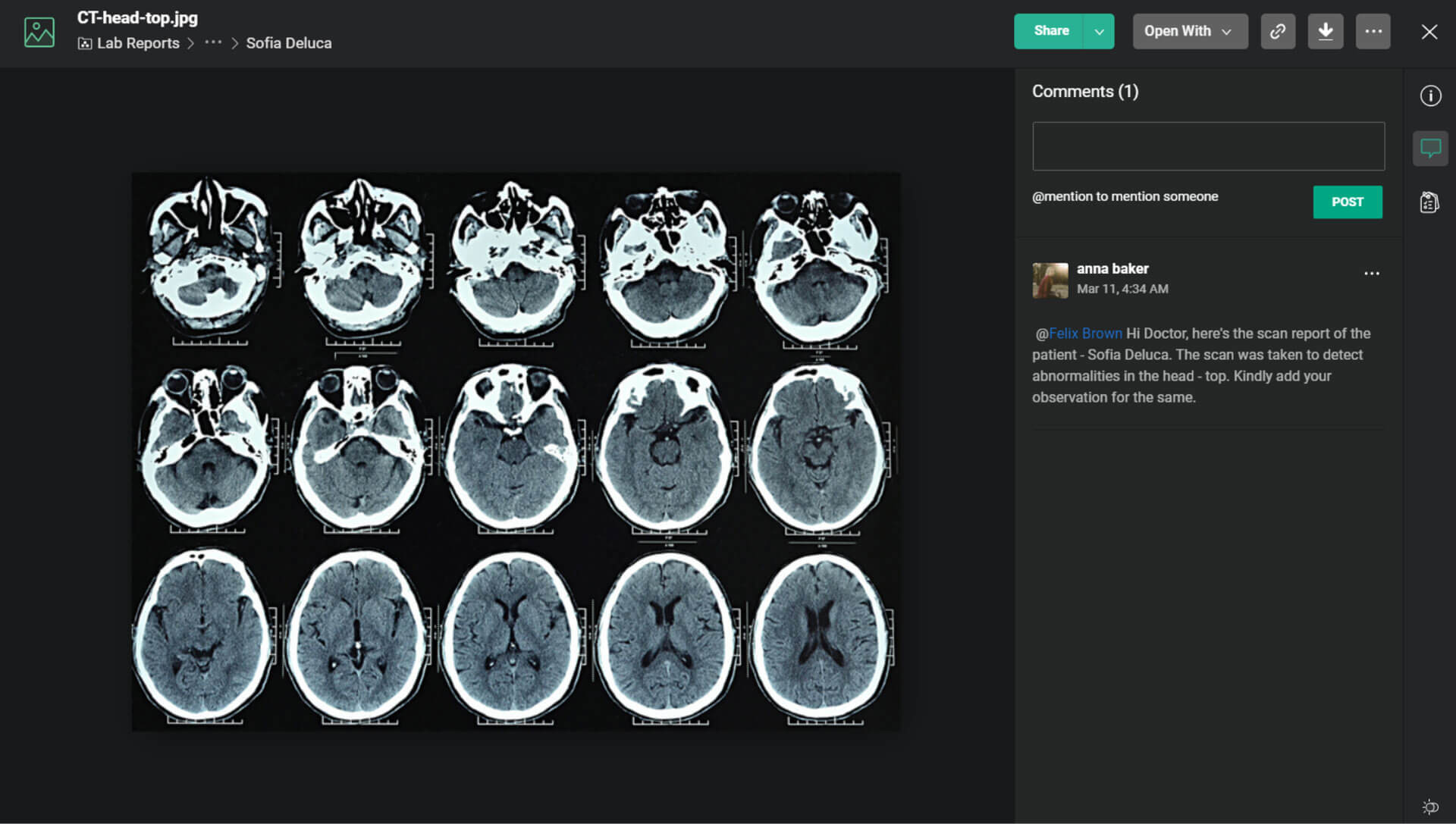 A clutter-free laboratory
Avoid the accumulation of unwanted documents and outdated patient information. Decide how long your trashed data should be retained before automatic deletion from your system. Retention scheduling and discarding of unnecessary files decrease clutter in your laboratory.
Safeguard your patient records
Monitor changes made to your patient files and folders, receive real-time notifications, and know whenever a document is modified. Restrict downloads for sensitive reports to maintain patient privacy.
Your security is our priority
Medical labs process a substantial amount of sensitive data every day and this data must be protected. WorkDrive adheres to ISO 27001 and SOC - 2 standards to ensure data stays secure at physical, logical, and data levels.
Secure file management system for medical labs