Tools
Set Stronger Passwords
Generate strong, unique passwords for your logins using Zoho Vault's password generator. Define your own password policy and generate strong passwords as needed.
Store Anything you Want
Customize and add new fields in the user interface to suit your requirements. Zoho Vault allows you to add as many custom fields as you want. You can even choose the type of the custom field - whether you want to store normal textual entries or password-type entries. If you choose password-type, the entries you make will be shown hidden by default to offer protection against shoulder-surfing.
Locate your Passwords with Ease
To facilitate quick and easy access to secrets and other records, Zoho Vault provides search and sorting facilities in all table views.
Access Passwords even when you are Offline
Get the convenience of accessing the secrets even when you are offline. Passwords can be downloaded in encrypted HTML format for offline access. The offline copy is as secure as the online version. You would be required to supply the passphrase to access your secrets. You can store the offline copy anywhere and view the secrets using any standard web-browser.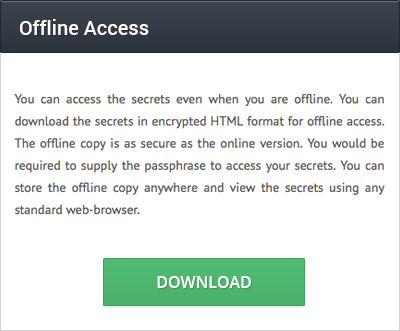 Import Passwords in Bulk
Add all your secrets in bulk to Zoho Vault through the import option. This tool comes in handy to port your secrets from other password managers as well.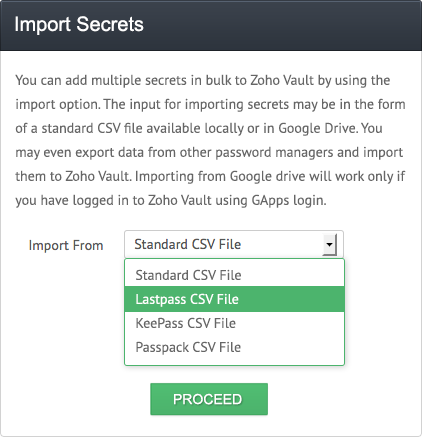 Export Passwords
Get a copy of all your passwords in a text-file using the 'Export' passwords tool.