Helpdesk Integration
Zoho Vault provides the option to integrate with popular helpdesk systems to automatically validate service requests related to password access. The integration ensures that users can access passwords with only a valid ticket ID. It also extends to our access control workflow, which helps in granting approvals to access requests against automatic validation of corresponding service requests in the helpdesk system. Zoho Vault currently integrates with ManageEngine ServiceDesk Plus OnDemand, Zoho Desk, Zendesk, ServiceNow, and JIRA service desks.
How it works:
Administrators specify the client ID, client secret, and URL of their helpdesk to establish a secure connection between Zoho Vault and their helpdesk. 
Zoho Vault leverages the REST APIs provided by the respective helpdesk systems in the background for this feature to work. 
By default, Zoho Vault validates if the ticket ID entered by the user exists in the helpdesk system, and also verifies if the incident connected with the ticket is not closed. 
Once integrated, users will be required to enter a valid ticket ID for accessing a secret. 
Note:
Super admins are exempted from ticket ID enforcement by default.
Administrators can also configure to check any other criteria using the Advanced Configuration.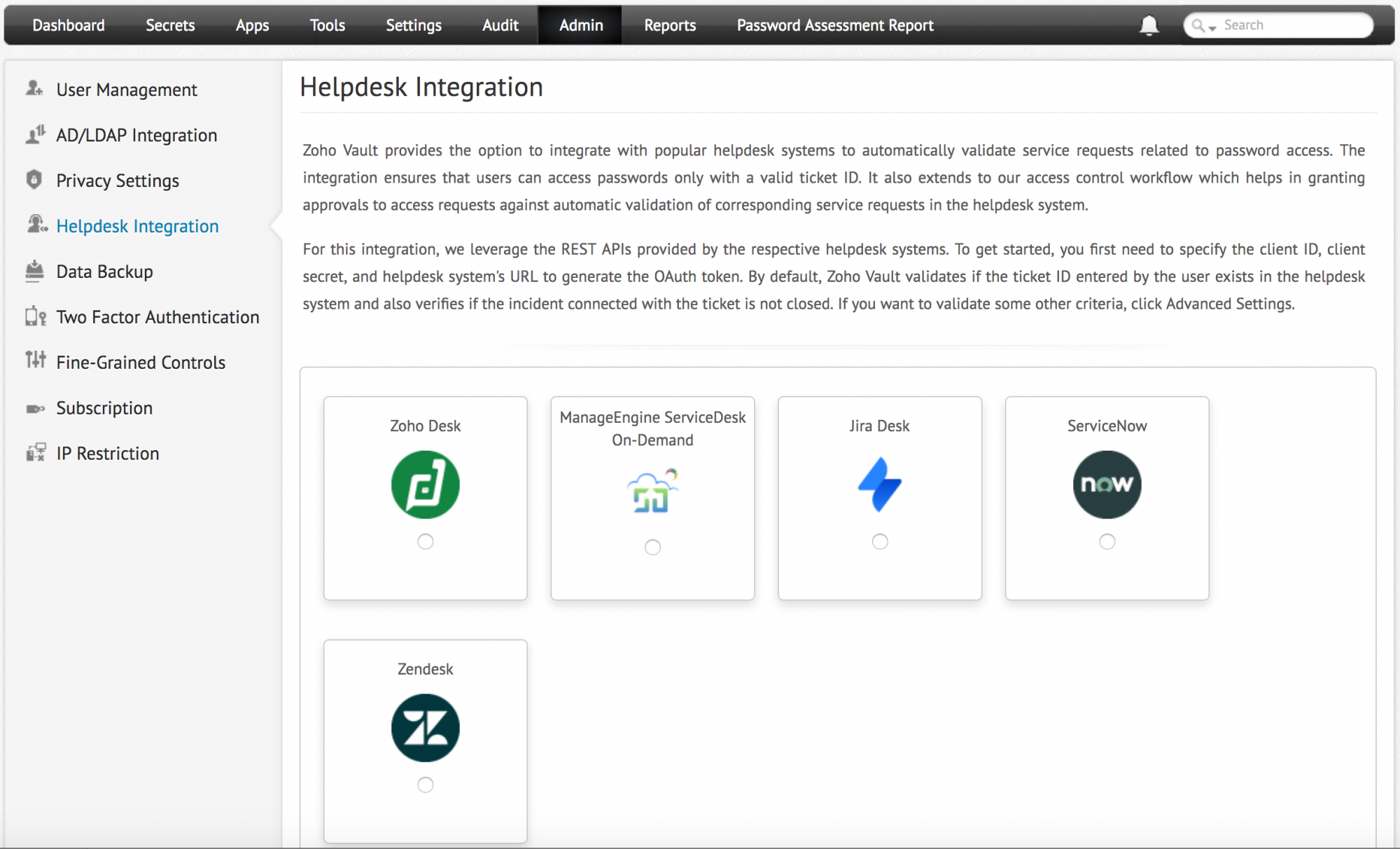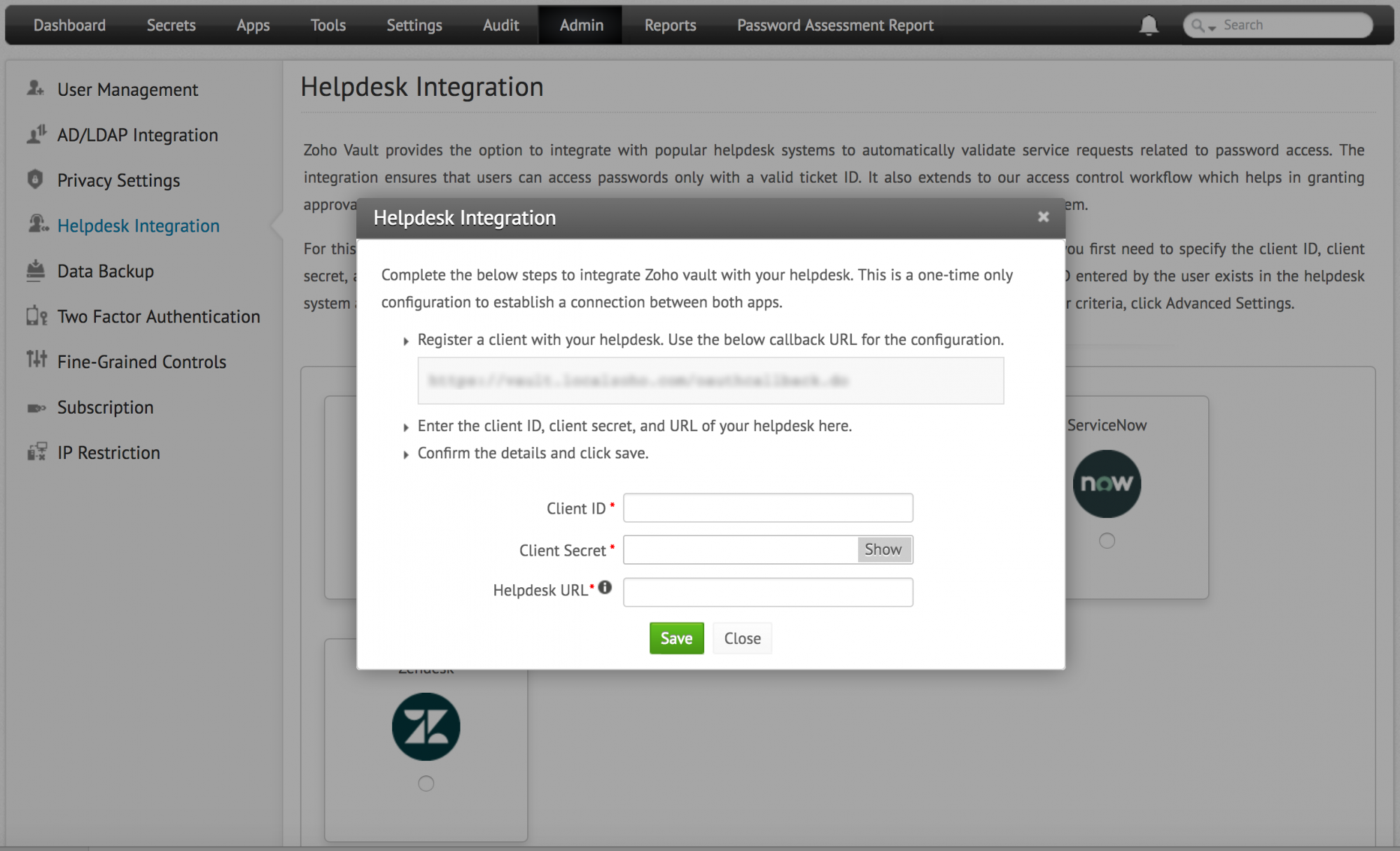 Steps for administrators to configure the helpdesk integration:
Navigate to Admin > Helpdesk Integration.
Select the helpdesk.
Copy paste the client ID and client secret from your helpdesk.
Enter the helpdesk URL.
Click Save.
Click Advanced Settings to validate other criteria apart from ticket ID and ticket status.
Validating if specific columns in Zoho Vault match with the ones you specify in the helpdesk: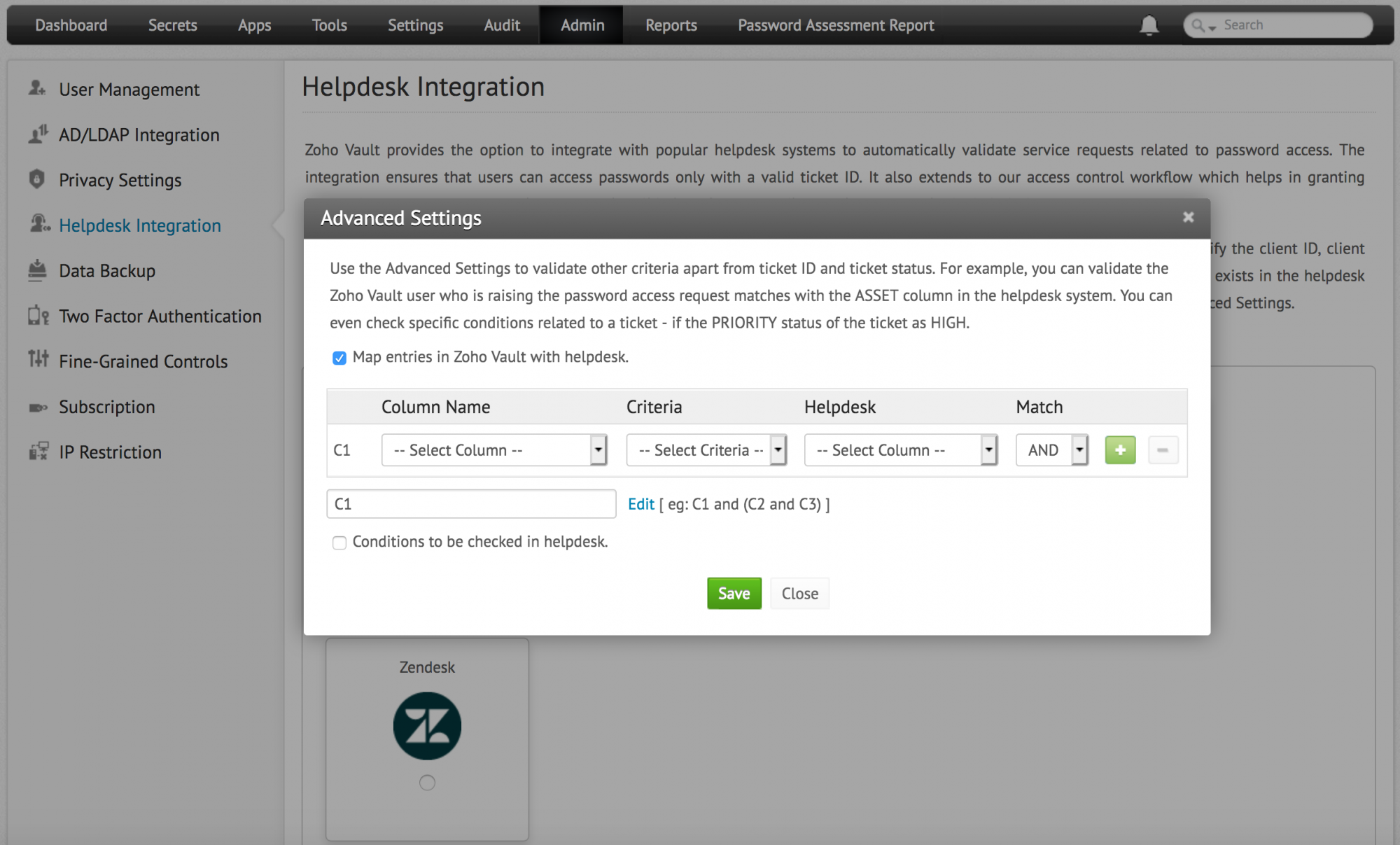 The column name drop-down lists down the column names as available in Zoho Vault - User Name, Email, First Name, Last Name, Secret Name. The custom fields created in Zoho Vault are also included.

Through the criteria column, you can specify what you want to check.

The helpdesk column lists the fields (including custom fields) available in the helpdesk system. You need to choose the field, which you have to be mapped with the corresponding field in Zoho Vault. For example, you can choose to map User NAME in Zoho Vault with ASSET in the helpdesk system. Once you specify this mapping, before granting access to the secret, Zoho Vault will check if the USER NAME as specified in Zoho Vault matches with the ASSET name in the helpdesk system. Access will only be granted if this validation succeeds.
Validating specific conditions related to the ticket in the helpdesk system:
To validate if specific conditions related to the ticket are met, you need to select the Conditions to be checked in helpdesk option. By default, Zoho Vault checks if the ticket STATUS is not in CLOSED state.
You can select any number of additional conditions and Zoho Vault will validate all of them with the helpdesk system. By default, Zoho Vault lists all the fields available in the helpdesk system, including the custom fields. You can specify the value that Zoho Vault has to validate.