Importing Users from G Suite
Zoho Vault lets you quickly import users from an existing G Suite user directory. This way, you will be able to save time during user import after getting started with the application. With Zoho Vault - G Suite integration, users can access Zoho Vault with their existing G Suite credentials using single sign-on. 
This process involves two steps as described below:
Step 1: Integrating G Suite with Zoho Vault account
Step 2: Inviting users from G Suite
Prerequisites
A valid G Suite subscription with admin privilege. 
A Zoho Vault account with admin privileges already set up.  
Important Note: Zoho Vault does not support user import from multiple domains, sub-domains, or domain aliases in G Suite. It will only import the users from the primary domain that is synced with it. Users can only log in with the email addresses given in the primary domain.
Step 1: Integrating G Suite with Zoho Vault account
Sign in Zoho Vault from here with your G Suite admin email id: https://accounts.zoho.com/signin?servicename=ZohoVault.
Click the Sign in with Google or other IDPs option.
Click the G Suite option and complete the account creation.
Then, log in to G Suite with the Super Administrator's privilege.
Access the Admin option from G Suite menu.
In the G Suite Admin Console page, click on Apps. If you don't find 'Apps' in the Admin Console screen, please click "More Controls" then access Apps.
Click the Marketplace apps 
Click the Add Marketplace Apps ("+" sign on the top right).
In the G Suite Marketplace, search for the Zoho Vault application.
From the search results, select Zoho Vault, click Install App.
In the "Get ready to install" page, please click Continue.
In the Grant data access page, enable the check-box at the bottom and click "Accept" to install the Zoho Vault app successfully.
Step-2: Importing users from G Suite
Log into your Zoho Vault account with the Sign in with G Suite option
Go to Admin >> User Management >> Users >> Import Users
You will see the list of users on your G Suite account displayed there from which you can select the users whom should get access to Zoho Vault.
Once imported, users will be sent an email to join your organization.
You can also import users groups by navigating to the Admin > User Management > User Groups tab.
Users should click the 'Join Ogranization' email and become part of your Zoho Vault account.
Your users can now login to Zoho Vault with G Suite credentials and securely manage their passwords.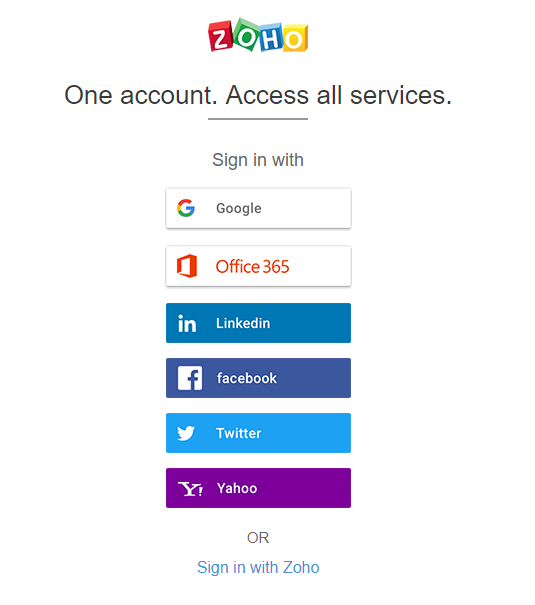 .