Recurring Invoice Preferences
In the Preferences module, you would be able to choose the method by which you can send the invoices generated from the recurring invoices to your customers. Also, you can setup your auto-charge option after selecting Create, Charge and Send Invoices.
To access the preferences, go to the Recurring Invoices section and click the gear icon on the top right corner.

Or click on the gear icon on the top right corner and select Preferences > Recurring Invoices.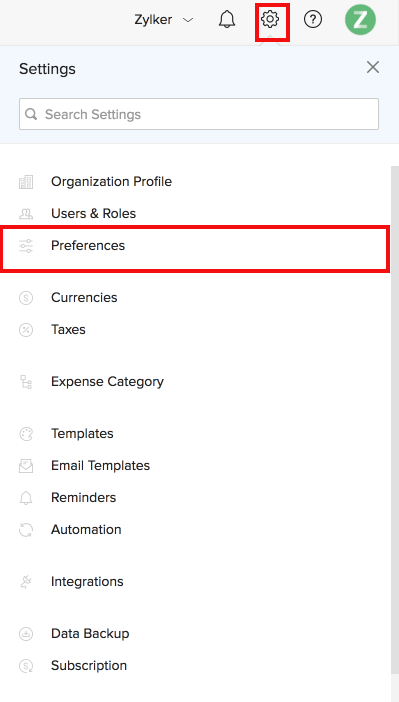 IN THIS PAGE…
Recurring Profile Preferences
Create Invoices as Drafts: Invoices once generated, will be saved as drafts. You can review and send them to your customers.

Create and Send Invoices: Once the invoice is generated it will be automatically sent to your customers.

Create, Charge and Send Invoices: Your customers can get automatically charged for the invoices created by associating their card and an invoice will be sent to them for reference. By choosing this option you can also configure the settings for successful and failure payment notification and retry setting on payment failure. Learn more about Auto-charge Preferences.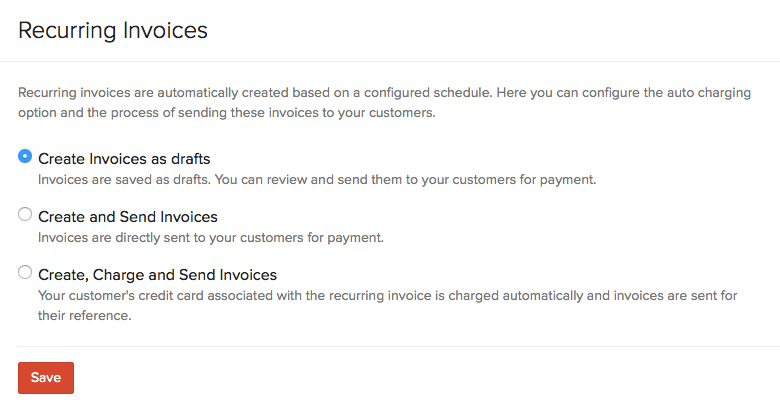 ---
Auto-charge Preferences
Currently the Auto-charge feature is supported for the following payment gateways.

Stripe
Authorize.Net
PayPal PayFlow Pro
PayPal Payments Pro
Forte
World Pay
Successful & Failed Invoice Payment
On Success
Select send payment thank-you along with the invoice, if you wish to send a thank-you mail along with the invoice to the customer.

Select do nothing, if you do not wish to send any mail to your customer.
On Failure
Select send failure notification, if you do not wish to have any retries after a failed transaction. This option will send a notification informing the customer on payment failure.

Select Send failure notification and retry, if you wish to have retry options for charging your customer. This will also send a notification informing the customer on payment failure and the retry initiated.

Select retry without failure notification, if wish to retry the charging process without informing the customer about the failed transaction.
Retry Settings
A maximum of 3 attempts can be made in order to charge you customer on a failed transaction. You can select the attempts to be made by checking the box next to the retry attempts.

First Retry is made after a failed transaction.
Second Retry is made if the First Retry fails.
Third Retry is made if the Second Retry fails.

Enter the number of days to retry after a failed attempt to charge your customer. You can also choose not to send a retry notification to your customer by selecting the don't send email option from the drop down.

To suspend or make the recurring invoice inactive after all the retries have failed, check the After all retries, suspend the recurring invoice option.

Click Save to save all your changes.
Insight: Email content for all the notifications can be modified by clicking on the Credit Card or ACH option respectively.
After saving your recurring invoice settings, navigate to Settings > Integrations > Online Payments and set up the payment gateway that supports Auto-charge feature for receiving your payments.
---