System & Browser Requirements for Zoho Books
To use Zoho Books you only need a Web browser. So, let's get started!
Being a cloud-based accounting solution, you can easily access it using any popular web browser. Currently Zoho Books has been tested to work brilliantly on the following browsers.
You may click on the respective links to download/update your browser,
For Mobile users with IOS, Android & Windows phone, know more about our Zoho Books apps
---
Zoho Books Login
If you are a new user, you need to sign-up first for your 14-day free trial. The log in & sign up buttons are provided on the Zoho Books home page.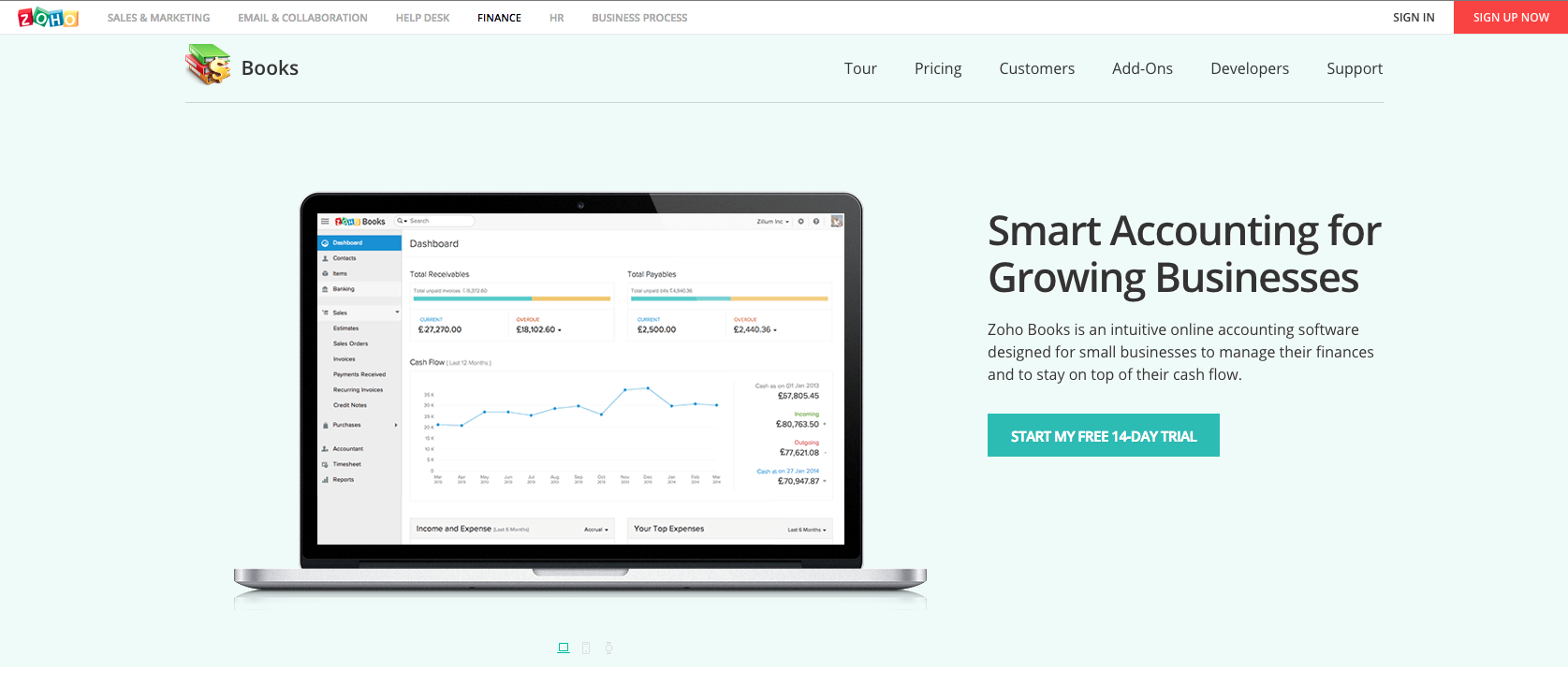 Follow the below steps to quickly fill in the requisites.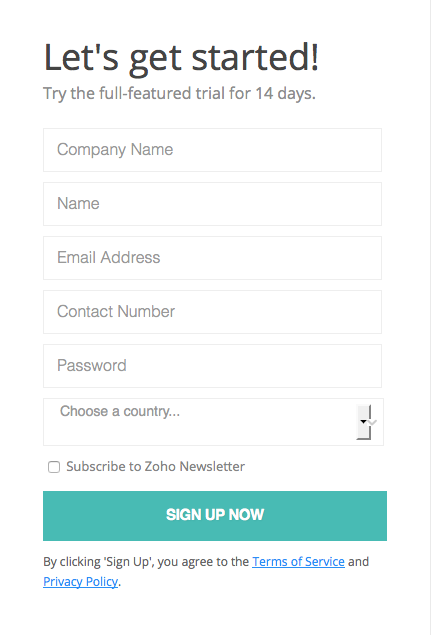 Click on the Sign Up or TRY IT FREE FOR 14 DAYS button provided on the Zoho Books home page.

Fill in your information as requested.

Company: Enter the name of your company.

Your Name: Enter your name.

Your Email Address: Enter your email address.

Contact Number: Provide your primary contact number.

Password: Set a password.

Country: Select the country your organisation operates from.

Be sure to read the Terms & Conditions and then Signup!

A verification email will be sent to your email. Click on the link to verify your email and confirm your registration.

Your account is now activated.
---
Quick Setup
Once you have logged in to Zoho Books, setting up your organisation is a breeze. The quick setup program will help you in setting up the 4 major aspects for your business, viz: Organisational Details, VAT Settings, Features and Online Payments.
Organisational Details:
Follow the below steps to setup your Organisational Details:
Zoho Books Start Date: This will be the date from which you started using Zoho Books. This will be the start of your accounting period.

Industry: Select the Industry to which your organisation belongs to.

I do my accounting using: You might be chalking your accounts with a pen and a paper, a spreadsheet expert or be using another accounting application. Let us know by selecting an option from the drop down.

Portal Name: Enter a name which you wish to have as your portal name. A Client portal is an interaction platform to help you in receiving payments from your customers easily. To learn more about Client Portal, click here.

Fill in the address of your company.

Click on Save & Continue.
VAT Settings:
The finances of your business are affected by taxes. Setup your VAT information in this page. You can skip this by clicking on the Skip this step in the bottom and enter the details later.
Enter your VAT Registration Number and select the Reporting Period for VAT.
Select the other VAT informations required to setup VAT for your business.
Enable International Trade and VAT MOSS if you are doing business with other EU/Non-EU nations.
If you wish to enable Flat Rate scheme for VAT, check the Use Flat Rate box and update the rate details.
Click on Next.
Features:
Apart from the default modules enabled for your organisation, select the optional modules that you would be requiring for your business.
Online Payments:
Configure payment gateways integrated with Zoho Books to receive online payments.
Click to Finish and your set up is done!
---
---