Getting started with TransMail
TransMail is a cloud-based transactional email sending service that helps you to send Transactional emails to your customers. Transactional emails are automated emails, that are triggered by user action from any application. They are usually emails with receipts or OTPs or confirmations and so on, which are triggered by the customer actions in the associated application/ service. Example: Order confirmation emails, Payment failure notification, Password reset emailers are some of the common transactional emails.
When you send the transactional emails through unauthenticated email servers or random applications, the emails might be considered as spam by recipient servers. It also poses a security threat, where the details in the email can be intercepted and misused by spammers. This would indirectly disappoint the customer and hence affect your business reputation. Hence such emails should be sent with proper authentication from email servers that have a remarkable reputation, in order to reach your customer on time and directly in the Inbox. It is highly recommended to use exclusive services like TransMail to send such critical transactional emails to your customers.
Transactional emails are not Newsletters or Marketing emails sent to your leads/ customers and so on.
This guide will help you set up your TransMail account and use your domain with the application to send emails.
Log in to TransMail
After you signup, you will be greeted by a welcome screen. Once you read and agree to the Terms and Conditions, click on Setup TransMail.
Now you will be requested to complete the Customer Validation Form. We need some details about your business to understand your organization and to analyze the type of emails you send. 
Fill in your details in the KYC form and click Submit.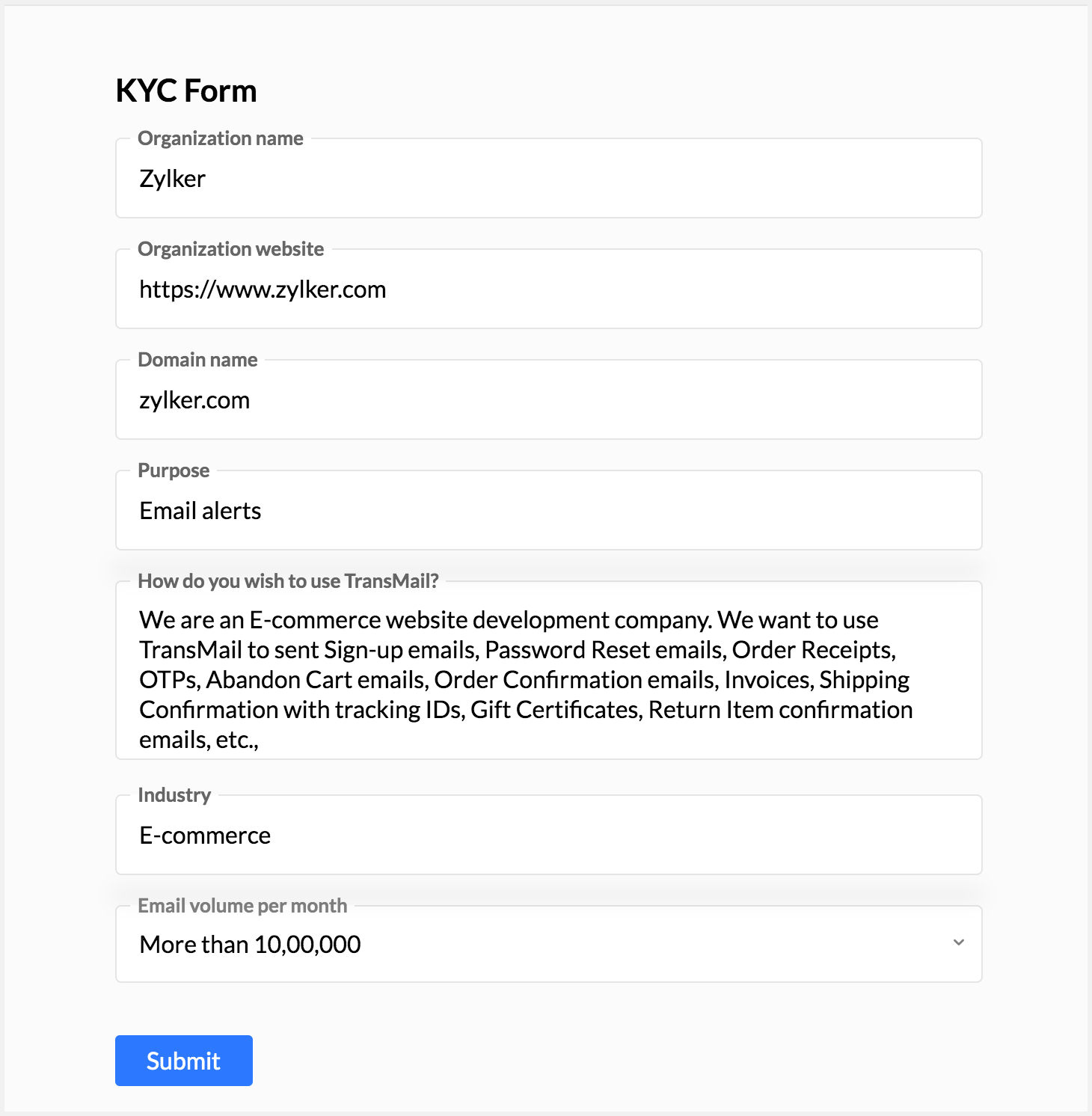 Note:
You can set up your domain and the TransMail account. You will be able to send 1000 emails, with a daily cap of 100 emails.
Create the Mail Agent
The next step is to create your Mail Agent.
Mail Agent is used for grouping your transactional emails at a high level. You can set up multiple domains under the same Mail Agent to group the transactional emails from them under a particular category. This helps you to view all the transactions of the processed emails based on the Mail Agent. You can configure webhooks, enable tracking, and upload files that need to be added as inline images or attachments to your email. 
Steps to create the Mail Agent:
Give a name for the Mail Agent. This is basically to help you identify the purpose/ category of the emails sent using this agent. Example: welcome-mailer, mailer etc.

Provide the domain/ subdomain using which you want to send emails. You can set up a new subdomain in case you do not have one. This ensures that the email delivery of the existing accounts does not get affected due to this new setup.
Provide a Description for the Mail Agent based on the nature of transactions. This will help you identify the Mail Agent at a later point of time when you have set up multiple Mail Agents for different purposes.
Click Next to create your first Mail Agent.
Set up your Domain 
You have to set up your domain or subdomain using which you want to send transactional emails to your customers. This should be easily identifiable by your customers and should be related to the application or service that your customers use. In this step, you will learn about configuring your domain and verifying SPF, DKIM, and CNAME records for your domain. SPF and DKIM records are used by recipient servers to verify the authenticity of the domain. CNAME record is used to set up your bounce address. When the transactional emails are sent, there may be some cases where the emails could not be delivered to the recipients due to delivery failures or bounce backs. Refer here to know about bounce emails. 
Steps to verify your domain:
You can verify the domain by adding the SPF, DKIM, and CNAME records in your Domain's DNS Manager.
In case you have access to the DNS Manager, and can do it on your own, copy the records, one by one, and create TXT records and CNAME record in your DNS Manager.
​

Note:

Refer here for instruction specific to popular DNS providers like GoDaddy.

Before you add the DNS records if you want to edit your name, click on Edit.

Before you add the CNAME record, you can also edit it. Click on the edit icon next to the CNAME record host value.
​
Enter the new sub-domain value that you want to use it with your bounce address. 


Click the green tick icon to confirm your new bounce address domain value.

Alternatively, if you do not have access to the DNS Manager, you can get the assistance of someone who has the required access to the DNS.
You can get assistance by sending an email to the IT administrator or the agency who is managing your domains.

Click Share Record.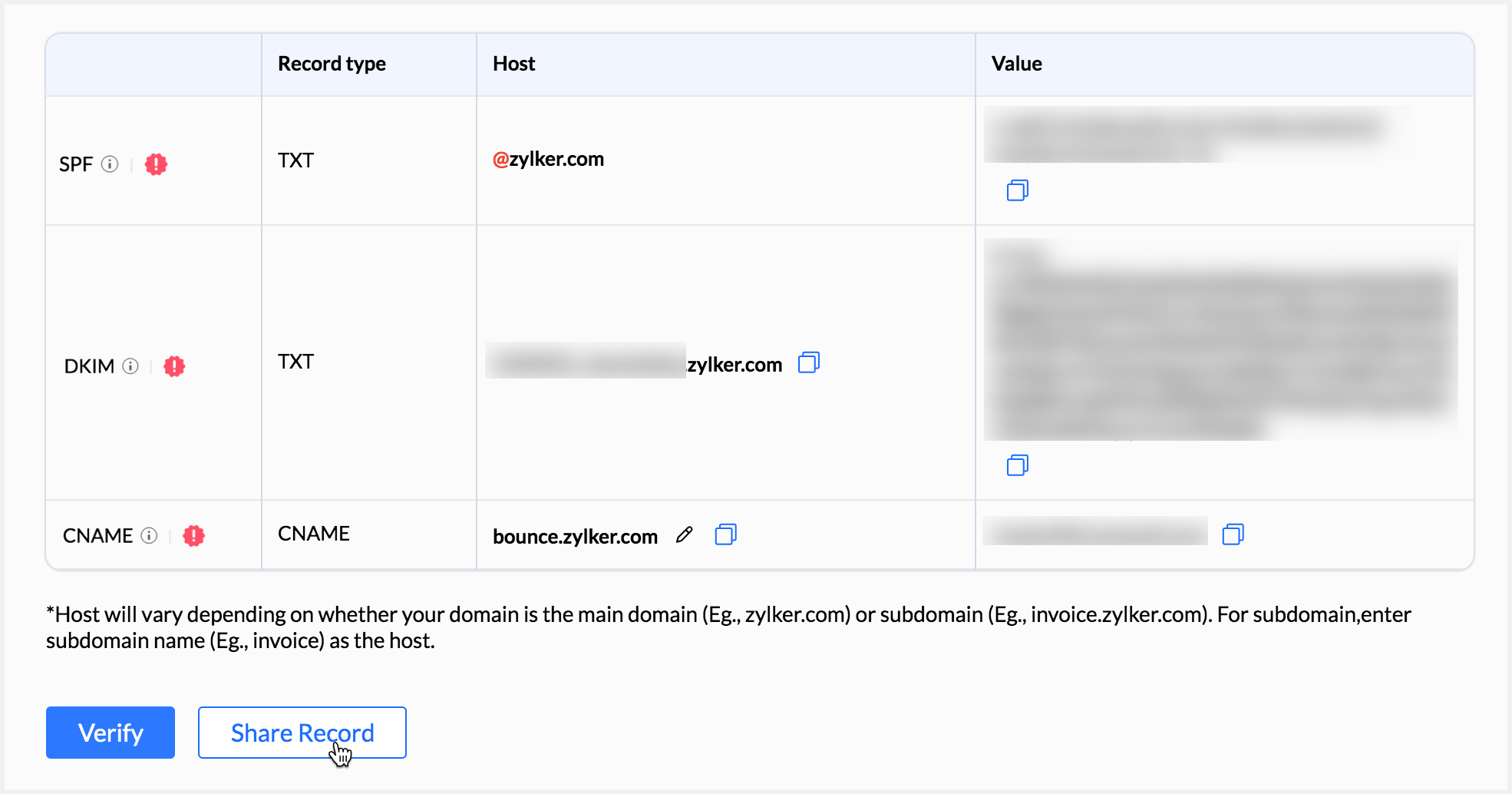 This will compose an email pre-filled with the required information.
You can add your own custom note and send the email, by providing the email address of the contacts who can assist you in this process.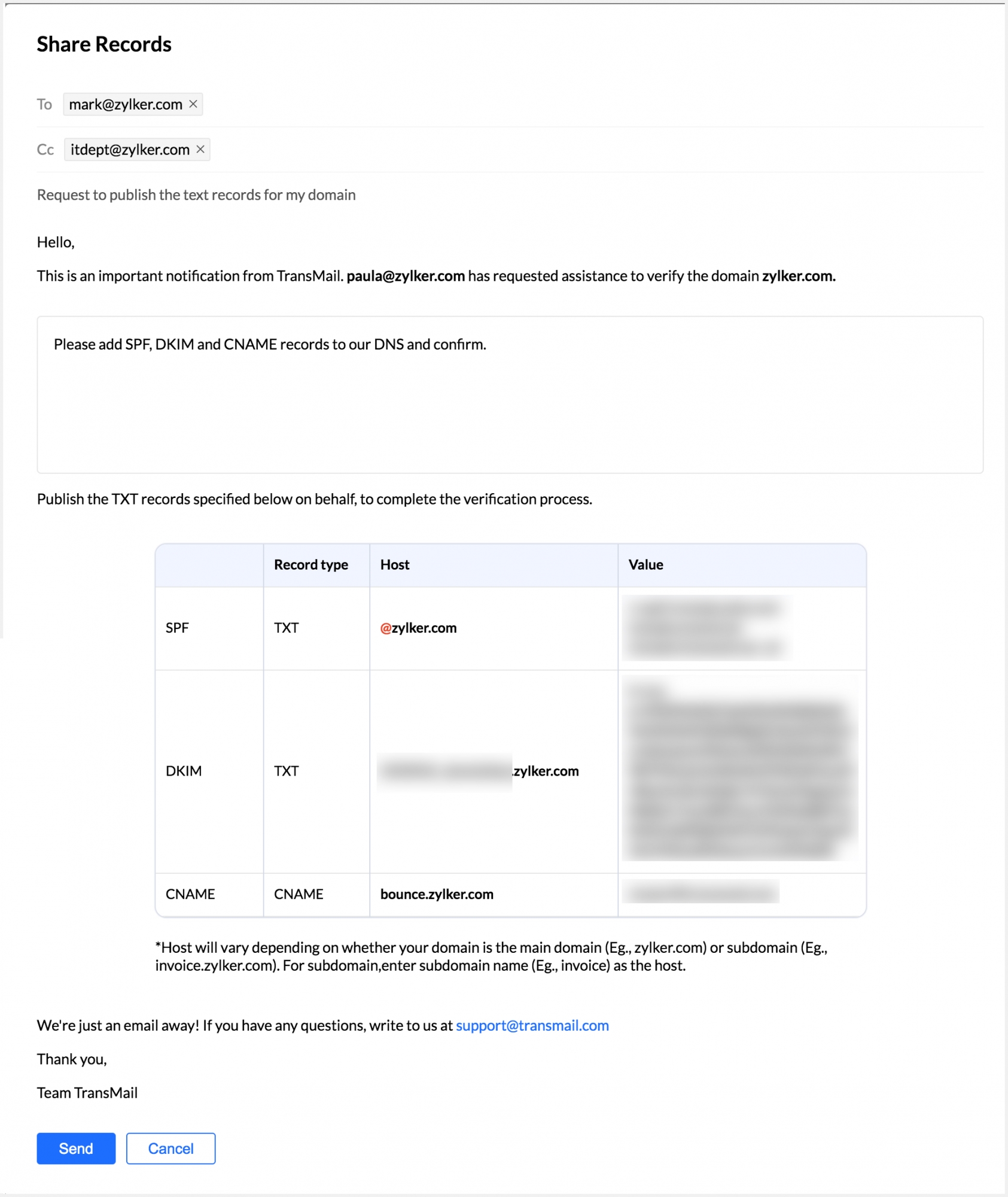 Once you have added these records, click Verify for verification.
​
Note:
Based on the TTL of the domain, sometime it may take 24 hours for the records to get propagated across DNS. Hence the domain verification may be delayed, and you may not be able to send emails until then.
Steps to configure the bounce address:
Provide the Bounce address that you want to use in TransMail to receive the email bounces.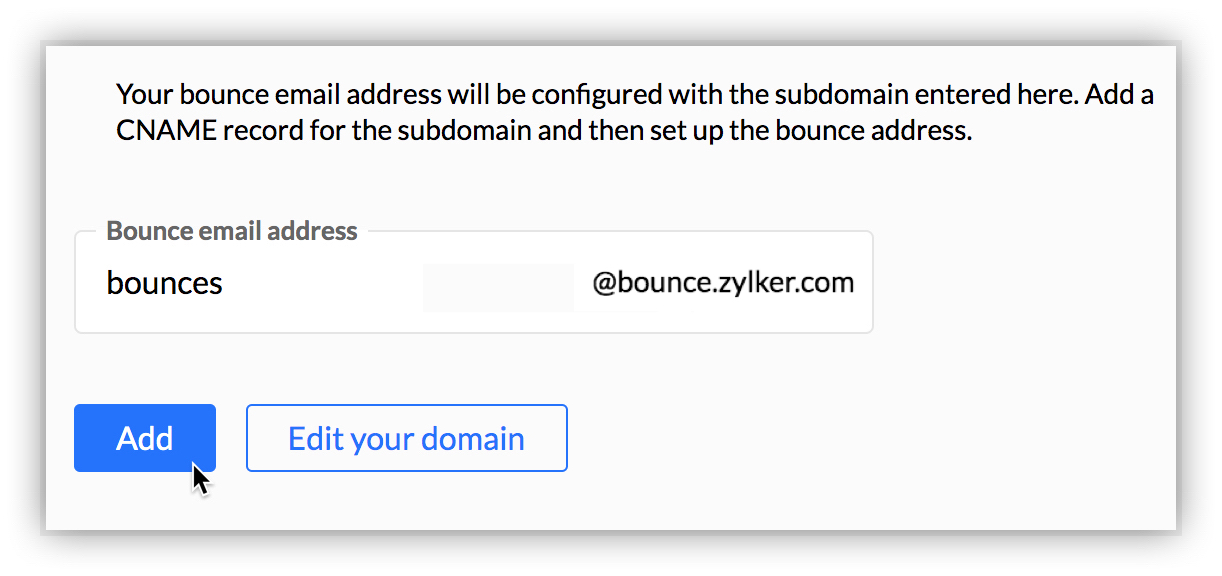 Note:
The bounce address can be created using your sub-domain only. 
Click Add to add this and proceed to configure your service with TransMail details.
Connect your service
You need to connect your service/ application with TransMail to start sending emails. You will get the username and the SendMail token, that would be needed to send emails. You can connect to TransMail from your application, directly via SMTP or using APIs to send emails.
API Method - To connect to TransMail via API method to send your emails, use the Send Mail token in the authorization header of your API request body.

Send Mail token - Copy the unique Send Mail token generated for your account.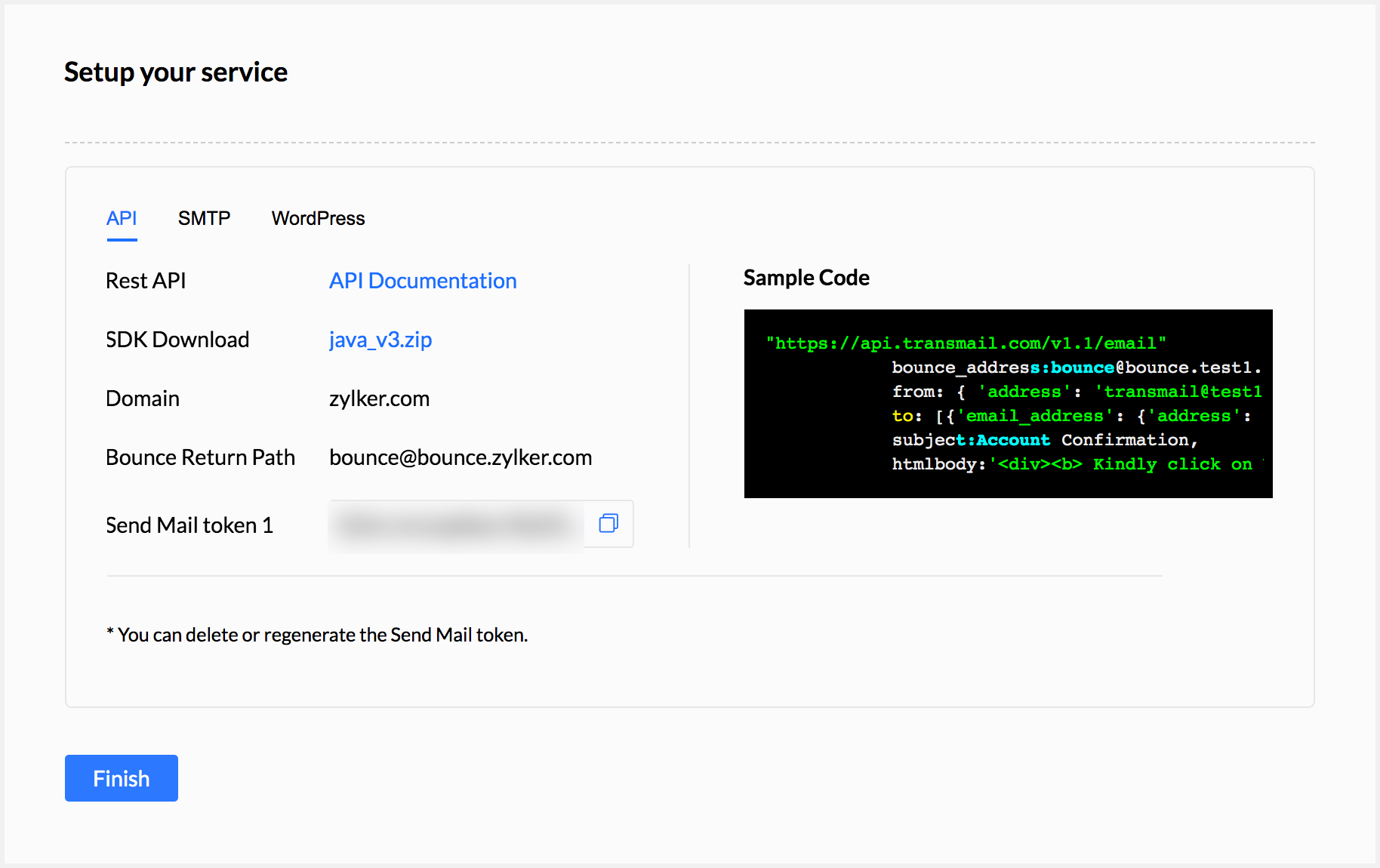 SMTP Method - To connect to TransMail via SMTP method to send your emails, add the following details -

Server name - smtp.transmail.com
Port number, Authentication - 465 (SSL), 587 (TLS)
Username - emailapikey (we also support applications that use the From address as the username)
Authorization - Password. Visit here to check your password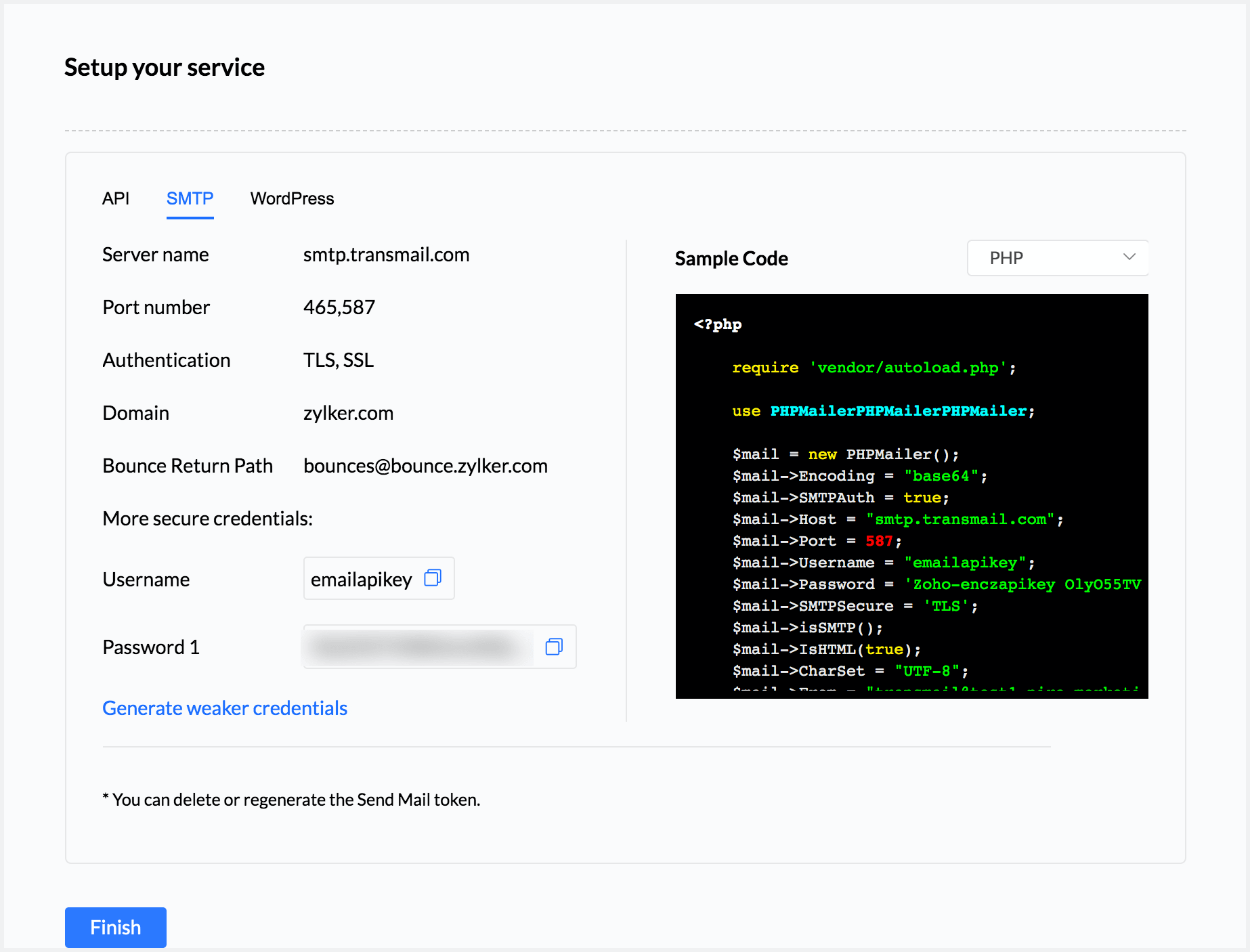 WordPress plugin - If you want to configure TransMail for your WordPress website, you can visit our Help Documentation on WordPress setup to know more about the configuration process.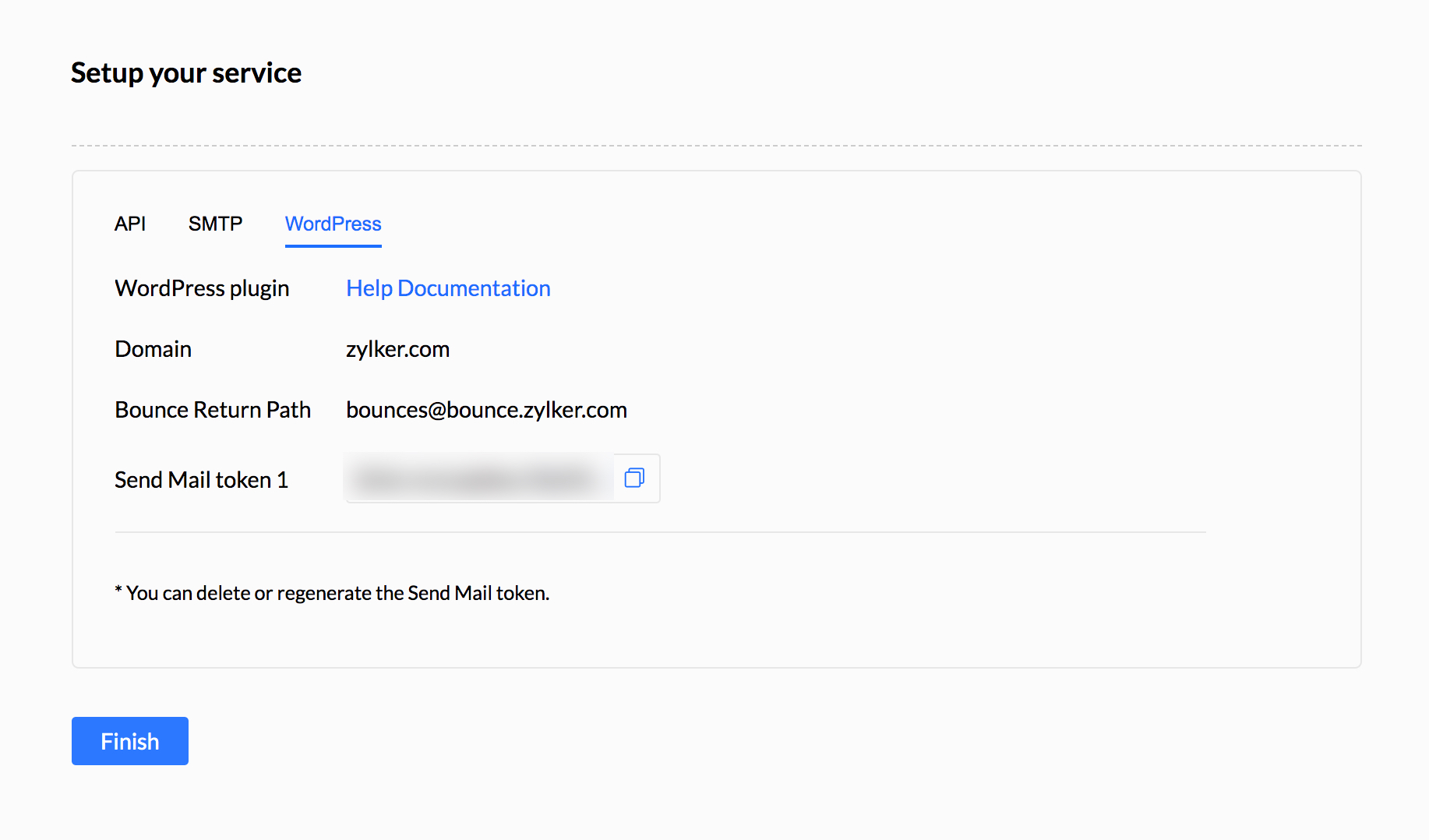 Note:
While sending your email via SMTP, the bounce address added in your Mail Agent should be used. If you leave the bounce address field empty or configure it with an invalid bounce address, then TransMail will use its default bounce address while processing your email.
If your SMTP application is restricting longer passwords, then you can generate a shorter password. Shorter passwords are generally less secure. Click on Generate shorter password to get your shorter password.
When you generate a shorter password, your application can either use the From address as username value or you can generate the new Username value for the shorter password by clicking on username value.
You can also Download the SDK in this step.
Click Finish to complete the setup process.
Send test email
Sending the test emails using this configuration is the final step in your TransMail setup.
Steps to compose and send a test email:
Click Send test email to compose your first test email using TransMail.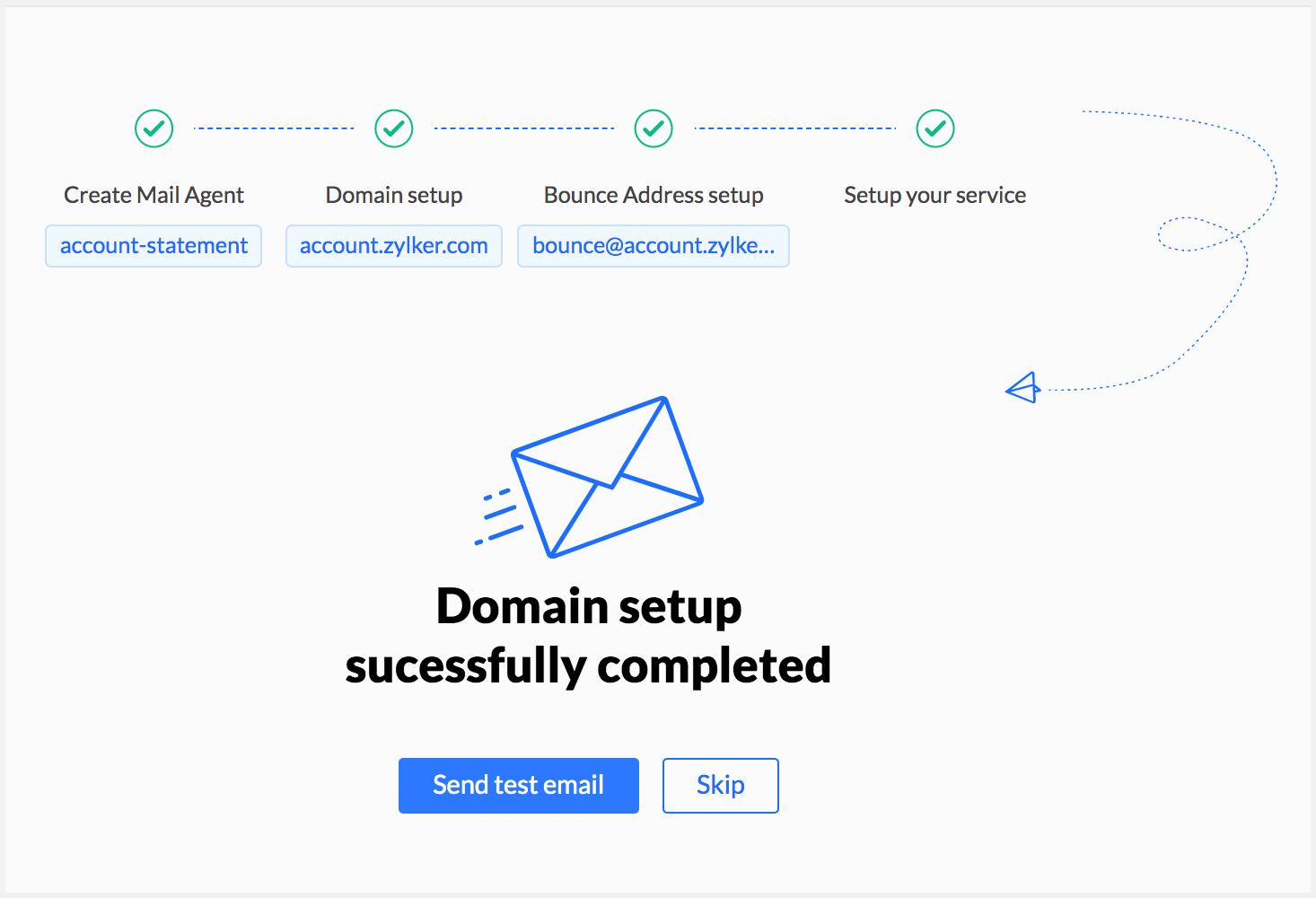 Add From address, Return path (bounce address), To address, Subject, and test email content.
To add additional information on your email headers section, click Add custom headers.
Click Send.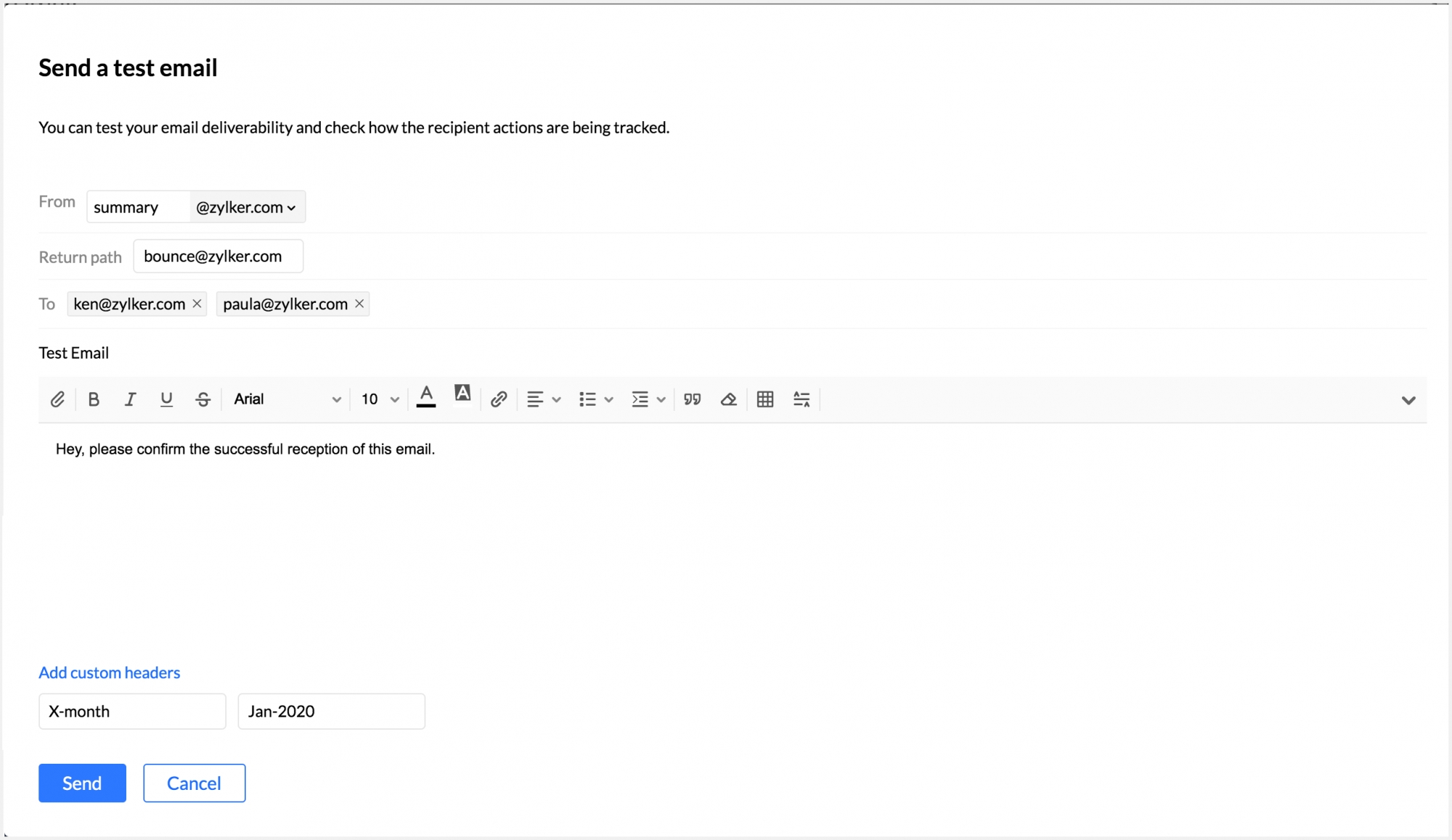 Check the Inbox to confirm the successful delivery of your first test mail using this Mail Agent.
You can click on Skip to go into the TransMail dashboard. 
Purchase Credits
After setting up your TransMail account you will be able to send 1000 emails, with a daily cap of 100 emails. After your account is validated you can use the 10,000 free emails within a period of 6 months. You can also purchase credits and start sending transactional emails based on your email sending volume. To know more about credit subscriptions click here.
 
Note:
Before you get started it is important to know that TransMail is for sending transactional emails like welcome emailers, password resets emails, OTPs. We do not support sending of bulk emails or promotional emails like newsletters or marketing campaign emails. If you are looking for a bulk email provider, you can visit Zoho Campaigns.