Zoho's Ecosystem
To achieve Net Zero, emissions released by human activities should be counterbalanced by removing carbon from the atmosphere. Increasingly, enterprises worldwide have also come out strong in their commitments to net zero. The real question, however, lies in their plan of execution.
Zoho has taken a forward thinking approach to Environment, Social and Governance practises. By leveraging cutting edge technology and the Internet of Things, the Net Zero dream is now becoming a reality.
Zoho's Sustainability Measures
Efficient Energy
Carbon Reduction
Sustainable Procurement
Zero Waste
Water Conservation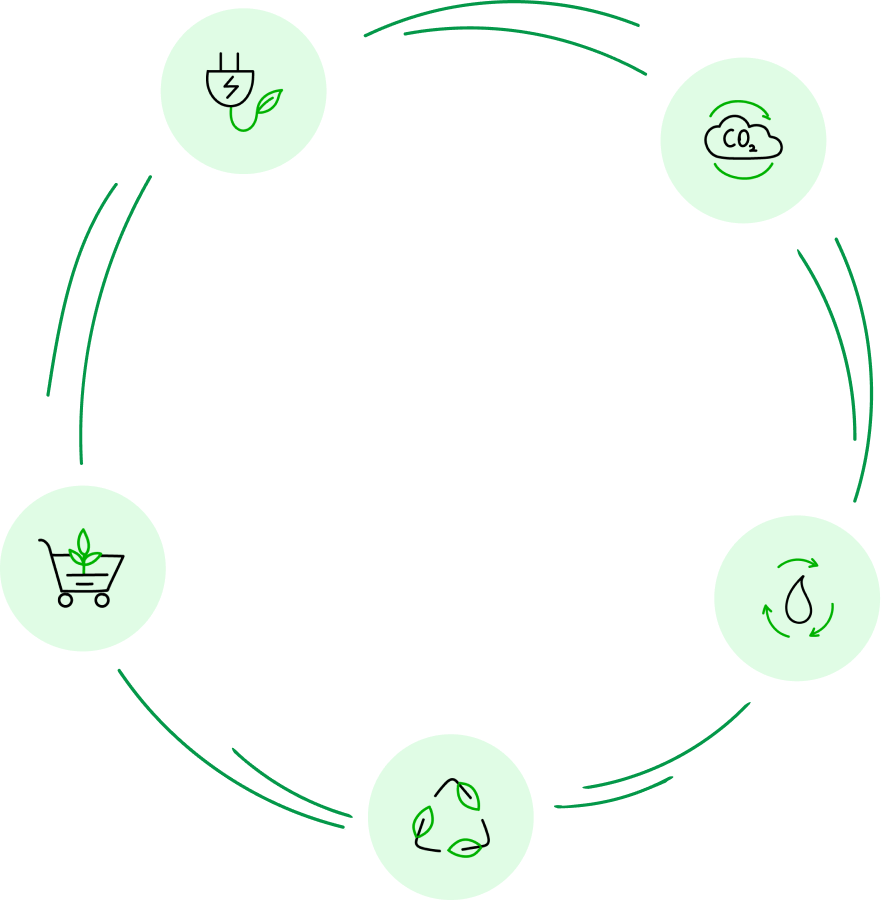 Milestones
0

k

tons of carbon dioxide emissions sequestered per year

0

k

kWh

of electricity sourced from solar panels

0

k

kWh

of electricity sourced from windmills
Zoho's ways of
winning for the world
CSR @ Zoho
Zoho bagged the SEZ Excellence award for CSR and Renewable energy in 2019-20. Zohoites are always up for community projects. Be it cleaning local parks, planting saplings or painting walls!
Environmental Monitoring
With Zoho's IOT, monitoring source emissions, air, noise and water has helped us keep pace with our goal.
Awareness Initiatives
Educational resources such as blogs, videos and infographics to educate the need for ESG.
Frequently Asked Questions
What is Net Zero?
A target of completely negating the amount of greenhouse gases produced by human activity, to be achieved by reducing emissions and implementing methods of absorbing carbon dioxide from the atmosphere. The Net zero coalition by UN states aims to reduce emissions by 45% by 2030 and reach net zero by 2050. In order to do so, we need to maintain global warming to no more than 1.5°C.
What is Carbon negative?
The reduction of an entity's carbon footprint to less than neutral, so that the entity has a net effect of removing carbon dioxide from the atmosphere rather than adding it.
What is ESG?
Environmental (E) assesses how a company performs as a steward of nature. It analyses how its activities impact the environment and manage environmental risks.
Social criteria (S) examines the strengths and weaknesses of how a company manages relationships with employees, suppliers, customers, and the communities where it operates.
Governance (G) deals with a company's leadership, executive pay, audits, internal controls, and shareholder rights. Investors want to know if they can trust the company and what kind of decisions are taken behind closed doors.
Why is ESG essential for companies?
According to a recent study, It has been demonstrated that companies performing on ESG practices have higher financial growth and optimisation, lower volatility, higher employee productivity, reduced regulatory and legal interventions (fines and sanctions), top-line growth, and cost reductions. For businesses to stay resilient, it is imperative to integrate ESG into their core framework.