Features
Survey
Logic, Actions, Piping

YES YES

Translate Survey

YES

YES

Custom Themes

YES YES

Branding

YES YES

Customize Reports

YES YES

Advanced Reporting

YES YES

Export Reports

YES YES

SPSS Export

YES YES

Google Sheets Export

YES NO

User Management

YES YES

Portal Creation

YES YES

Survey Review Options

YES YES

Email Campaign

Zoho Campaigns

NO

Mobile Optimized

YES YES

Offline Survey

YES YES

CRM Integration

Zoho CRM

Salesforce

Website Tracking

Zoho SalesIQ

NO
Price Comparison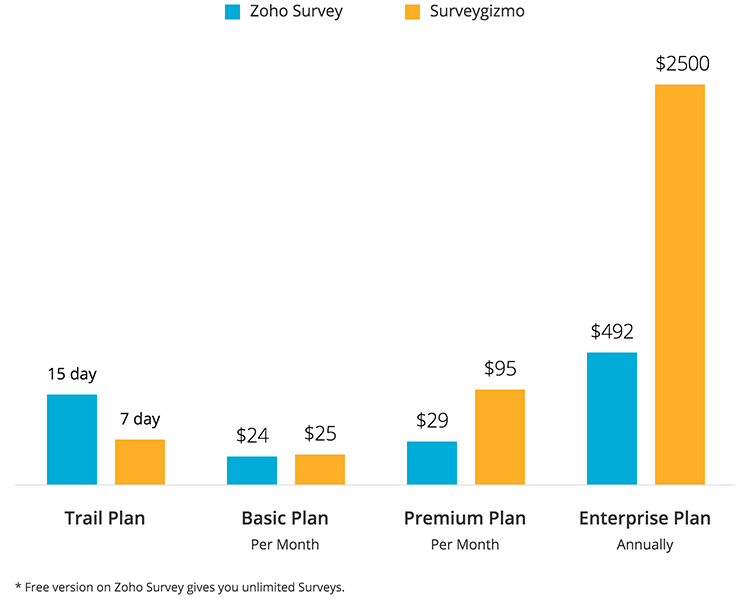 * Free version on Zoho Survey gives you unlimited Surveys.
World's largest brands rely on Zoho Survey.
APPLE
HBO
Mitsubish
NIKE
General Electricals
NBC

Chris Easterwood
Territory Recruiter, Colonial Life and Accident
"It's user friendly on both ends. The graphics are clean and simple. The report features are excellent."
The unique Zoho advantage.
Zoho Survey provides you with the unique Zoho advantage. To be able to run your business completely in the same ecosystem. A variety of applications which are tightly integrated with one another, providing you with a customized solution for every need.
Try for Free Now