Publish
Surveys must be published in order to be taken. This is a very important step to reach your survey audience. Once published, a link to your survey is created which can be emailed to your contacts, or can be posted to your web page and on social media sites. There are many ways to distribute the link to your published survey. You can also add restrictions for survey takers and customize your survey close page.
To enable sending surveys to different group of respondents with varied set of settings, use Multiple collectors.
Multiple collector
Multiple collector enables you to customize survey taking experience for different set of respondents.
For example, If you wish to generate a report of the same survey for different age groups, you could employ multiple collector with different settings.
To change these settings, follow these steps:
Go to 'Deploy tab' of your survey editor.
Click on the 'Collector list'
This is a default setting for your survey.


If you wish to change the settings for another set of respondents, add a new collector.

To add a new collector:

Click on 'New Collector' from the drop down.

Name your collector and Click 'Continue'.

You can now change settings of Deploying your survey for this particular collector that you've created.
You can view the responses for the survey that you've collected via setting up multiple collectors in 'Manage Filters' tab of 'Advanced options' of your reports.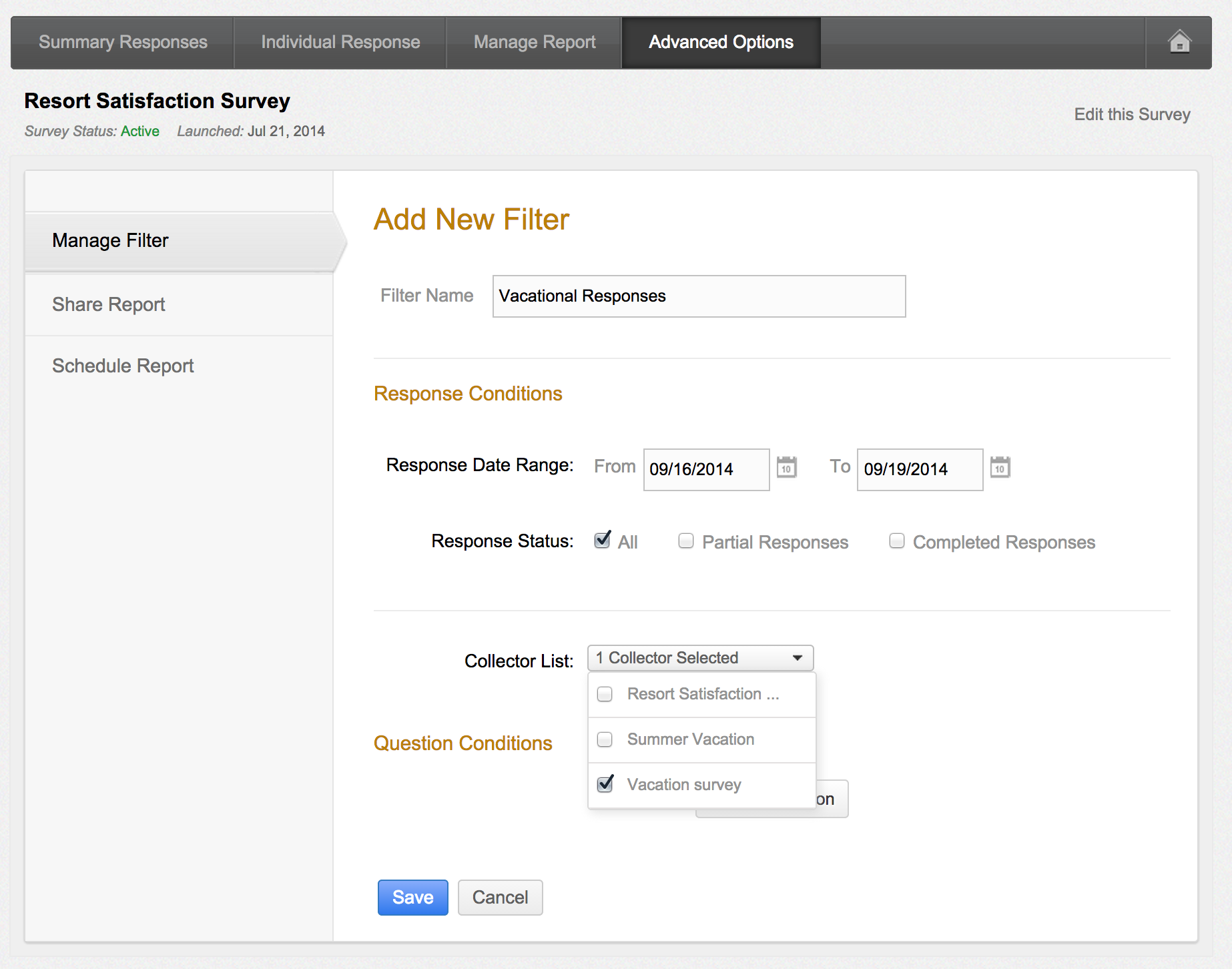 Note:
Your survey's web link changes if you edit the collector settings.
A Survey can be closed only if the collectors that you've created are closed.
Web Link
To send your survey link in an email, copy the web link on the page and paste it in to an email message. The link can also be shared on social media pages.


Visibility
The visibility feature in Zoho Survey enables you to set a specific audience to respond to your survey. You can either set your survey's visibility public or make it private. When you share the survey with private groups, only the members of that particular group can respond to your survey.
To assign visibility settings
Create an online survey and click Deploy.
On the left pane, click Visibility.

​

To make your survey available to the public, click Public.


Note: When you publish a survey, it is made accessible to the public, by default.

To share your survey to a specific audience, click Private.

Select the appropriate group with whom you want to share the survey. The selected groups gets displayed.

To view the list of members in the group, click Members.

To cancel the selection, click the x button against the selected group.

To prevent multiple responses from users, select the Allow only one response per user check box.
To save the changes, click Save.
Domain mapping
Configure your survey's liveform URL by mapping your domain. The Domain Mapping feature enables you to publish the survey from the URL that belongs to your own domain.
For example, if your company is XYZ Corp., and you're mapping your domain with Zoho Survey, your customers can access your Survey portal at https://survey.xyzcorp/zs/ instead of https://survey.zohopublic.com/zs/.
Steps:
To map your domain, follow the steps mentioned below:
[In your Domain's Admin Portal]
Create a CNAME entry
Map the CNAME entry to customer-survey.zoho.com
IMPORTANT: SSL certifiate will be renewed for the CNAME entry pointed during your initial purchase
[In Zoho Survey]
Click Setup
In the Custom Domain section, provide a domain name. eg.,https://survey.xyzcorp.com
Click 'Save'

You have now configured your domain for Zoho Survey.
To send surveys from this particular Domain address, click 'Deploy' and distribute your survey via the Custom domain weblink that is generated here.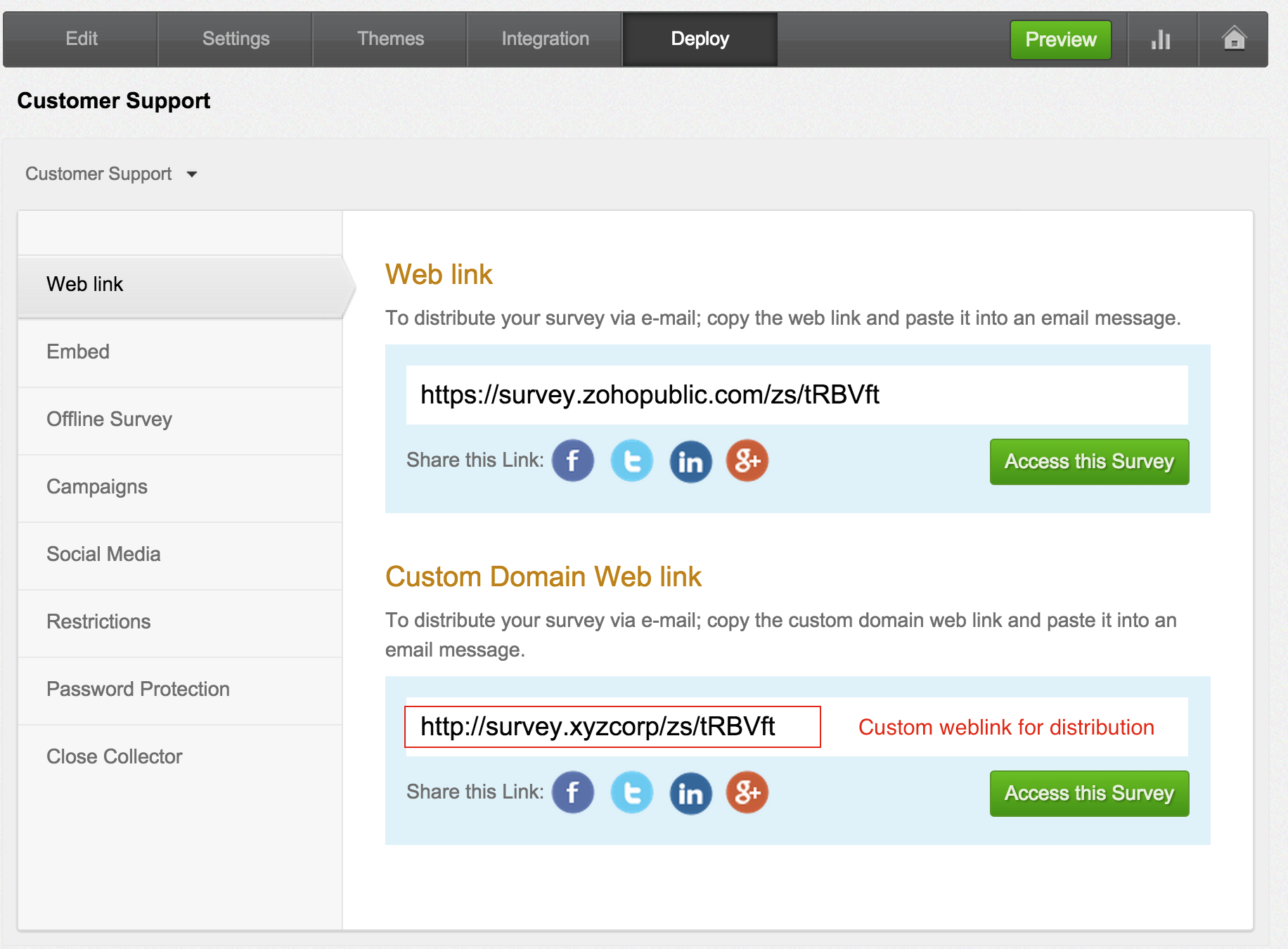 Invalid Domain Address
Ensure, that you provide a valid domain address in Zoho Survey. Otherwise, you will be redirected to an invalid domain throwing a 404 error. For example, you could see the error '404' "This Web Page Is Not Available" while accessing Zoho Survey.
SSL Error
Once you map your domain with Zoho Survey, you can encounter an SSL error screen as listed below.
In this case, you must purchase a SSL certificate from Zoho.

Buying SSL Certificate
On mapping your domain, you're required to purchase a Group-SSL certificate from Zoho. The certificate costs $80/year (over & above your subscription charges).To purchase an SSL certificate, please write to us at survey@zohosurvey.com.
Note: SSL certificates purchased from third-party vendors cannot be installed in Zoho Survey.
Embed
Embed surveys by using the embed codes seen on the page. The options you can use are as follows. The codes shown in the images are only examples.
Paste HTML link

To paste the link to your survey on your website, copy the HTML code on to your web page or even your social networking page.
Display survey on a web page. Use Iframe and Javascript embed codes

Note: To redirect respondents to your facebook page after completion of the survey, you have to make a small change in the iframe embed code. For example,
If your original embed code is:
<iframe src='https://survey.zohopublic.com/zs/peBfYO' frameborder='0' style='height:700px;width:900px;' marginwidth='0' marginheight='0' scrolling='auto'></iframe>
It must be changed to:
<iframe src='https://survey.zohopublic.com/zs/peBfYO?target=top' frameborder='0' style='height:700px;width:900px;' marginwidth='0' marginheight='0' scrolling='auto'></iframe>
Note: You can now change the document domain on the survey embed page by just adding a ddomain parameter with your sub-domain value which is similar to target=top. With this enhanced feature, you can include your JavaScript on the survey embed page too. This happens only when you publish your survey from your own domain.
Display survey as a Pop-up using the Pop-up HTML code

Get your QR code to use in print. Users with a QR scanner on their mobile device can take your survey by scanning the code.


Offline Survey
Offline survey lets you administer survey for respondents without internet connectivity.
By using an offline survey, you can collect responses from remote locations and upload responses when connected to internet. Bulk responses from the field can also be collected by administering offline survey.
You can load and administer your survey via PC, laptop, tablet or any other mobile device.
How it works:
Consider a scenario where you want to collect responses for a survey from trade show participants in a remote location. In this case, you can enable offline survey mode and administer an offline survey to the participants. You can then upload the responses after connecting to the internet.
To enable Offline survey mode for your survey, follow these steps:
Select Offline survey from the distribution page of the survey.
Setting up an Offline Survey:
Watch the video below to learn how to set Offline for your survey.
Click 'Enable offline link'

Create a unique offline password for authentication.

A unique offline link is generated. Copy and paste this on the browser of the mobile device to administer the survey.

Click on 'Record a Response'.
Click on 'Record a Response' again to administer survey to multiple respondents. On the same page you will be able to view the number of responses with the time of survey completion.

Connect your device to the internet and click on 'Upload Offline Responses' to upload all the offline responses you received.
Type in the offline password to authenticate the administrator.

View the summary of offline responses in the reports section.

Note:
Offline password is mandatory while uploading the responses.
Certain thematic web fonts (Ewert --- Oswald) and web URL for images will not be cached in offline mode.
Campaigns
Zoho Survey is integrated with Zoho campaigns & Mail chimp. Your survey can be linked to your email campaigns on these accounts to be sent to your mailing contacts.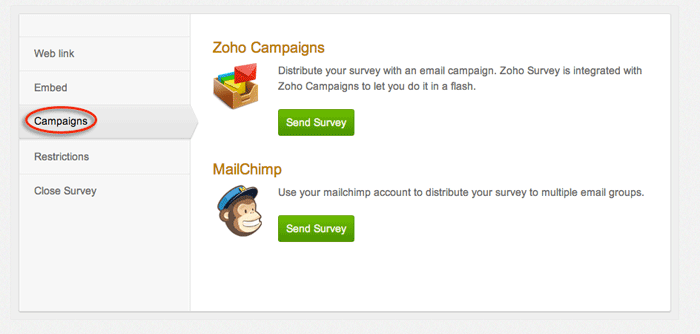 Visit this link to know how to send your surveys with email campaigns
Embed Surveys on Facebook
Make it easy for your followers on social media to take your surveys. Your surveys can be embedded on your Facebook page in a few simple steps.
Select Social Media from the left-hand menu
Click the Connect with Facebook button


Complete all the steps that follow to set up and authenticate your Facebook account with Zoho Survey
Once your account is set up, a list of your Facebook pages will be shown
Select the page on which you want to embed the survey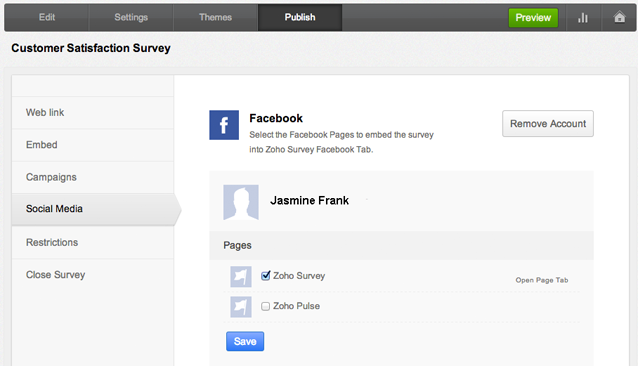 Click Save
Find the 'Open Page Tab' link next to the page you have selected and click on it to view the embedded survey on Facebook
To remove your Facebook account, click on the Remove Account button
Restrictions
Having simple restrictions in place will give you the answers you are looking for within a limited time period or from a limited number of respondents.
Cut Off date - Select a date on the calendar to stop receiving responses on your survey.
Max Response Count - Set a response limit by typing out the number of responses you want to receive. The survey is closed once the limit is reached.
Enable Password Protection - Your surveys can be password protected for access to invitees only.
Prevent multiple responses - By selecting this option, you restrict the survey from being taken multiple times from a single I.P address i.e you allow only one respondent per I.P.address. You can also select an additional option to allow users to update responses at any time. Enabling this option will let users pause and resume filling in your survey and also allows them to update their responses even after submitting the survey. To do this, select the option 'Allow users to update responses at any time'.
Click Save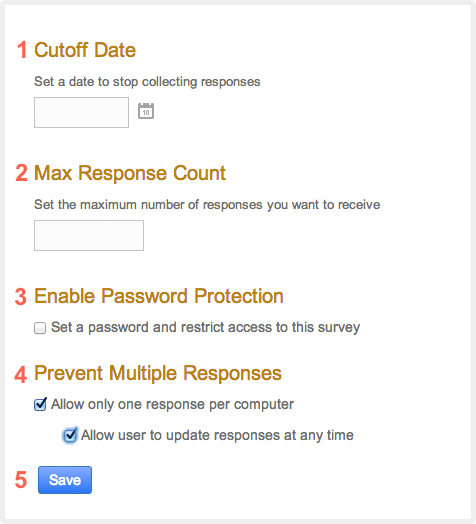 Unique URL
The unique URL enables you to restrict multiple responses from the same URL.
To restrict multiple responses
Navigate to the Deploy tab, and click Deploy to publish your survey.
On the left pane, click Restrictions.
In the Prevent Multiple Responses section, select Allow only one response per (unique) URL.

To let your users update responses at any time, select the appropriate check box.

To restrict the responses that do not have the parameter, select the appropriate check box.

In the Parameter Name box, type the URL parameter name that is appended to the published survey URL.
Click Save.
Close Survey
Click Close Survey when you want to stop receiving responses on your survey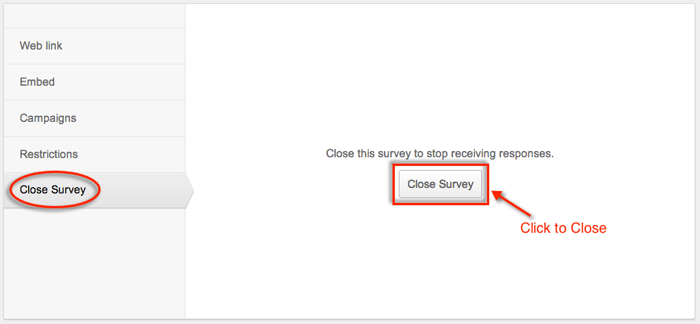 After publishing and distributing your survey, the next step is to analyze the reports you will receive.