Integrations
Zoho Survey integrates with apps that makes your surveying experience efficient. We've integrated with Zoho CRM and Zoho Campaigns. We've also integrated with Mail Chimp, a third party app to enable you to send surveys via campaigns.
Additionally, we've integrated with Google Spreadsheet for better data analysis.
Integrate with ZohoCRM
With Survey-CRM integration, you can view customer feedback (responses) within CRM's customer context.
Push/pull data from survey fields to Zoho CRM fields and make it easy to add or update already existing record of your survey responses.
Prerequisites
Before integrating your CRM account with Zoho Survey, please check that your CRM account complies with the following prerequisites.
You must have a user account in both Survey and CRM to configure the sync settings.
Sync Survey responses to CRM fields
This integration lets you add or update fields in CRM modules as soon as the survey responses are filled in Zoho Survey.
Watch a demo video to know how to integrate Zoho CRM with Zoho Survey.
Steps
Click on 'Integration' tab of survey editor.
Under CRM integration, Click on 'Integrate now' button.

Select a CRM module. For eg: Leads . Alternately, you can also select a Custom CRM module that you've created.

Click 'Continue'.
Select CRM fields from the drop down and map them to the corresponding survey questions.

In the Attachment section, select the question for which you need to upload an attachment.

Note: The Attachment section lists out all the file upload and signature questions you have added to your survey. If you do not have any File upload or Signature questions, you will not be able to add any file to the Zoho CRM records.

Select the action type from the list. There are 3 ways by which, you can sync responses with CRM fields.

Add Record:You can select this action if you wish to add new records by pushing survey responses to CRM fields.

Update Record: Select the 'Update Record' option if you want to update any already existing record in CRM.
To do this, you have to pass a parameter correponding to the particular record. Refer to the screenshot.
You can also pre-populate mapped fields from CRM to Survey. This will allow you to pre fill survey responses to CRM fields.

Add/Update Record: By clicking on Add/update record, the survey responses will be added as a new record or if there is any record already available, the responses are updated.


Click 'Save'.
Publish the survey.
To view the responses pushed to CRM, Click on 'CRM sync statistics' on the integration tab.
As responses are pushed to CRM , a record for 'Leads' is created on the Leads module of your Zoho CRM.

Adding values to your CRM Fields
You can add values to your CRM fields either:
1. Directly - Direct values are added to your CRM Field for every response on your survey. To do so, simply choose "Direct Field Values" in the CRM Intergration section, as shown in the below image. Don't forget to put in the value to be updated too.
2. Through Choice Mapping - Where you map the choices of your Survey Questions to the options on your CRM Field. To do so, simply choose the appropriate question that relates to your CRM field and click on the choice icon which turns up, as shown in the image below.
Then map the choices to Options to the concerned CRM field.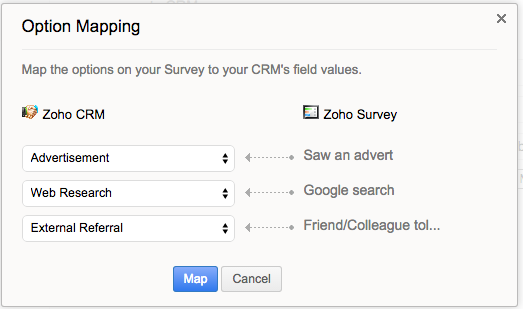 Now when a respondent chooses her answer, the CRM field gets updated with the option you choose.
View Responses in Customer Context
You can also send surveys and view customer responses from within the CRM module. You can see view both individual and summary reports. Read here to know more on how to view responses in CRM.
Note:
Sending your survey through Zoho CRM would add a Custom Variable, to your reports, of your lead's/contact's email address.
If survey is integrated with Zoho CRM before publishing, the responses will be automatically synced, whereas if integrated after publishing, the previous responses should be synced manually.
If you wish to manage your CRM and Survey as 2 different accounts, Use ZSC key to communicate between the accounts.
Integrate with Zoho Campaigns
About Zoho campaigns :
Zoho Campaigns lets you reach out to your customers in a simple, efficient manner. How? Get them to participate in your survey by sending them the link to your survey page in an e-mail. By creating an e-mail campaign you can send one message to all your mailing contacts in a single click. The process is simple and your message reaches their inbox right away.
To integrate Zoho Campaigns to Survey,
Click Deploy → Campaigns.
Click Send Survey button under Zoho Campaigns.
Note: To integrate your Survey and Campaigns account, you must have the accounts with same email address.
Integrate with MailChimp
Integrate with MailChimp to send surveys via Mailchimp and reach out to respondents by sending mass emails.
Related Links
Integrate with Google Spreadsheet
Integrating Google Spreadsheet allows you to push data from survey responses to a Google spreadsheet, thereby allowing easy analytical operations on the data.
How it works
Watch the demo video to know more on how to push survey responses to a Google Spreadsheet. 
When you integrate a survey with Google spreadsheet before publishing, the survey responses are pushed on to the spreadsheet as the responses start filling in.
Click on 'Integration' tab of Survey editor and choose Google docs.
Click 'Integrate now'

Authenticate your Google account and link it to your Zoho Survey account.

Click 'New sheet' or 'Existing sheet' to create a new sheet or a work sheet on an existing sheet.
Click 'Continue'.

Click 'View sheet' to view the record of responses on the spreadsheet.

Note:
Any change in the alignment or order of questions in the survey will not be reflected on the sheet.
If a row/column is added/deleted from the sheet, the alignment of collected responses will vary.
To stop pushing responses to Google spreadsheet, click on 'Remove Integration' next to View sheet.