The advanced options allow you to reach out to respondents in a smarter way.
Invite Reviewer
Invite colleagues to review your survey before you publish. Review makes collaboration easy to create important surveys.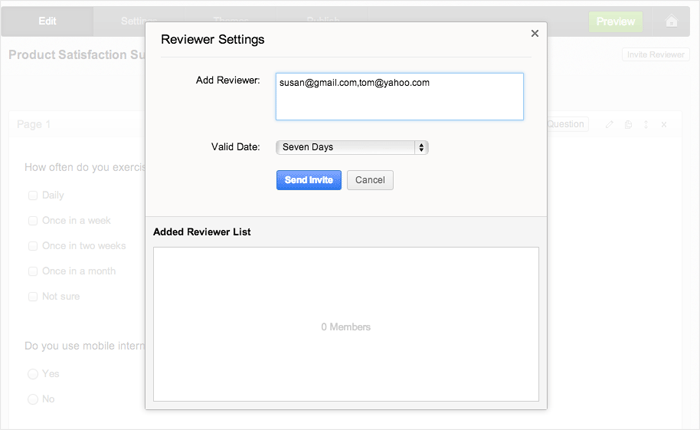 Under Advanced Options, Click Invite Reviewer
Add email addresses of reviewers
Set a deadline for response
Click send invite
How review works
Review is a collaboration feature wherein the reviewer can communicate with you by posting comments. These comments can be viewed and replied to by all the reviewers you invite and yourself. As an example, please see image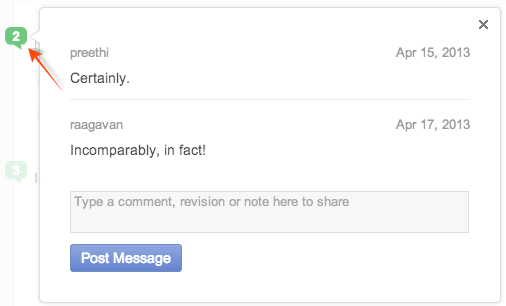 Indicates number of comments
The comment from a reviewer is shown
Type a reply or message in the box
Click Post message
Collaboration happens in real time where reviewers comments can be seen and replied to for all questions on your survey.
Translate your surveys easily
Now, all your surveys need to just be created just once and translated in different languages. The auto-translation is completed by the Google Translate web service. The languages in which the survey has been translated will be displayed on your published survey and participants can select the language of their choice from the options to answer your survey. Steps to add translations are detailed below:
Click on Advanced options
Click Translate

Select a language and click the Translate button

The survey is translated and you can edit the translated text.
To view the original text in English click on View Original
To clear the translation and add your own text click Clear
To save the changes click save

You can translate your survey to any number of languages provided.
To preview your survey in the translated languages click on the Preview button and select the language to view your survey.
To remove a language, click the x icon against the language.

Print Surveys
This option allows you to print your entire survey in any or all of the languages that the survey is translated in. Surveys can be distributed by hand for responses to be collected offline.
Select Advanced options
Move the cursor to Print Survey
Select a language from the drop down
Print Survey

Export Surveys to PDF
Surveys can be exported to PDF in a single click. You can now have a copy of your survey even when you do not have access to the internet.
Select Advanced Options
Move the cursor to Export as PDF
Select a language from the drop down
Save your survey in PDF format