Reading Time:
7
minutes
How does a business acquire revenue and scale up?
[a] By acquiring new customers  [b] By retaining its existing customers
If your answer was [a] By acquiring new customers, you're not alone. A lot of businesses still choose acquiring new customers as their top objective. According to a cross-channel marketing report released by econsultancy, 40% of businesses still focus on acquisition while only 15% focus on retention to drive revenue. Before you jump on that bandwagon, though, I'd urge you to take a look at this pie chart showing where business revenue really comes from:
We can see that recurring revenue contributes about 80% to a business's total revenue, in contrast to the measly 5% contributed by new revenue. Applying Pareto's 80-20 principle to businesses, it can be said that only a small portion of your existing customers (20%) generate the majority of your revenue (80%). So focusing on keeping existing customers happy, rather than acquiring new ones, will pave the way towards constant revenue growth.
If you have been focusing on customer acquisition so far, this article will help you understand customer retention and how you can leverage it for your business.
So what exactly is customer retention?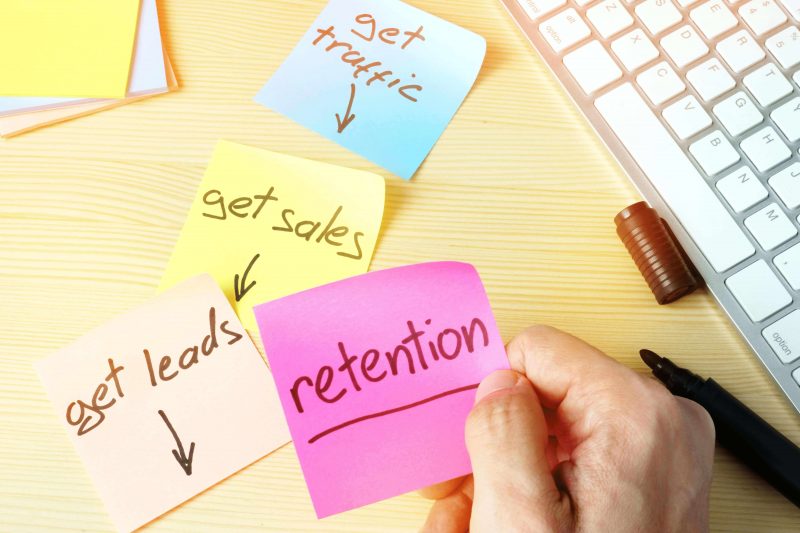 Customer retention is a measure of an organization's ability to keep its customers over a certain period of time. A higher retention rate means that more of your customers are sticking with you in the long run.
When your existing customers don't stay with you, it's known as churn. The churn rate, or percent of customers who leave within a certain time period, is an important metric for understanding customer retention. Churn rate and retention rate are inversely proportional to one another: if more customers are staying, it means fewer are leaving.
Customer churn rate can be quantified by the following formula:
Churn rate is an important measure of your business health: a higher churn rate means you are losing customers and potential revenue. If you have a high churn rate, you definitely want to lower it. You've spent significant time and money on acquiring customers so it's important to ensure a good Return On Investment (ROI) by keeping them around. That is where a lower churn rate and thereby a higher rate of customer retention helps you out. Not convinced yet? Let us dive deeper into the details.
Why is customer retention important?
To show how important customer retention really is, let's look at two hypothetical business owners, Sarah and Paul. Both are fairly successful. For simplicity, let's assume that they each have a current revenue of $10 million and additional revenue of $1 million per month. Sarah has a churn rate of 5%, whereas Paul has a churn rate of 5.5%.
Let's extrapolate Paul's revenue growth for the next five years using Zoho Subscription's Revenue Forecaster tool. These are the results:
Here are the results when we extrapolate Sarah's revenue growth the same way:

You can clearly see the huge difference in their revenues. Paul, even though he has the same additional monthly revenue as Sarah, is losing out on 9.1% (~$1.63 million) of his potential revenue by the fifth year. Sarah is making millions more than him, just by having a 0.5% lower churn rate. That is a staggering statistic!
You can see how this supports the argument made by Frederick Reichheld of Bain & Company, who predicts:
Increasing customer retention by a mere 5% can increase your profits by a whopping 25%-95%.
This essentially means that you can see a huge return on investment (ROI) if you invest just a little more on customer retention instead of spending time and money to focus marketing activities towards acquiring more new leads. If you focus more on nurturing existing customers and keeping them happy, your revenue will increase multifold.
As your business scales and expands, you are likely to add more products to your range. If you already have an arsenal of loyal customers, you can sell these new products to them relatively easily, as you have already earned their trust and your customers are more likely to buy these products. So it's fair to say that:
Existing customers are more likely to purchase more from you than new ones.
Satisfied customers don't only continue to make new purchases — they also recommend your services to others. According to a 2011 study by American Express, each satisfied customer tells an average of 9 people about how happy they are with the service they received. So your existing customers can help you grow your customer base through word of mouth or, better yet, word of mouse. Positive reviews on social media are a powerful way to bring in new prospects and new sales. Which means:
Loyal customers act as advocates or evangelists of your products, for free. 
How do you retain more customers?
Customer retention is of paramount importance, as we just saw. But that doesn't mean it's difficult to pursue. Improving customer retention is one of the easiest changes to make to grow your business. It is even more achievable with good subscription management software. As we dive into the ways you can ensure customer retention, we'll show how Zoho Subscriptions helps you handle each challenge and keep your happy customers.
Get feedback from your customers
We now live in a world where businesses are no longer isolated from their customers — now they're close to their end users like never before. Use this to your advantage: talk to your customers, develop a rapport, and get their feedback about your product. This will tell you if customers find your offering useful, and tell you where you stand with regards to the potential growth of the product. Also, make sure to get feedback from leaving customers, who can tell you where you are falling short and what can be improved.
Look at all the feedback you've received from both happy customers and churned customers, and make it a point to reinforce your products or services with the indicated changes. Showing that you understand your customers' needs, by acting on their feedback, is what will help you retain their business and keep growing.
To help you interact with your customers, Zoho Subscriptions provides a client portal where your customers can tell you what they think about your products or service and also use the portal to see a bird's eye view of their interactions with you.
Analyze customer usage
Actions speak louder than words. Even if you don't get many specific comments from your customers, you can decipher their actions very easily, especially if you're a SaaS company. A lack of action is important feedback as well. Customer inactivity can indicate that they aren't happy with your product or service and might soon cancel their subscription. Analytic reports can give you insights into these customer usage patterns, throughout the customer subscription lifecycle. This can help you identify unsatisfied customers and win them back before they make the decision to leave.
Zoho Subscriptions provides more than 30 reports to help you analyze customer behavior and gain a deeper understanding of your subscription business. It includes specific reports like Scheduled to cancel, showing the customers that are planning to cancel their subscription, as well as general ones like Churn rate, showing the rate at which customers are leaving you. These reports can be run at any time for recurring insights.
Follow up with non-paying customers
When a customer fails to pay, it doesn't always mean they're trying to stop doing business with you. Sometimes there are unforeseen or involuntary reasons, such as:
Forgetting to pay
In this frantic business world, it is tough to stop and take a breath. So it is understandable that some customers might just forget that the renewal date for their subscription is coming up. When the date passes without payment, you might think that the customer has churned or left. But there's a good chance they actually meant to pay you and continue their subscription.
Instead of charging extra fees for an honest mistake, you can avoid late payments entirely by sending a payment reminder to the customer. This helps make sure you get paid on time and maintains your good rapport with your customer.
But finding time to remind every customer is difficult, which is why you need a tool that takes care of it for you. Zoho Subscriptions enables you to send payment reminders to customers automatically at your preferred date and time.
Card expiration
Customers might not be aware of when their cards are going to expire. This can result in non-payment of their invoices. Once again, it would be ideal if you could remind them about the approaching expiration date.
Zoho Subscriptions helps you out by sending automatic reminders before a card expires so that the customer can update their card info in the self-service portal.
Payment method preferences
Some customers prefer to pay by cash or check instead of using a credit card. If a customer tries to pay for your services and finds that you don't accept their preferred method of payment, that might be enough to make them jump ship and buy from your competitor instead. It pays to offer variety. If you give your customers multiple ways to pay, you'll know that you're not losing business over a minor payment preference.
Zoho Subscriptions enables you to collect payments via credit cards, ACH, cash, or check. It is also integrated with 11 trusted payment gateways to empower you to collect payments from across the globe.
Temporary card issues
Sometimes payments fail because of a temporary problem with the customer's card. Maybe the funds they were expecting weren't in their account yet, or maybe their card provider was having technical difficulties. There's an easy solution: just try again. Many of these payments will go through on the second or third try, and retry logic will help you collect them automatically and avoid lost revenue.
With Zoho Subscriptions' automated retry logic, you can salvage this lost revenue without needing to make repeated manual attempts. All you have to do is set up the retry frequency and let the software take care of the rest.
Running low on funds
Business can be cruel at times. Some customers might leave a product or service they really like because they're having temporary cashflow problems. When this happens, you can earn their loyalty by lending a helping hand. Provide discounts or extend the invoice due date or subscription renewal date to make it easier for them to pay. This will increase their trust in you, which reduces the chances of them leaving your product or service. After you've extended them a little help, they are more likely to speak highly of you and even recommend you to other people.
Using Zoho Subscriptions, you can create discounts or coupons and control how they're used. You can also change the renewal date of a subscription without having to worry about recalculating payment amounts. The automated proration feature takes care of it for you.
A simple fix with the right tools
Customers are the heart of any business. Keeping them happy should be a business owner's number 1 priority. As we saw, it really does pay to retain your customers, and it is not a very difficult process either.
The methods we've suggested to make your customers stick around can give you a lot of results without much effort. If you're serious about customer retention and you want to make these methods even simpler, take Zoho Subscriptions for a free test drive.