Stay tuned to all things social
Follow a real-time stream of updates to learn how your audience is interacting with your brand.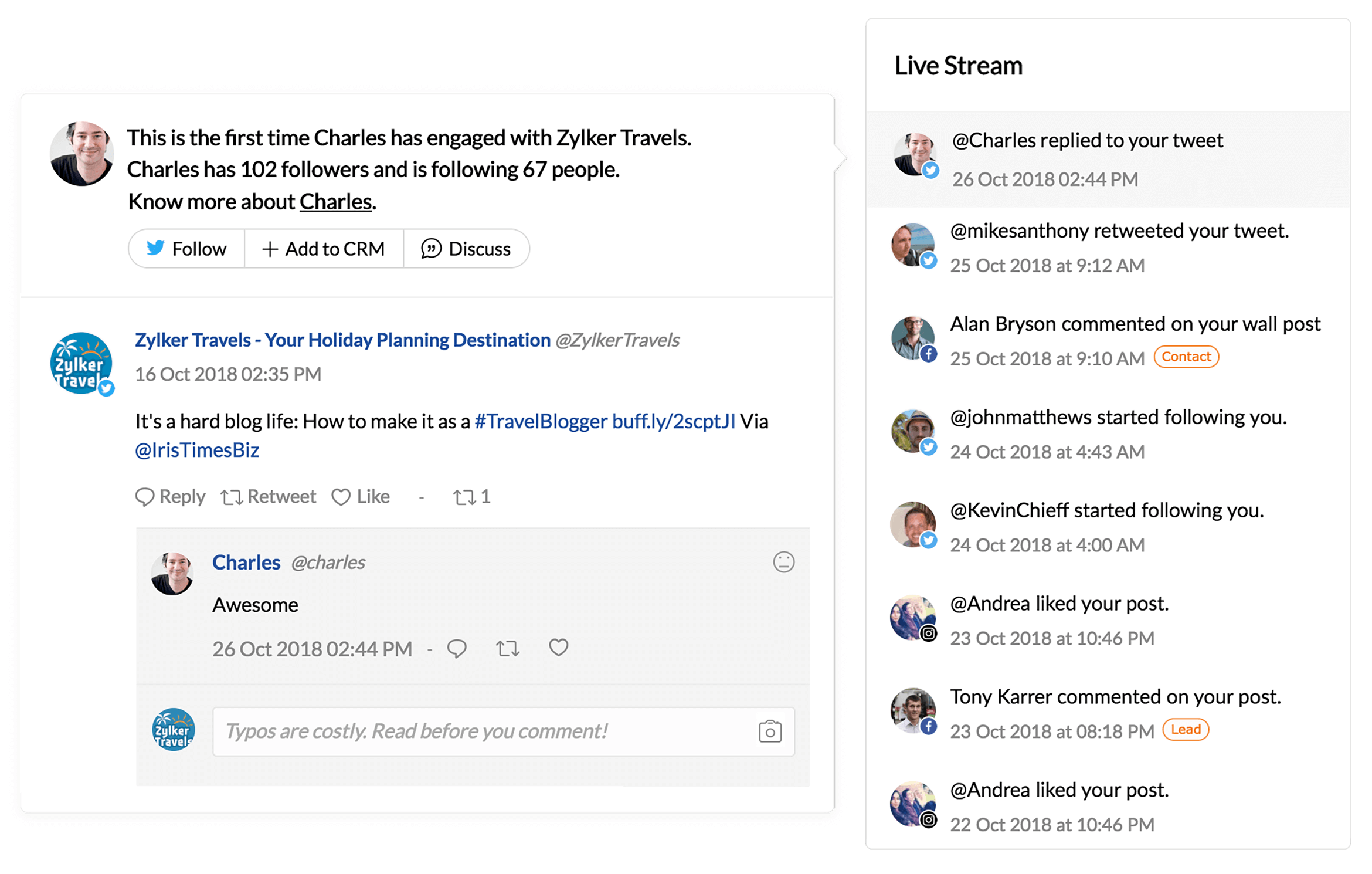 More context for every interaction.
Get to know your audience better. See how often they engage with your brand. Identified someone you'd like to reach out to? Discuss the profile with your team members before you craft that perfect message.
The best time to engage is in real time.
Respond and interact with users who engage with your brand on social media. See a new follower? Say hello, instantly. Got a new direct message? Reply inline and keep the conversation going.
Create-your-own monitoring dashboard
You know best what works for your business. That's why our social listening dashboard is customizable to your needs.
A column for every social activity.
Add and rearrange as many columns you'd like to track brand mentions, tweets, users, and more.
Personalize your screen.​
Got a team monitoring different things? Let each member set up their own view.
Psst...! Someone's talking about you
Listening to everything that people are saying about your brand can be quite overwhelming. We've made it easy for you to track who tagged you on social media.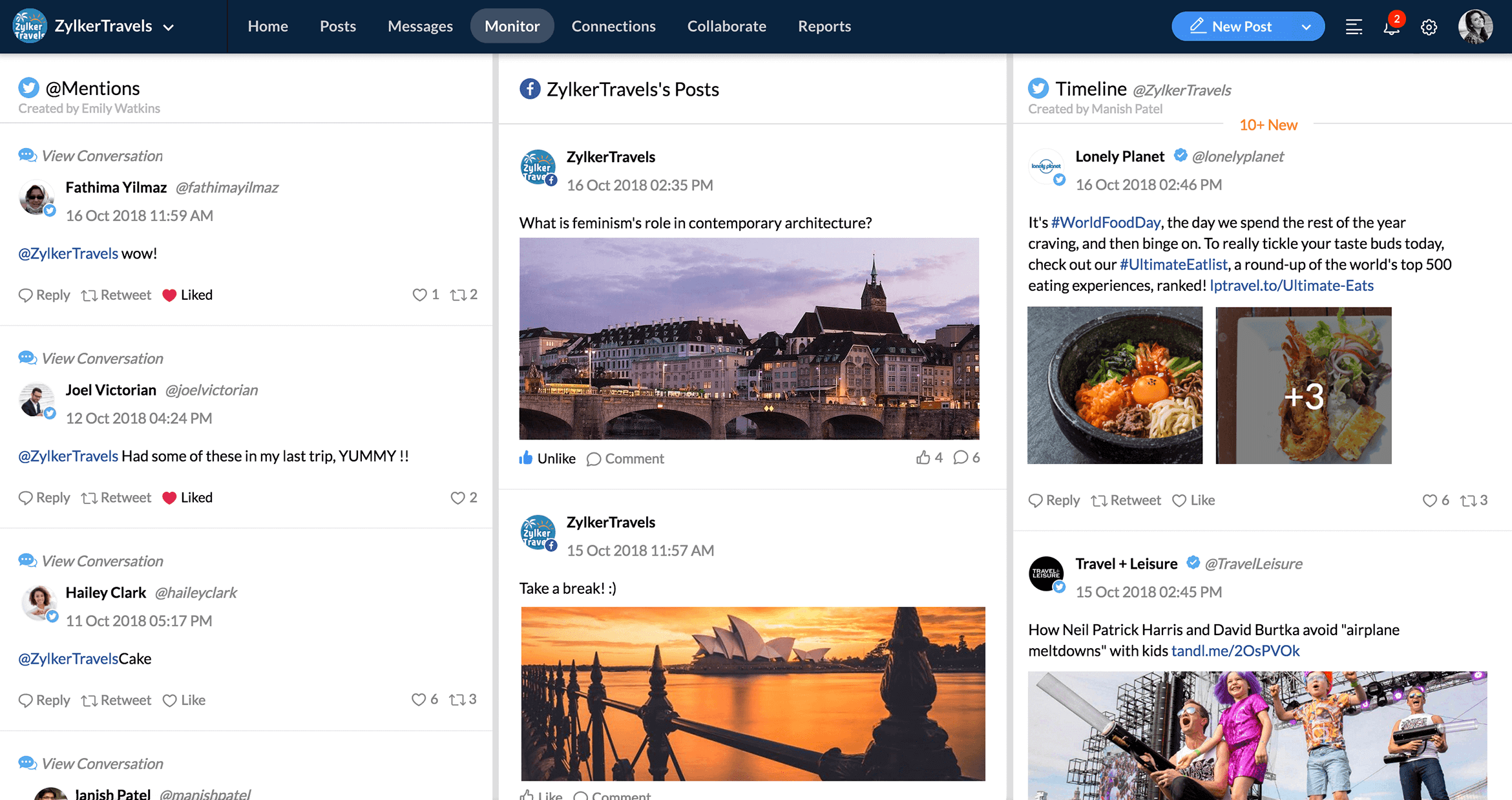 Monitor brand mentions.
When someone mentions you on Twitter or makes a post on your Facebook Page, see it in separate columns.
Engage right away.
Found social updates to interact with? Respond to new wall posts, retweet tweets, or simply share them from your account.
Discover new users and key conversations
Find important people and conversations that matter to your brand on Twitter—from a single screen.
Searching—made easy.
Listen to social media conversations about events, and search for keywords that are important for you.
Follow what matters with Twitter Lists.
Create and manage curated lists of people and brands. Monitor Twitter Lists to stay up-to-date with social updates.
Zoom into profiles and hashtags.
There's more. View details about the profiles and hashtags you discover anywhere within Zoho Social.
See questions and reviews from potential customers
Managing Google My Business listings? Perfect. Keep an eye out for incoming reviews that make your brand more discoverable. Respond in line to questions, and engage with new leads to build lasting connections.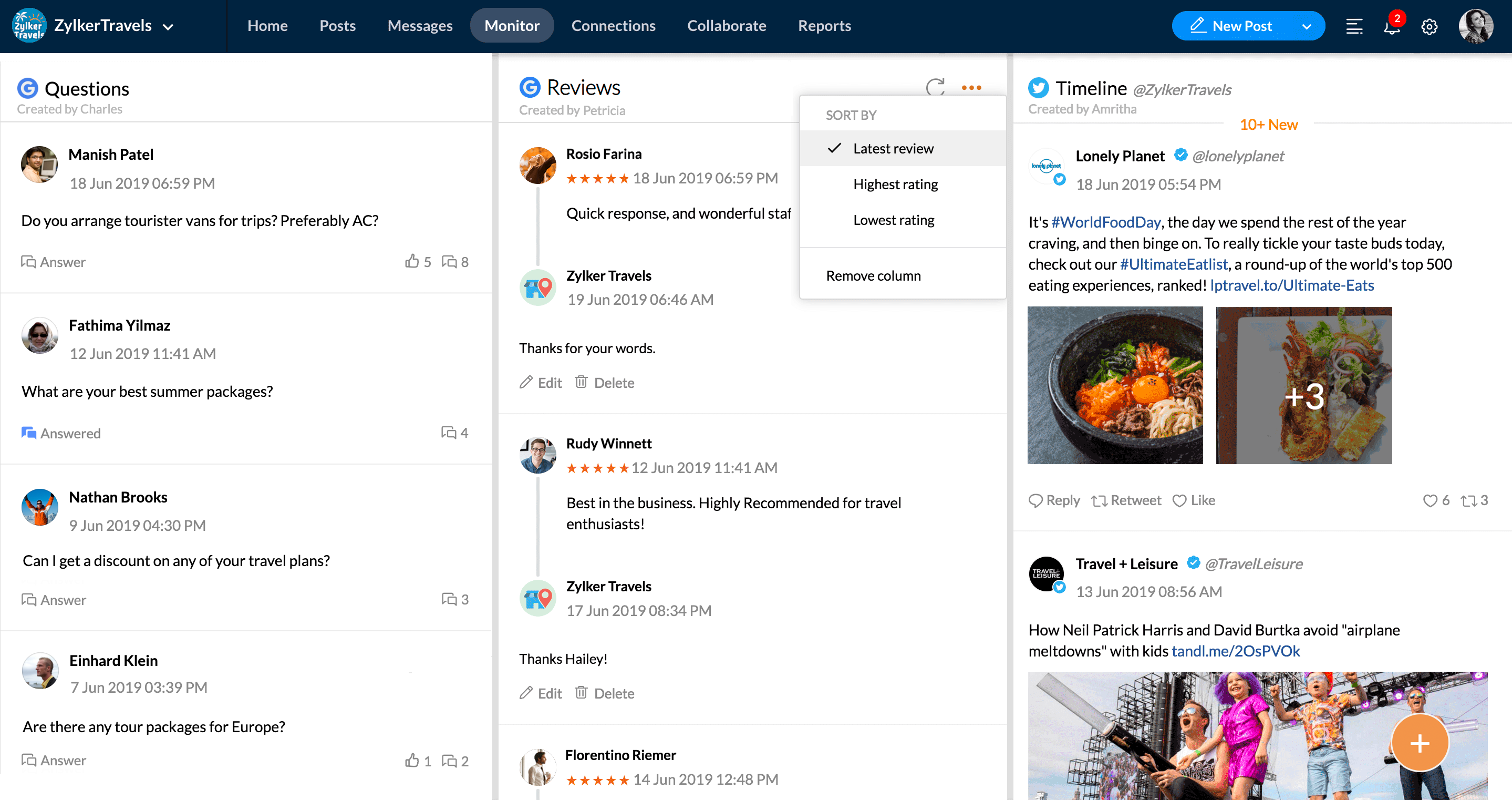 Get down to a T(weet) with advanced search
Filter and narrow down your Twitter keyword search results to focus on tweets that are relevant to your brand.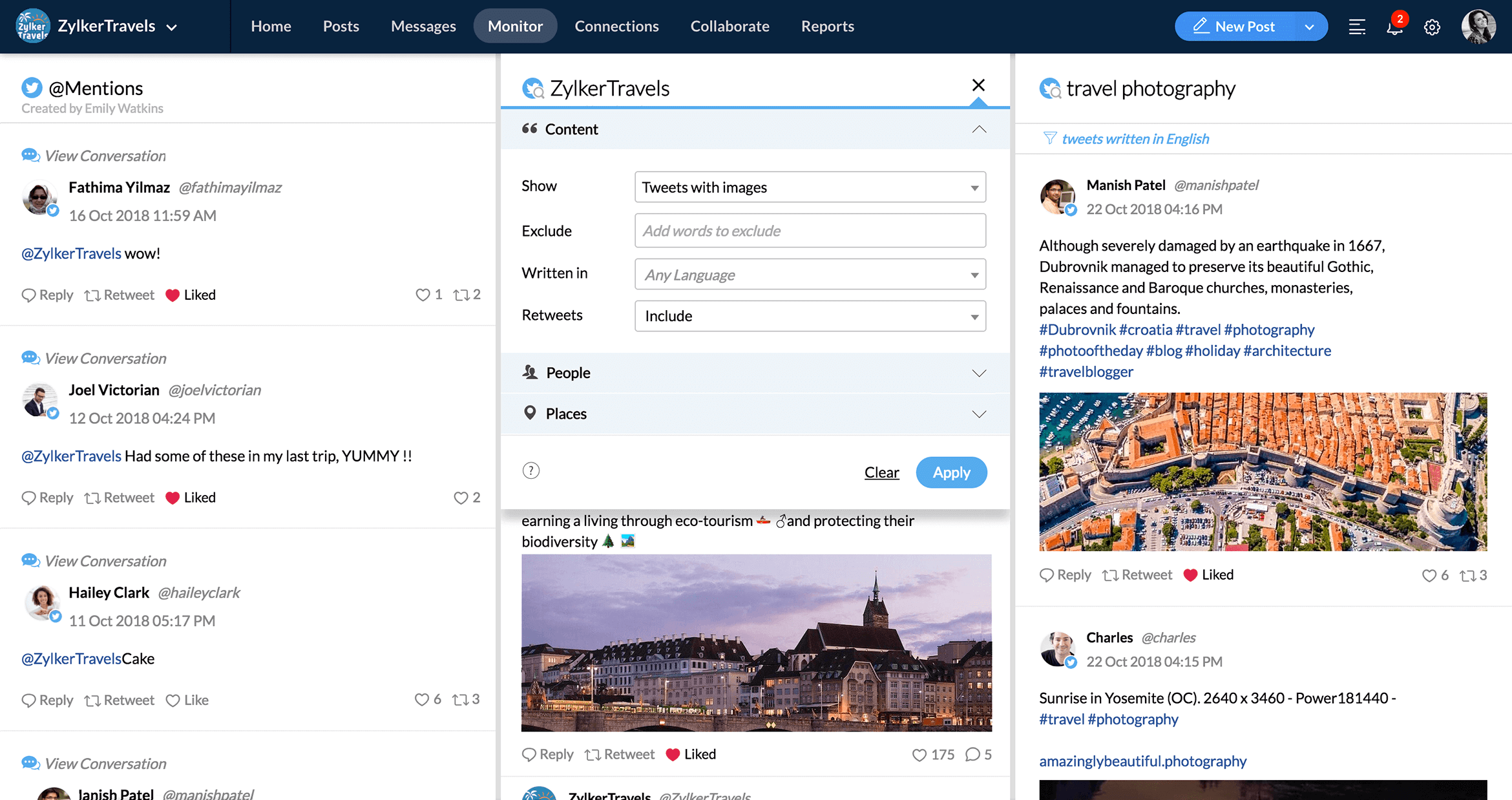 Dig deeper through Content.
Exclude keywords, include retweets, or choose the type of media posts you want to see—all written in 61 unique languages.
Find People who matter to you.
Look for tweets made by specific users, or tweets that mention either your brand name or just certain users in particular.
Keep a tab on popular Places.
Type in any location to see where your tweets are trending, or simply track tweets based on the location they were made from.
Your brand's private messages have a special place
See all the direct messages from your audience on Facebook and Twitter in a single, chat-style interface.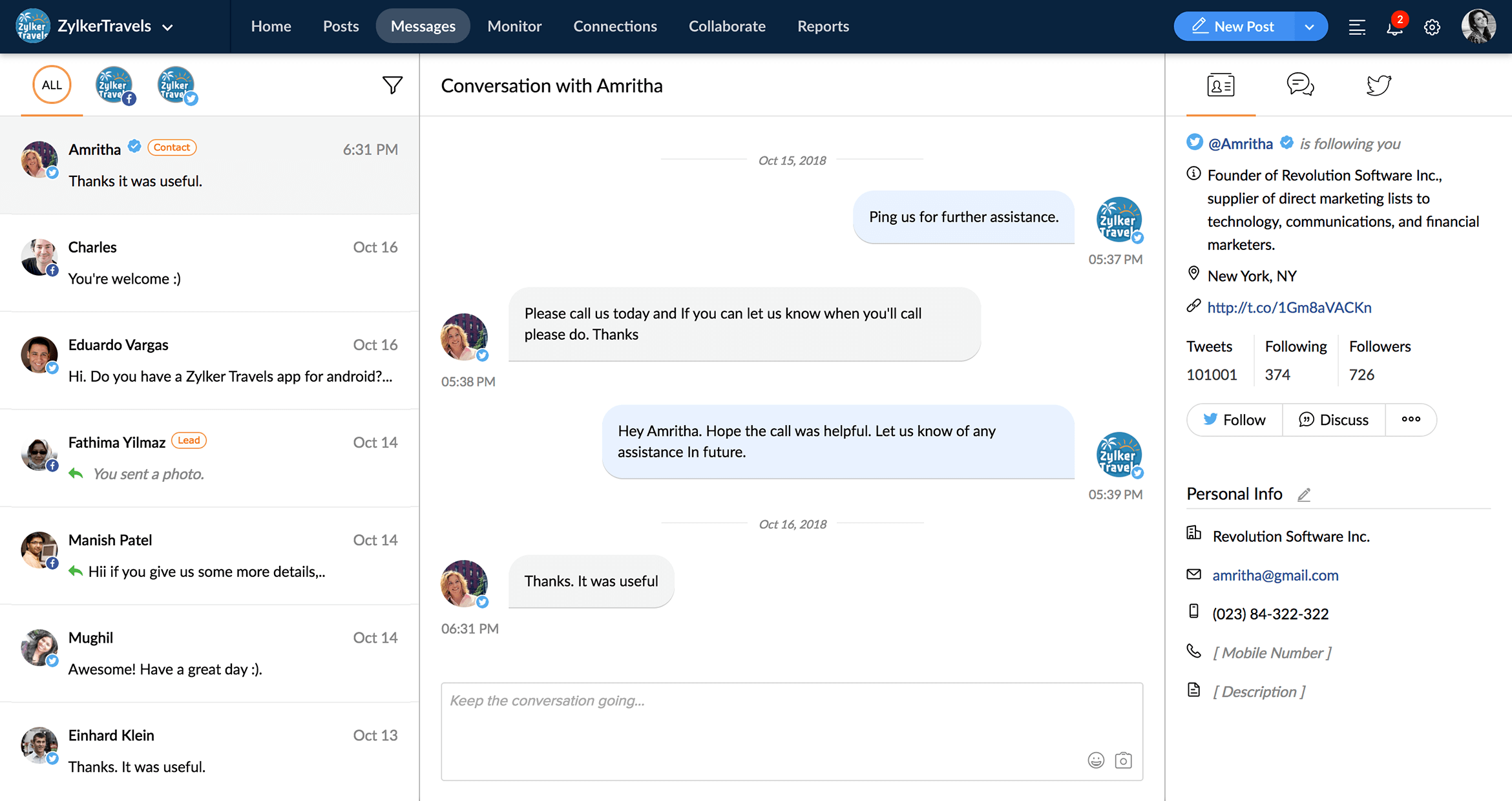 More context. Better interactions.
Looking for context before you respond to messages? Sure! Retrieve previous interactions and view recent tweets while you reply to them.
Contact and connect.
Got a detail that's worth noting down? Update the Personal Info section so that it's available the next time you or your team member engages with the same person.
Your little directory. Or so we'd like you to think
Find out what your followers, and those that your brand is following, are saying on social media. View and filter your social connections based on the network they're on. Don't stop yet! Follow their recent social media updates without switching between tabs.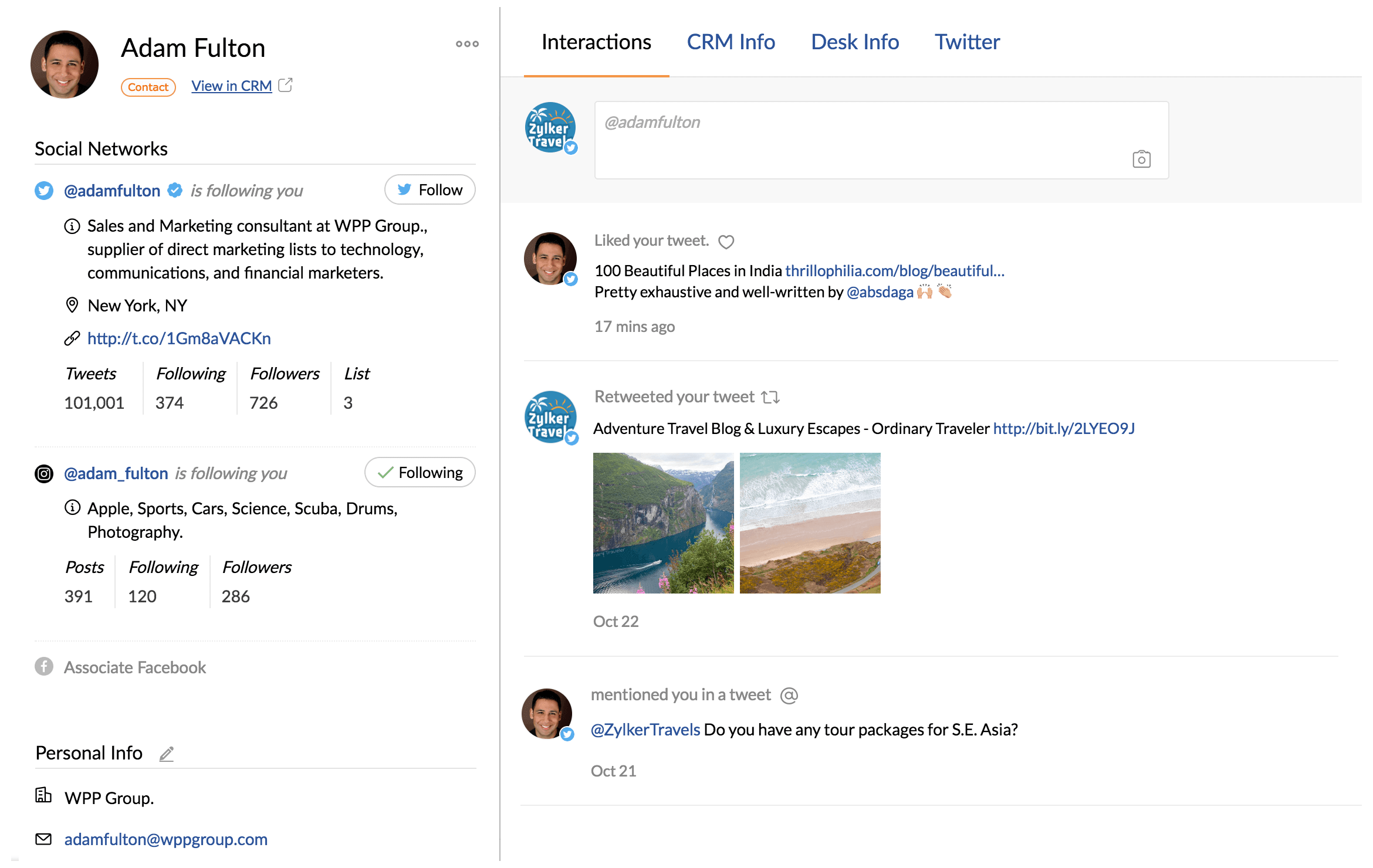 Get started with social media monitoring today
Get Started