The complete digital signature app for high-velocity sales teams
Close deals faster than ever
Try it free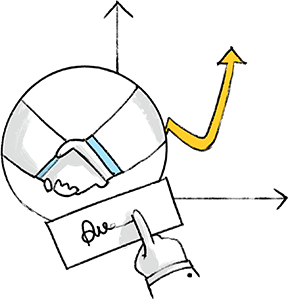 Get more work done
Manually signing sales documents consumes a substantial amount of your time and effort. With Zoho Sign, you can digitally sign, send, and manage your business documents from anywhere, supercharging your sales and marketing. Automate singing workflows and say goodbye to all the paperwork.
Popular use cases
Sales orders
Purchase orders
Proposals
Bids
Quotes
Invoices
Non-disclosure agreements
Customer agreements
End-user agreements
Licensing agreements
Financing agreements
Compliance documents
Go digital, go green
Digitize your sales process with e-signatures and help customers sign documents from anywhere while also saving tons of paper. E-sign is not only eco-friendly but also highly time-saving and clutter-free.
Create legally binding sales agreements
Digital signatures are valid for most sales documents across the globe. All documents signed using Zoho Sign are legally binding and comply with the ESIGN ACT, UETA, EIDAS, and other international laws.
Close deals on the spot
Host signing sessions to collect digital signatures from customers in person. Close deals in minutes and get the revenue flowing faster!
Manage documents from anywhere
Sign documents at work, at home, and on the go using our native mobile apps for Android and iOS.
Close your next deal in minutes with Zoho Sign
Try it free