Transforming how businesses sign documents
With Zoho Sign, you can say goodbye to all the hassles of manual paperwork, cut down costs, and reduce turnaround time. Users can choose a qualified or advanced electronic signature to sign their confidential documents and ensure legal compliance in their regions.
In the recent GigaOm announcement, Bill Witter explains, "While some pandemic trends have since experienced significant retractions, the e-signature solution space continues to show sustained and accelerated demand across virtually every industry. Businesses are no longer asking if an e-signature solution should be adopted, but instead they are asking which solution to choose as more players enter the market.
"This GigaOm Radar report highlights key e-signature vendors and equips IT decision-makers with the information needed to select the best fit for their business and use case requirements."
Read more about the assessment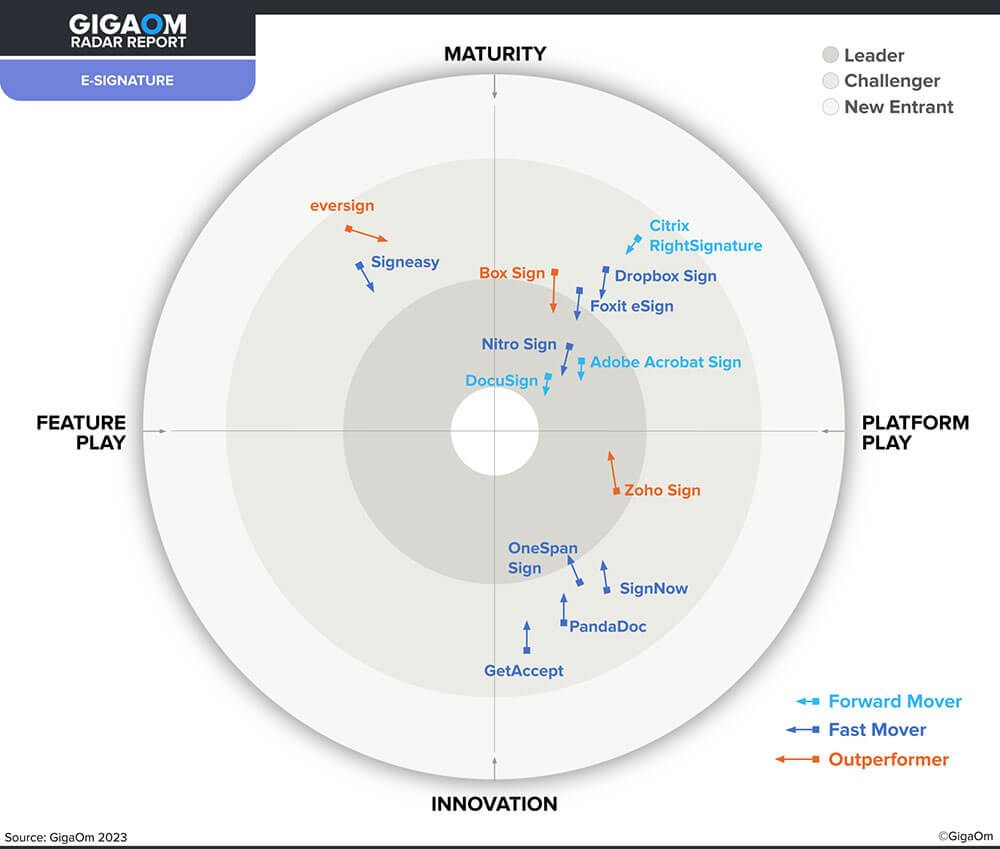 Zoho Sign is featured for:
Ease of use
Affordable e-signature solution for small to medium-sized businesses
Robust security and compliance
Advanced workflow capabilities through Zoho Flow
Offering advanced digital signature
Advanced distribution
If you haven't used Zoho Sign for your business yet, now is the right moment to start:
About GigaOm
GigaOm is a technology-focused analyst firm and media company that democratizes access to strategic, engineering-led technology research. It enables businesses to innovate at the speed of the market by helping them grasp new technologies, upskill teams, and provide strategic sales training and advisory services to navigate opportunities and challenges.
About Bill Witter
Bill Witter is a lead technical analyst at GigaOm who specializes in people and process software domains. He is the creator of the recent GigaOm Radar report on e-signature solutions.