What is 21 CFR Part 11?
The Code of Federal Regulations (CFR) are general and permanent rules published by the executive departments and agencies of the U.S. federal government. Title 21 of the CFR contains all regulations of the Food and Drug Administration (FDA) related to electronic signatures.
Part 11 of 21 CFR states the rules that FDA-regulated businesses must follow for their electronic documents and signatures to be considered equivalent to physical paper records and wet signatures.
Popular industries
Drugs and pharmaceuticals
Food and beverage
Medical devices
Tobacco products
Cosmetics
Radiation-emitting devices
Animal and veterinary
Vaccines, blood, and biologics
Dietary supplements
Food and color additives
If you don't comply with 21 CFR Part 11, you can face:
Notices of inquiry
Warning letters
Initiation of disqualification proceedings
Seizure of FDA-regulated products
Criminal fines
Recalls
Retention orders
Criminal prosecution
How to achieve FDA-compliant e-signatures with Zoho Sign
Zoho Sign helps FDA-regulated businesses use digital signatures instead of signing documents with pen and paper. Businesses can stay compliant with the following software features:
Electronic signature with printed name of the signer
Signing date and time, unique user ID, PKI cryptography, and signing reason
Signer identity verification and authentication
Customized legal disclosure
Security, control, and validation
Free onboarding and training sessions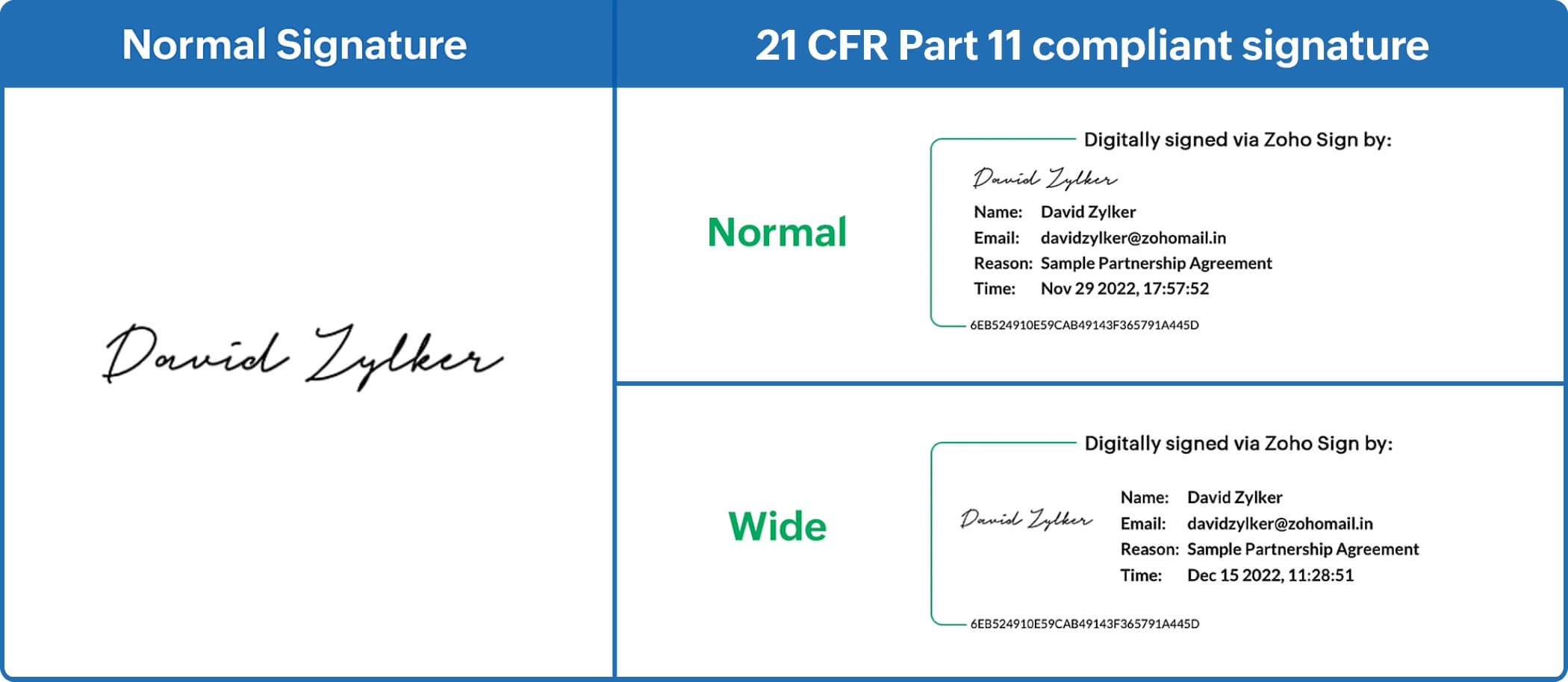 Key benefits
Single-click account setup and configuration
Easy compliance with 21 CFR Part 11 module for electronic signatures
Detailed audit trails and reports
How to enable Zoho Sign controls for 21 CFR Part 11
STEP 1

Click Settings in the left navigation pane.

STEP 2

Go to Account Settings.

STEP 3

Toggle 21 CFR Part 11 to ON.