Automation Credits
Available only in Enterprise edition
Zoho Sign is the only digital signature app that provides a truly unlimited document signing service to its users. Our professional and enterprise customers can sign or send out as many documents as they like for signatures from our web and mobile app interface across the various platforms. And surely enough, this has helped transform thousands of businesses around the globe.
However, we did implement some restrictions for selected features and integration automations to prevent excessive usage leveraging our generous licensing model. These restrictions included the Fair Usage Policy (now discontinued) for the features of bulk send and SignForms, and the consumption of API credits to sign or send documents for signature using integration automations. This meant that customers had to purchase API credits as add-ons if their usage crossed the limits set by our FUP or if they wanted to integrate Zoho Sign with other apps to send documents via automated workflows. We eventually realized that these restrictions held our users back from freely exploring Zoho Sign's integrated usage with our own other Zoho software. Therefore, we have introduced a system where organizations will receive a nominal amount of complimentary automation credits every month, proportionate to their number of licensed users, to ease the restrictions imposed earlier and minimize additional purchases. This provision will enable users to explore, build, and automate custom Zoho Sign document workflows across apps within the Zoho ecosystem.
What are automation credits?
Automation credits are functionally the same as API credits. An automation credit is consumed each time a document is sent out for signature using Deluge-based custom functions or automated integration tasks from other Zoho apps, or using the SignForms and bulk send features in Zoho Sign. Users may continue to send documents out for signatures using these automations at no additional cost until their automation credits run out.
How do we receive automation credits? Who can use them?
All organizations subscribed to our Enterprise plan (including bundles like Zoho One) will automatically receive their automation credits at the start of their billing cycle every month. The credits are provided at the organization or account level and, therefore, their usage is shared among all licensed users.
How many automation credits do we receive?
Organizations will in total receive an amount of automation credits that is proportionate to their licensed user count. At present, we cumulatively provide organizations 10 automation credits for every licensed Zoho Sign user up to a maximum cap of 500 credits every month.
For example: An organization comprising 20 licensed users will be provided 200 automation credits on their account every month. But an organization comprising 60 licensed users will be provided only 500 monthly credits due to the maximum cap.
Where are these automation credits consumed?
The table below provides a list of all the automations performed by Zoho Sign, across Zoho apps, that previously carried restrictions, and how they behave in the automation credits system.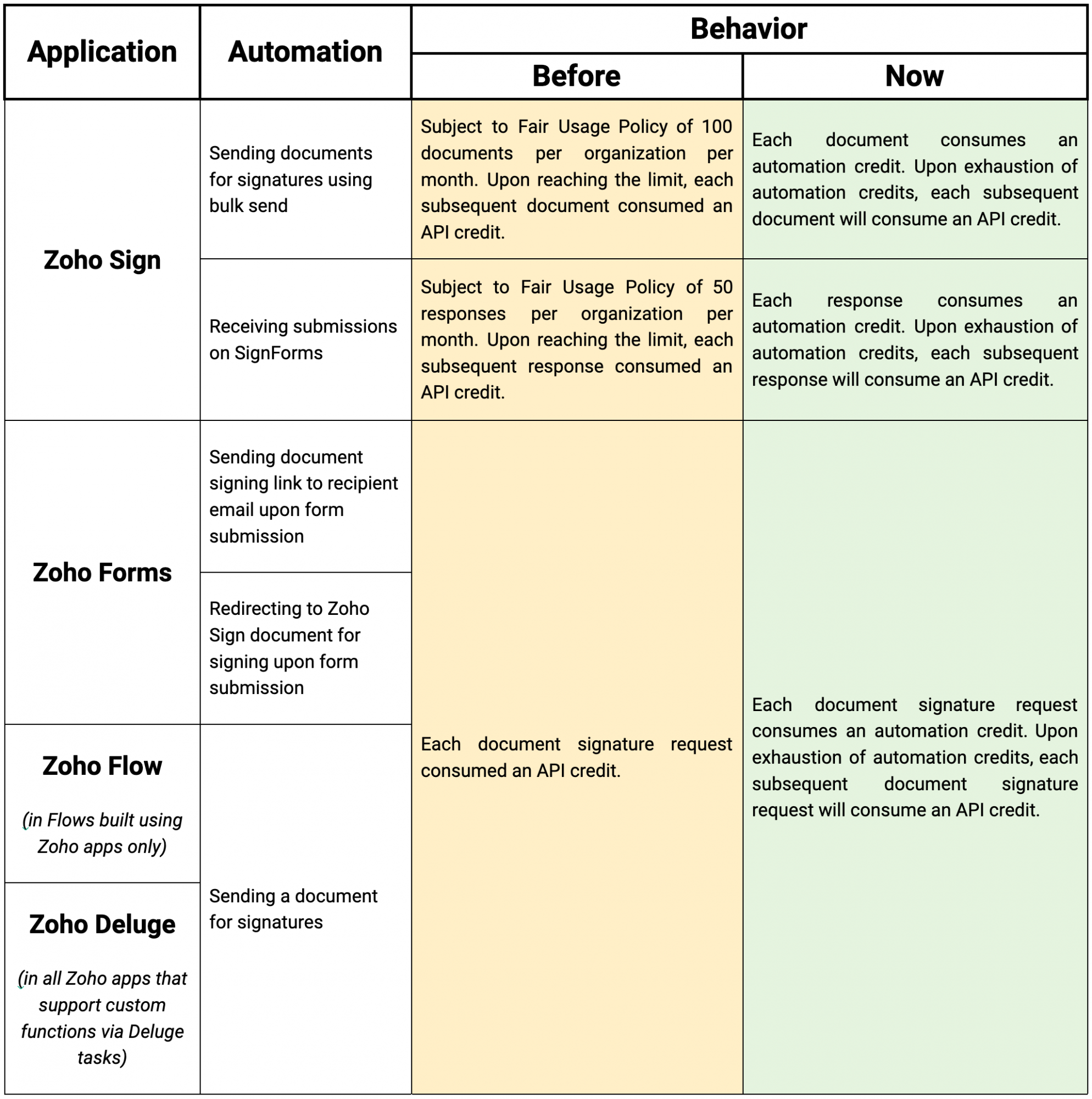 What happens when I run out of automation credits?
The automations that consume automation credits will start consuming an API credit for each subsequent document signature request raised.
Will automation credits be applicable for automations in integrations with third party apps?
Automation credits will not be applicable for automations in integrations with third party apps. Third party integrations require the purchase of API credits as add-ons to send documents out for signature.
What happened to the Zoho Sign Fair Usage Policy?
We have discontinued our Fair Usage Policy with the introduction of the automation credits system. This effectively replaces the current monthly limits for bulk send and SignForms for organizations with their monthly total of the automation credits provided.
Where do I track my organization's automation credits and their usage?
To track your organization's automation credits and usage:
Click Settings on the left navigation panel in your Zoho Sign dashboard and select Subscription details from the dropdown.
In the Subscription details section, you can view the total count of the monthly automation credits provided to your organization and track how many credits have been used.
To monitor their usage, click Usage history.

The Usage history pop-up will display a detailed breakdown of the various automations consuming your automation credits.