ShowTime for
iOS and Android devices.
The ShowTime Presenter app lets you, the trainer, establish a digital connection with your learners. The ShowTime Viewer app lets your learners connect to your training through their mobile devices and interact with you from anywhere.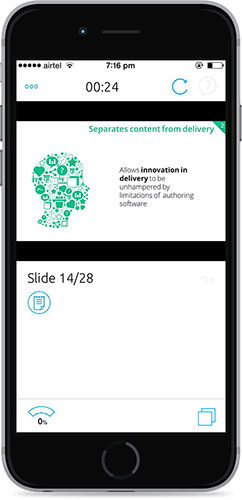 Empowered trainer, engaging sessions:​
Delivering classroom training requires one-on-one interaction with your learners. Don't let the podium or laptop restrict you. Make use of the whole room and capture everyone's attention with the Presenter app.​
Forget projectors: Stream your content directly to your trainees' mobile devices.​
Keep your learners' attention focused on your session by encouraging them to 'like' the slides they find the most valuable and to send questions from their smartphones.​
Collect, prioritize, and project individual questions to drive class interaction.​
Use live metrics to learn how well you're holding the attention of your participants.​
Get instant feedback and ratings when the session concludes.​
Scan this QR code to download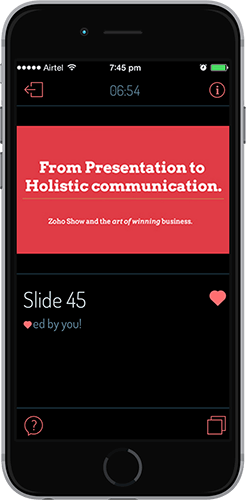 Enable learning, assure growth:
Whether in a real classroom or a virtual one, give your learners a uniquely engaging experience. The Viewer app will take your sessions directly to them, no matter where they are.​
Share your screen and slides in real time. Attendees can tune into your live sessions and follow along at every step of the way.​
Learners can look back to completed slides during the session to take notes or to get up to speed if they joined late.​
Invite learners to use the built-in chat feature to collaborate and communicate during the session.​
Trainees, both remote and in-class, can pose questions on their mobile devices instantly instead of waiting till the end of the session.​
Get their honest opinion—encourage your attendees to provide instant feedback and rating at the end of each session.​
Customize your "Thank you" message,share your contact information, and invite post-session interaction.​
Scan this QR code to download