Produce schedules quickly
Scheduling Interface

The straightforward and uncomplicated interface helps you to build schedules within minutes. You can create shifts in one click, drag and drop to move shifts or even copy previous weeks' schedules. It is easy to adopt teams of any size and scaleable across one or many locations.

Schedule Templates

You can save standard or repetitive schedules as templates to save time and avoid reworking schedules from scratch. The templates can be also be modified when required.
Minimize scheduling conflicts
Employee Availability

Employee availability works hand-in-hand with the creation of a schedule. When your employees set their availability, it gets updated in the schedule and helps you to create a comprehensive schedule in just a single click.

Time off

Employees can request time-off from shifts subject to manager approval. Approved time-off requests are updated instantaneously in the availability of employees and helps you to create conflict-free schedules.
Instant team communication
Shift Notifications

Notifications of scheduled shifts and changes in schedule are sent instantaneously via text messages, emails or push notifications to employees . This ensures that your employees are informed and up‑to‑date.

Shift Reminders

Employees can also receive shift reminders before their shift is scheduled to begin via text messages, emails or push notifications. Your employees can set the number of hours before their shift that they would like to receive the reminder. This helps to reduce no‑shows and boost productivity.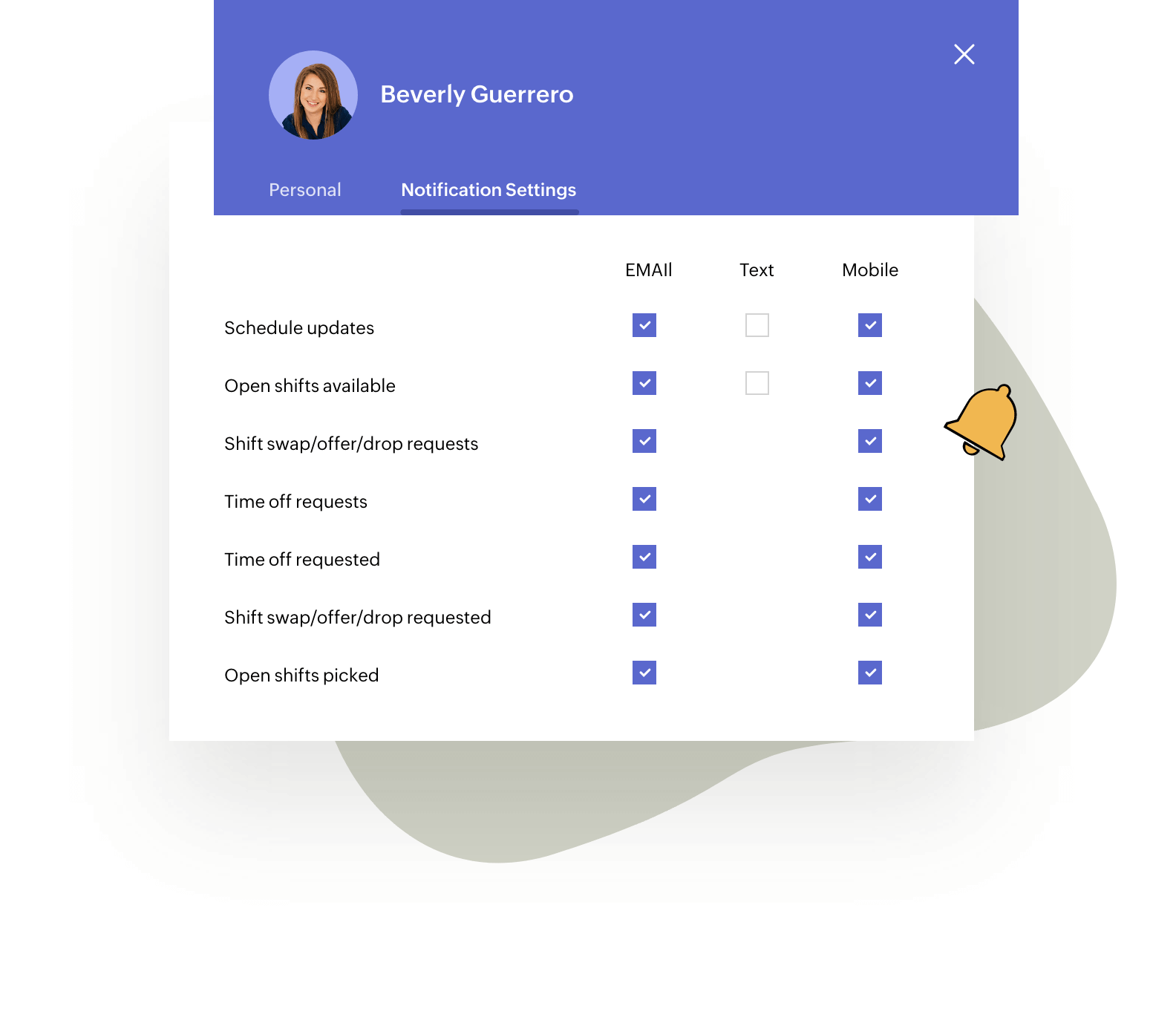 Manage work shifts seamlessly
Shift Trades

Swap shifts and Offer shifts allow your employees to exchange with or hand off shifts to relevant, available and qualified co-workers. These shift trade requests can be approved or rejected by your managers. Shift trades helps in balancing manager and employee needs thus ensuring optimal productivity.

Open Shifts

You can schedule open shifts and send notifications to the qualified and available employees who are eligible to pick it up. The schedule is updated in real-time as and when an employee picks up the open shift.
Other Advantages of Employee Scheduling
Easy Setup

All you need is a web browser and internet. You can get started quickly and access everything online.

Multiple Schedules

Employee scheduling supports multiple locations and makes it easy to manage your employees across all locations.

Sync Calendar

You can sync your work schedules with common calendar applications such as Google calendar, Outlook and Mac Calendar.

Multiple Views

You can filter and view the schedule based on employees, positions, schedules and time period i.e. day, week or month views.

Custom Permissions

You can create your own custom roles with appropriate permissions to fit your needs.

Print Schedules

You can print schedules and share the copies with your employees who do not have access to a computer or mobile phone.