What is live chat software?
Like any other communication app we use daily to interact with our family and friends, live chat is a software tool through which visitors, prospects, and customers can interact with your business.
Depending on how businesses want to connect, the placement of the live chat tool varies. For casual visitors or perusing prospects, their initial point of contact with the brands would be the website. This is why businesses keep their live chat widget on their websites.
Customers can also use the live chat tool on their website. Still, for convenience and an enriched single dashboard experience, businesses usually have a live chat interface inside their product. If customers want to reach out to businesses, they can do so without having to switch tabs.
Live chat widget on our SalesIQ website for visitors to get in touch with us: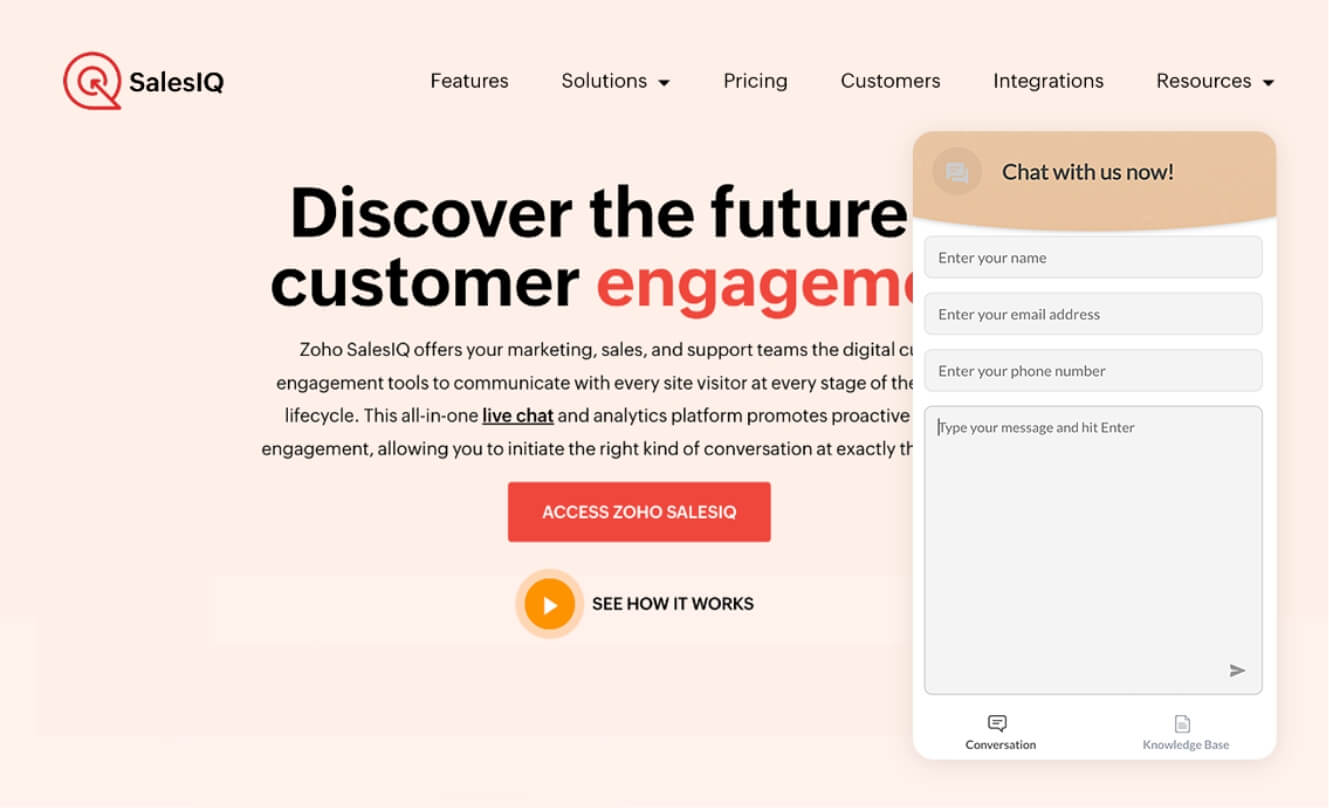 Live chat widget inside our SalesIQ product for customers to reach out to us:
How does live chat software work?
You may already have a clear idea about what live chat software is. But how does it work? You might be surprised at how many interesting things happen behind getting your response from a live agent. Let us walk you through that process.
Live chat software consists of two interfaces. One that the visitors, prospects, and customers use to interact with the businesses, the other that businesses use to interact with their communicators.
When communicating with our friends and family via instant messaging apps like Whatsapp or Telegram, the interface is identical at both ends. However, businesses need many tools to deliver faster and quality resolution when interacting with people. The interface at the business end is embedded with powerful options to address these needs.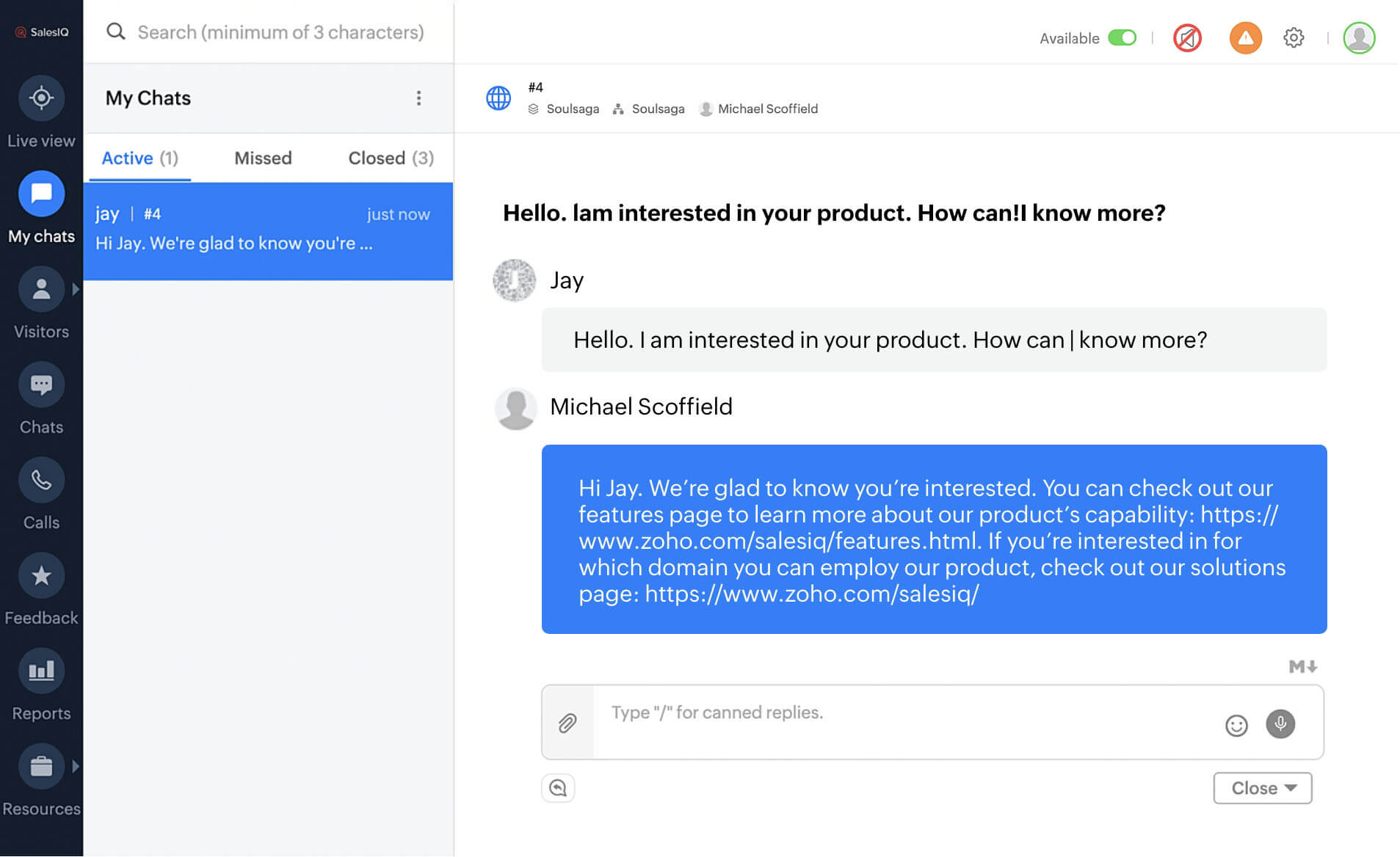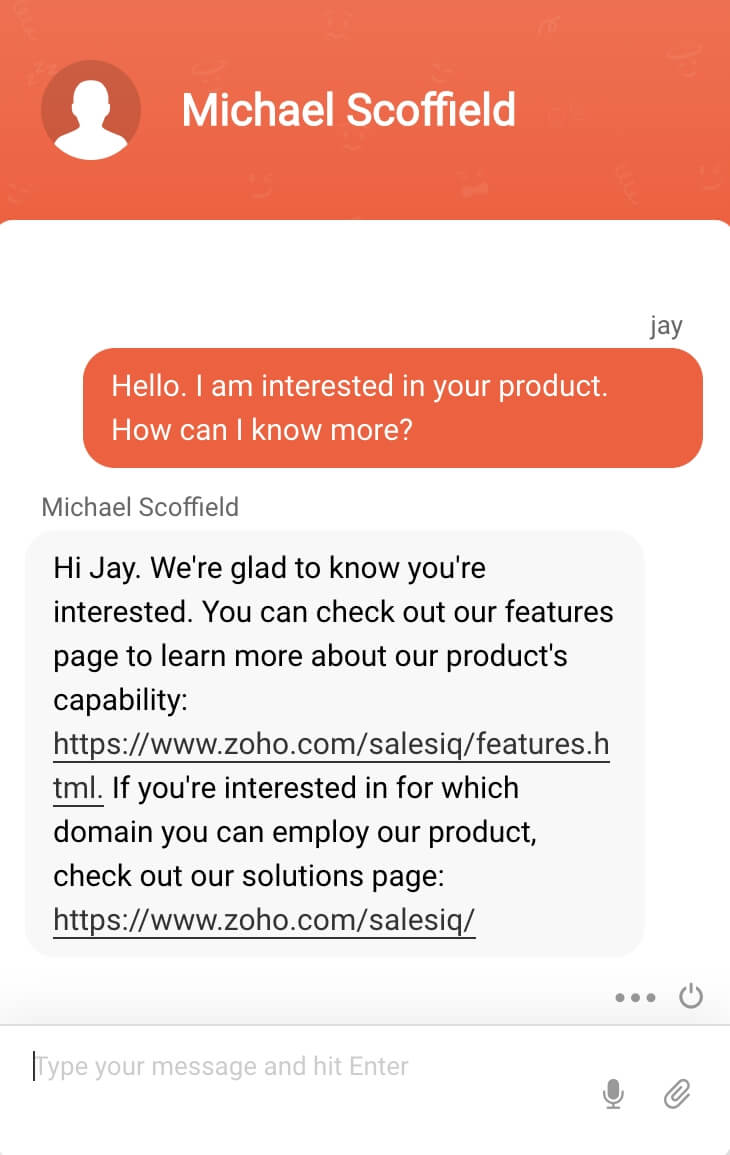 If you look at the above screenshots, the visitor interface (on the right) is minimal. If visitors want to talk to the live agent, they can type a message or send a voice note. Suppose they want to attach any document or images for reference or clarification. In that case, they can do so via the attachment option, which is all they'd need to interact with the business.
On the other hand, if you look at the agent interface (on the left), it has many options. What are they?
An agent wouldn't only be handling one visitor's chat. Many visitors would be contacting the business, and depending on the size of their support team, the number of active chats an agent handles would be different. This is why they'll have an individual column of active, missed, and closed chats for easy access.
In order to provide a personalized experience, agents would have access to all the past conversations you had with the business. They can refer to the chat history, understand what the customer wanted from them, and offer them the best-customized experience.
Since agents would be handling many chats, it would be a cumbersome process to type every reply from scratch. With canned replies, they can store the frequently asked questions and help guides, and access them all with one click to offer a quicker response.
When reaching out to the agents, sometimes they might need help to solve the customer's query. In such cases, an agent can loop in their colleague or manager to resolve the issue. Agent interface would have options to add team members.
If the agents cannot resolve it via chat, they'll have the option to connect with the customer over an audio call/video call to understand the customer's query better. There are options available to get remote access to assist the customer.
Agents have access to several unique features. There're scores of others, and depending on the domain they're handling, customized options may also be available.
Why do you need live chat software?
When emails and audio calls are available, why do businesses need live chat software? Many people might tell you that live chat offers personalized communication that isn't possible on any other medium.
However, that simply isn't true. Personalized communication can be offered via any medium. Live chat has other, more important features that make it useful, such as:
Unlike email and audio calls, visitors don't have to stop what they're doing when they're contacting businesses via a live chat tool. They can multi-task and reach out to the business at the same time. The same can be true for email, but it is not instant.
Businesses can use live chat software to offer instant, real-time replies to all their visitor queries.
People aren't interested in sending out emails or calling the business for minor queries. Live chat can offer short and crisp answers that are more accessible.
Introverts and non-native speakers feel uncomfortable contacting out via phone, whereas live chat is a boon.
Be it on the visitor or agent side; live chats are now device-agnostic. You may already be used to reaching out to businesses over your phone or tablet. However, if you're new to agents handling queries over the phone on the go, check out SalesIQ's in-app chat support, Mobilisten .
Compared to other medium, live chat has the best average first response rate: 45 seconds.1 While seeking resolutions, visitors prefer the faster mode of communication that live chat offers businesses.
Be it a startup or an enterprise; live chat software is easy to scale and much cheaper than other modes of communication.
While chatting with the business, visitors can see if the agent is online or offline via the presence indicator.
From the visitors' perspective, staring at the empty text box may frustrate them when they're expecting a resolution. The typing indicators help them ensure that a solution is on the way.
Likewise, read confirmations assure them that the agent has read the query and resolution will be offered.
These features ensure you offer the best customer engagement and a wholesome customer experience to your customers.
Benefits of live chat software
Live chat is not just a tool to interact with visitors, prospects, and customers; it also acts as a lead generation interface. When people want to contact you, live chat will have fields that collect their names and email addresses, which we can pass to CRM software to build a list.

If you're interested in learning more about how to integrate live chat software with CRM, check out our SalesIQ - CRM integration.

When businesses have to onboard a new tool for their operations, that software should have a minimal learning curve, as businesses cannot afford to stop their operations and let their employees learn the platform.

Because we've been familiarized with communication applications for a long time, the learning curve while onboarding live chat software is minimal to zero.

What does live chat software do? It nudges the visitors to engage with the business. It makes them get comfortable and share what they want with the brands. It helps the brand to learn more about the visitors and understand them better.

Businesses establish such connections, which ultimately results in an increased conversion rate. When they're satisfied while interacting, it also increases the average order value, which has a direct impact on Return on Investment (ROI)

Today, we have many communication applications people use in their everyday lives. In such an era, people want to reach out to brands from the application they're using. We cannot expect them to only contact businesses on specific platforms. To achieve that, live chat software comes with multi-channel support. Businesses can answer all their customers from a single dashboard instead of jumping around multiple applications to address them.
When a new visitor lands on a website businesses can use proactive triggers to initiate a conversation with them instead of waiting for the visitor to reach out. This enhances their overall experience with the brand and encourages visitors to become customers.
Zoho SalesIQ, the best live chat software
If you're awed by the capabilities and potential of live chat by now and want to try it for your business, we'd like to introduce you to the best live chat software in the market today: Zoho SalesIQ. We'll list why it is the best live chat software for every department your business has.
From the outside, it might look like live chat software's application is limited only to customer success teams. However, it can be employed across the organization for interacting with prospects and customers at various touchpoints of customer interaction.
Zoho SalesIQ, the best live chat software for marketing, sales, and customer support
Using our proactive triggers, marketers can set automated messages to initiate a conversation at the right time based on the pages visitors have checked out. This will instantly help create a personalised experience and help visitors get what they want.
By inviting visitors to chat, you can build your own email list and pass them through your sales funnel. By integrating SalesIQ with Zoho Campaigns, your sales team can group, schedule, and send emails as a follow-up to your visitors and convert them.
Arm your support agents to take care of your customers with minimal effort with our features like visitor-side chat history, canned replies, screen sharing, file sharing, and more.
With our chat routing, your support agents can instantly route your customers and visitors to the department they want to talk to.
Our translation feature puts your agents and your visitors at ease and lets them interact with the language of their choice.
Your support agents can solve queries triggered by other IM platforms such as Whatsapp, Telegram, Facebook, and Instagram from SalesIQ's dashboard.
If you'd like to learn more about what else SalesIQ is capable of, check out our pages Live chat for sales and live chat for customer support.
Schedule an exclusive demo now and check out what Zoho SalesIQ, the best live chat software, can do for your organization.