With the real estate Zobot, you can literally close more deals than humanly possible. It engages, nurtures, and converts buyers and sellers into clients.
Say there is a visitor on your real estate website who is on the lookout for a new place to move in to or is looking to sell his/her property. The visitor is pretty lost and is seeking for help. You, being a real estate agent who is endlessly juggling old and new properties, evaluating properties and chasing goals, miss out on this potential visitor. The visitor also leaves without an answer. Here, both the parties end up being disappointed. The Real Estate Zobot will have your back while you resolve one such situation.
Bot Requirements:
Initiate chat/ Trigger a welcome message.
Displays the list of properties available for sale/purchase.
Schedule consultation appointments using Calendar widgets.
Real-time live chat with real estate brokers in the organization.
Display maps for visitors to pick suitable locations.
Zobot Capabilities:
It can guide buyers/sellers through the home/office search process with conversational language and rich data, and offer advanced valuation tools to help visitors choose their ideal home/office spaces.
Live Chat Transfer: Your prospects can ask the bot to transfer their chats to one of the support representatives of your organization at any time. The Zobot provides an option to do so inside the chat window itself.
Search Available Listings: The Zobot can identify the search requirements of all the buyers and sellers, search for matching property and return and display active listings, with photos, right in the chat interface.
Estimate home values: Buyers/Sellers can ask your real estate Zobot about how the market is doing and also enquire about the available property by city, zip code or neighborhood. It instantly displays the list of feasible properties according to the prospect's requirements along with the prices.
Keep prospects updated: The Zobot captures the prospects' information like name and email address, and based on the requirements, it updates prospects as and when the projects are near completion. The info can be daily property alerts or market statistics on their future home/office spaces.
Bot flow: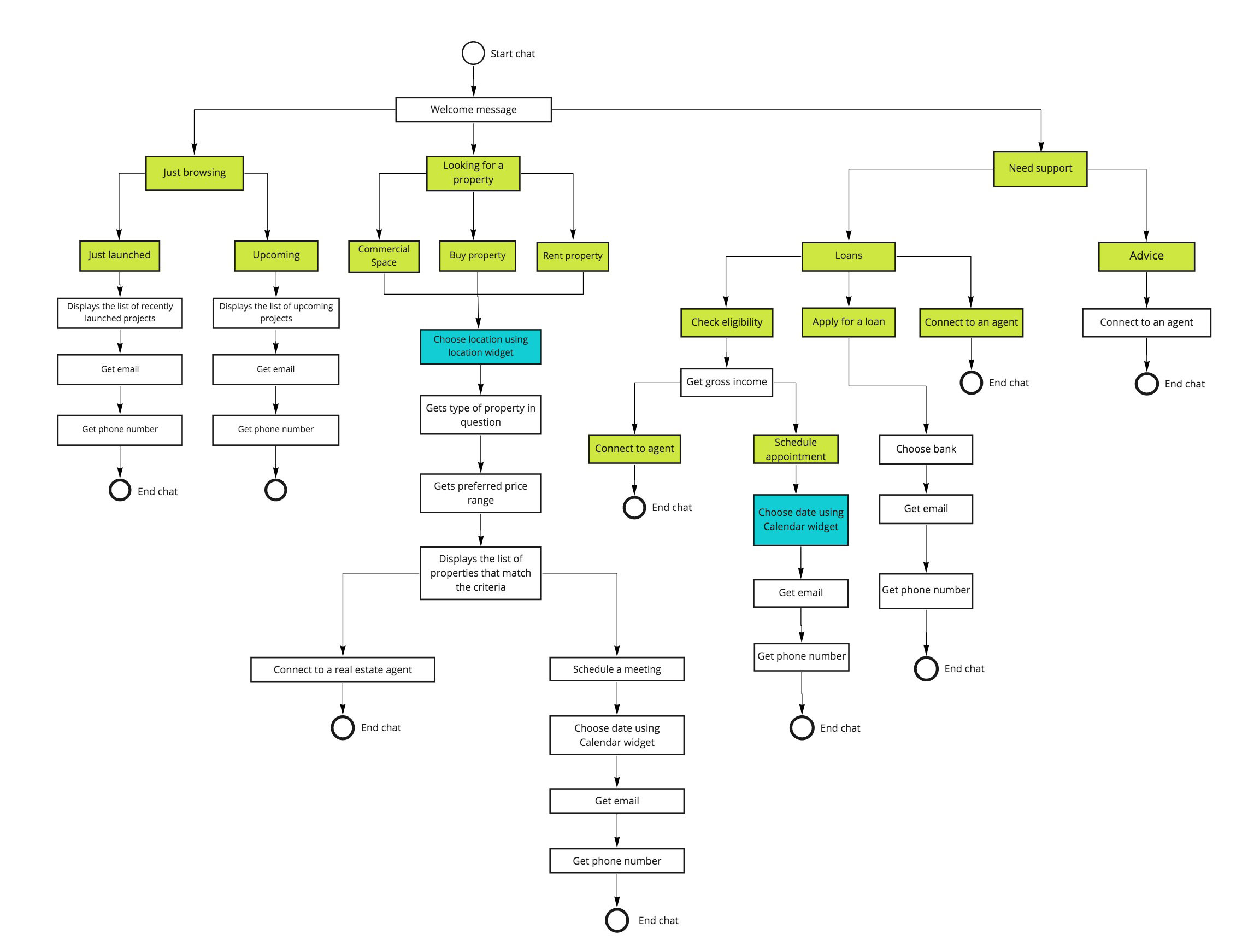 How to create this bot?
Navigate to Settings > Zobot > Create bot. Add a name, description, choose the website and preferred departments.
Set trigger criteria and enable business hours and operator handoff based on your requirements.
Now, copy the code and paste it inside each handler- Trigger, Message, and Context.
Save and Publish each handler separately and then publish the bot.