Let customers self-serve with a live chat knowledge base
Curb the flow of repetitive questions by displaying answers to FAQs on your live chat window. Customers can look up anything they need to know in your live chat knowledge base and contact you only when they need personal assistance.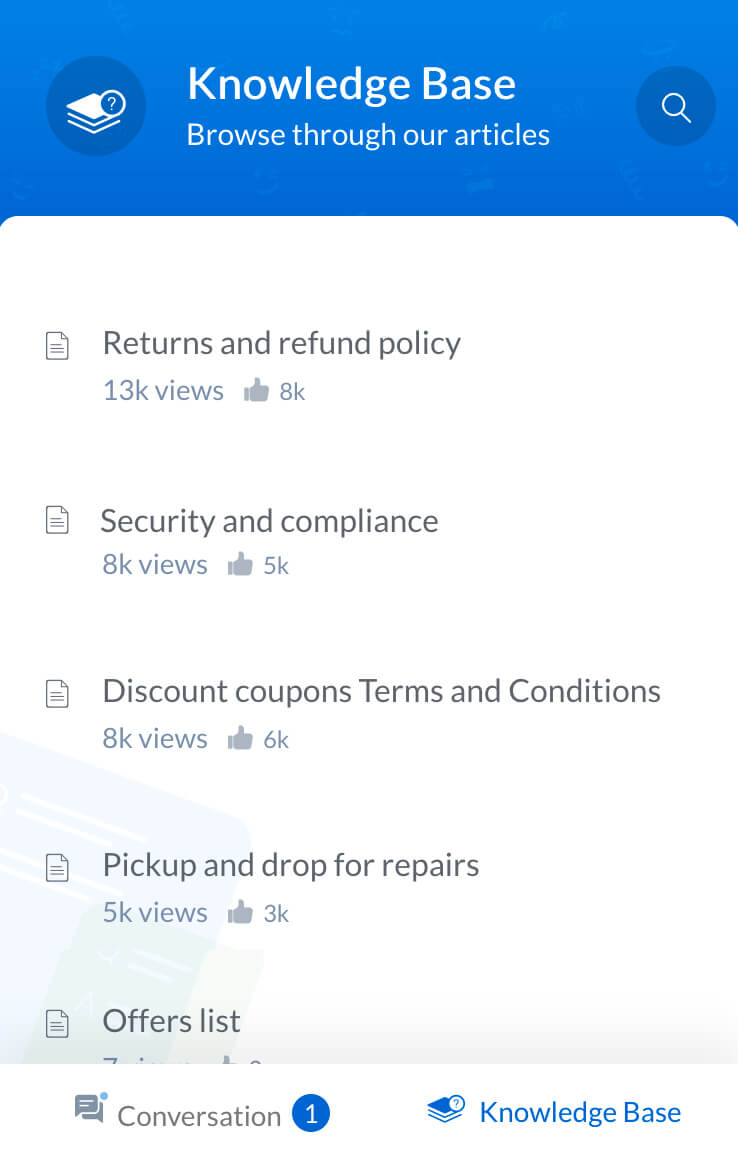 Build your knowledge base effortlessly
You no longer have to manually type in long articles or FAQ answers to create a live chat knowledge base. Bulk import resources to your live chat and chatbot knowledge base with accuracy.
Want to add or change a particular answer? Use SalesIQ's article editor.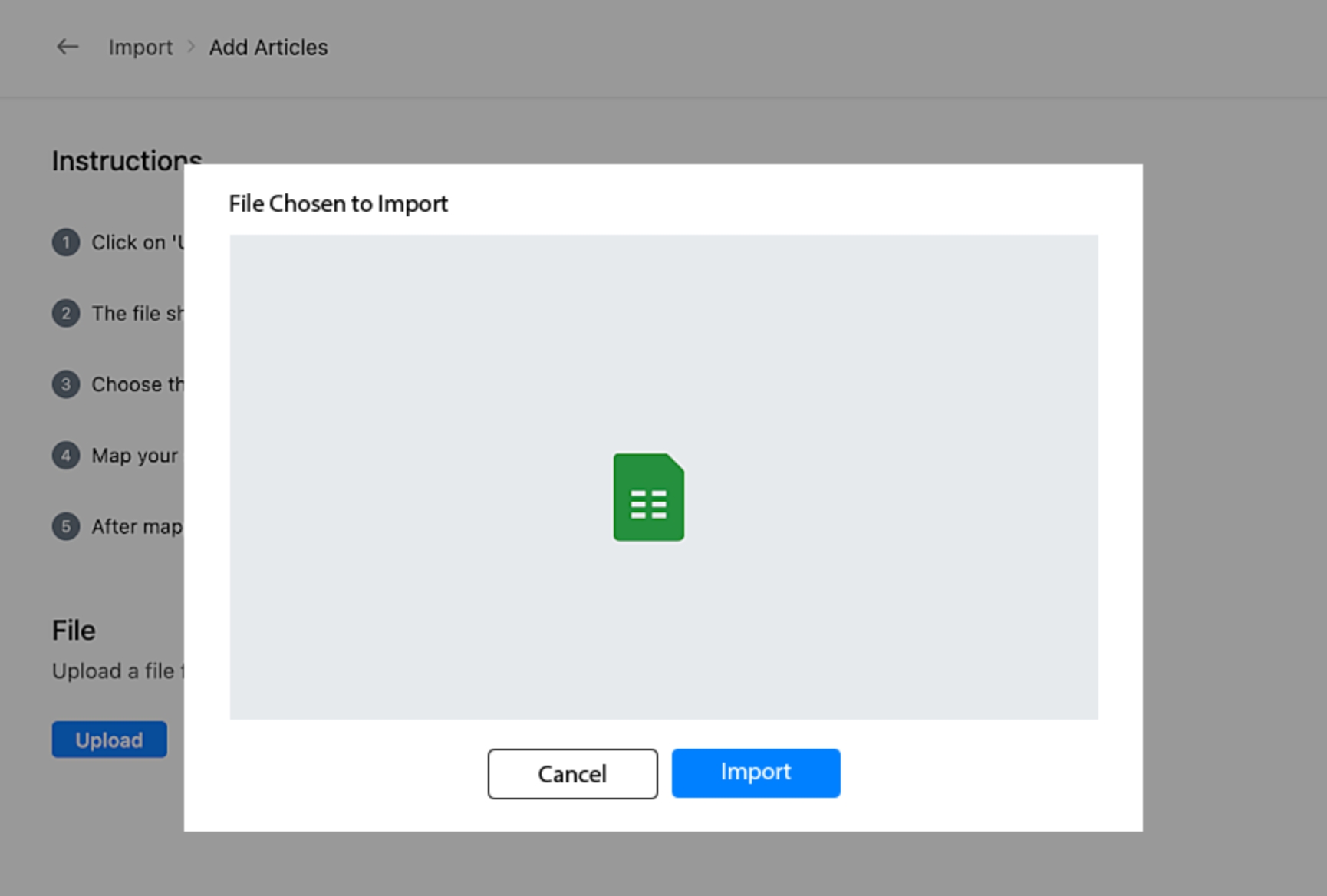 Create a multilingual knowledge base for global reach
Cater to prospects and customers worldwide with a live chat knowledge base in languages they'd be most comfortable with. SalesIQ lets you build a multilingual live chat knowledge base in 30 languages.
Save time with ready-made replies
Create a repository of frequently used phrases, answers, and links that you can access instantly with a slash command in the agent live chat window. Personalize your replies with visitor information shared in the chat.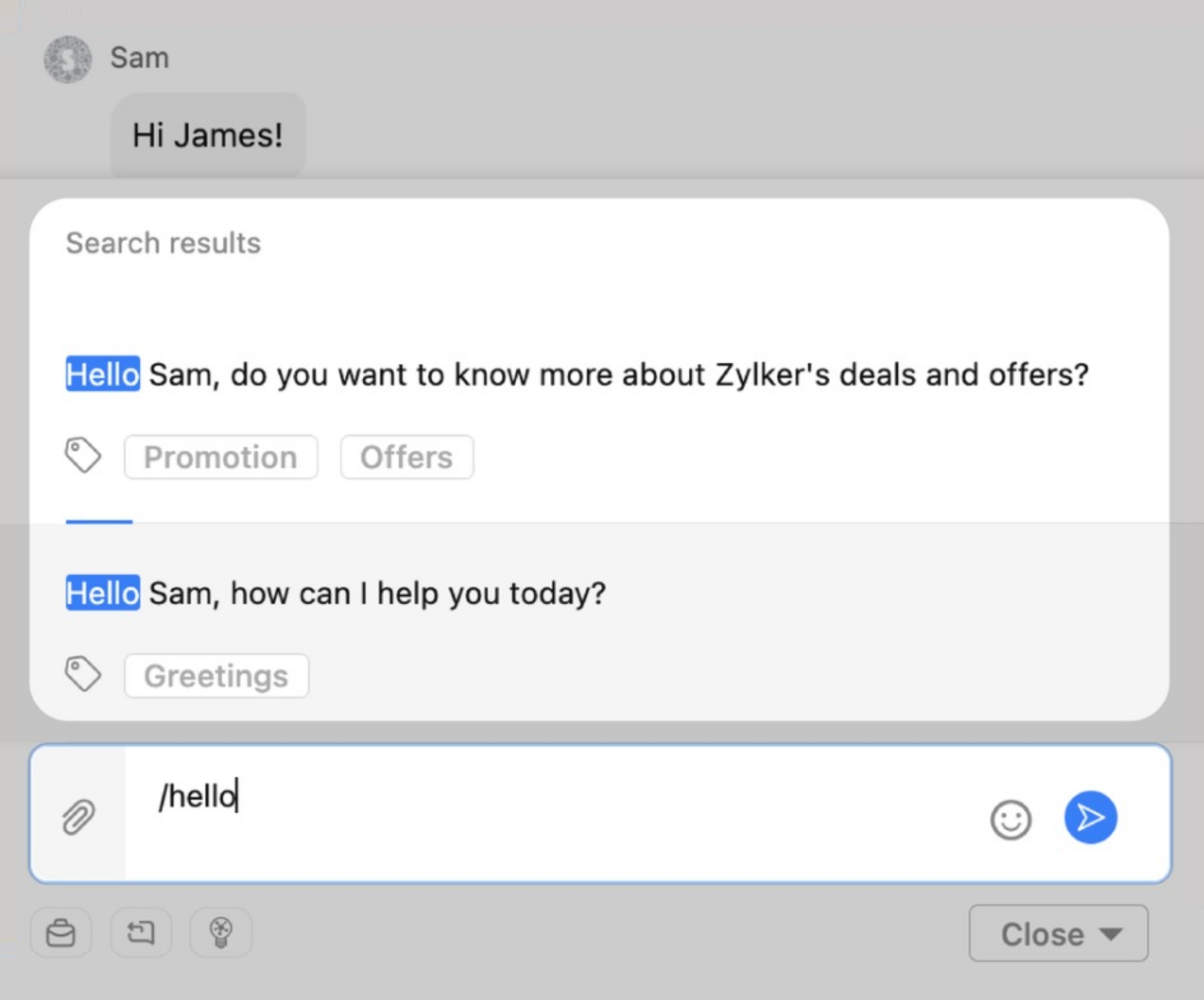 Train your chatbot with your knowledge base
Plug your knowledge base in to your chatbot so it can answer common queries using your articles and FAQs and pass only complex questions on to your team. Update your chatbot knowledge base by training your bot to record all unanswered questions.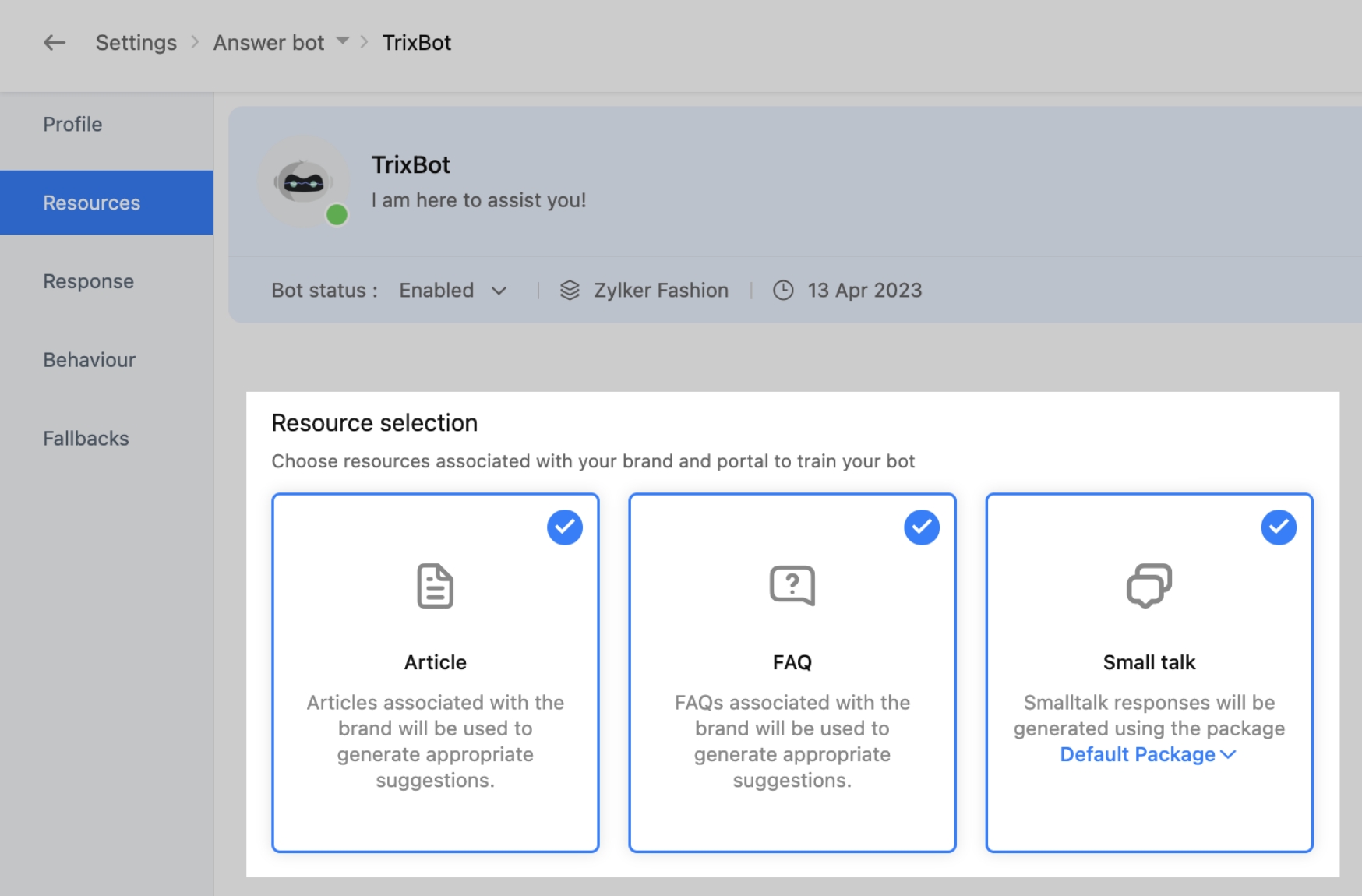 Make your AI chatbot more human
Add different sets of engaging responses in your chatbot knowledge base so that your AI bot can connect better with prospects and customers.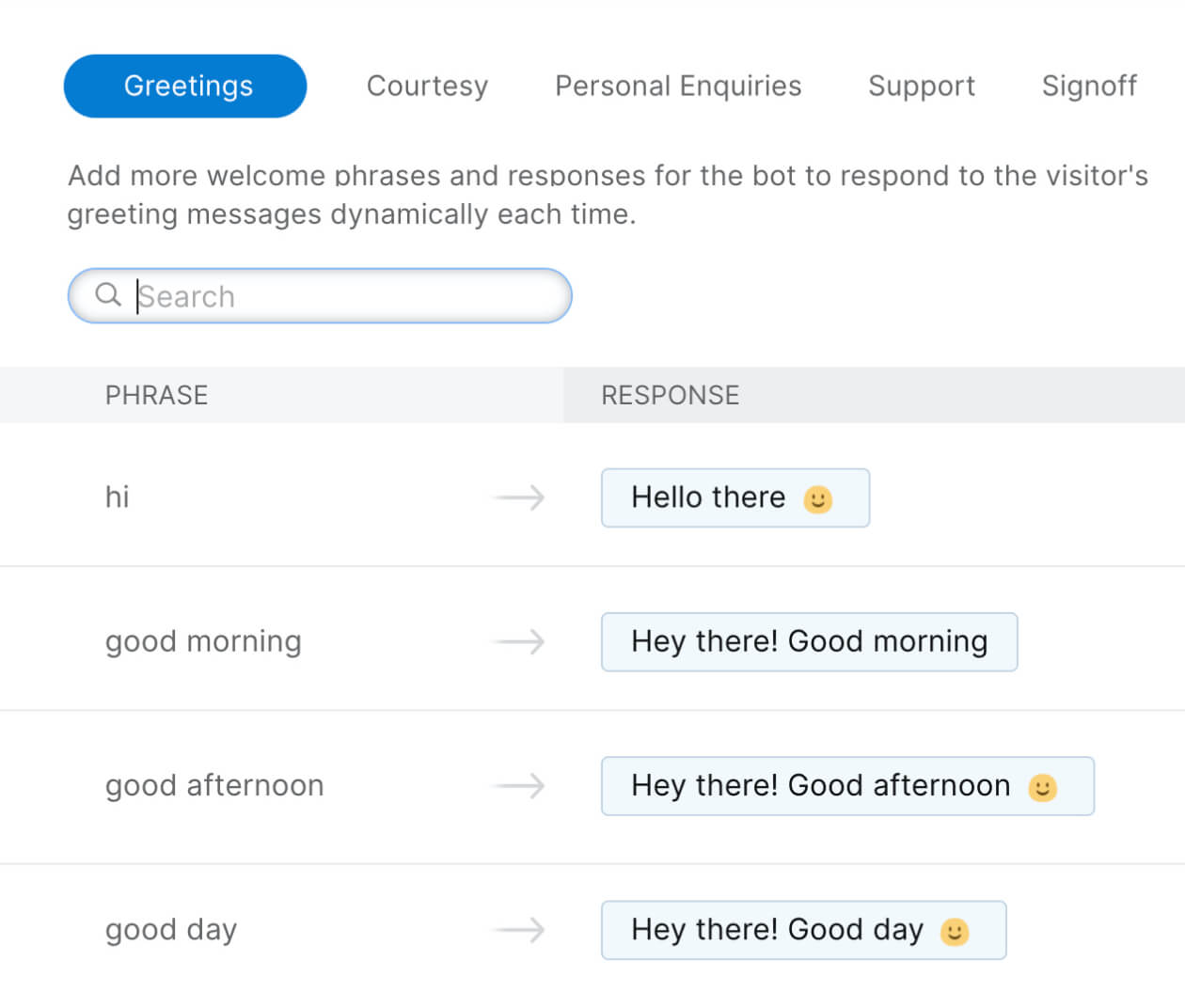 Help your bots talk business
Give your chatbots the capability to understand and respond to a wide range of business and domain-specific terms visitors use by creating a library of these terms in your chatbot knowledge base.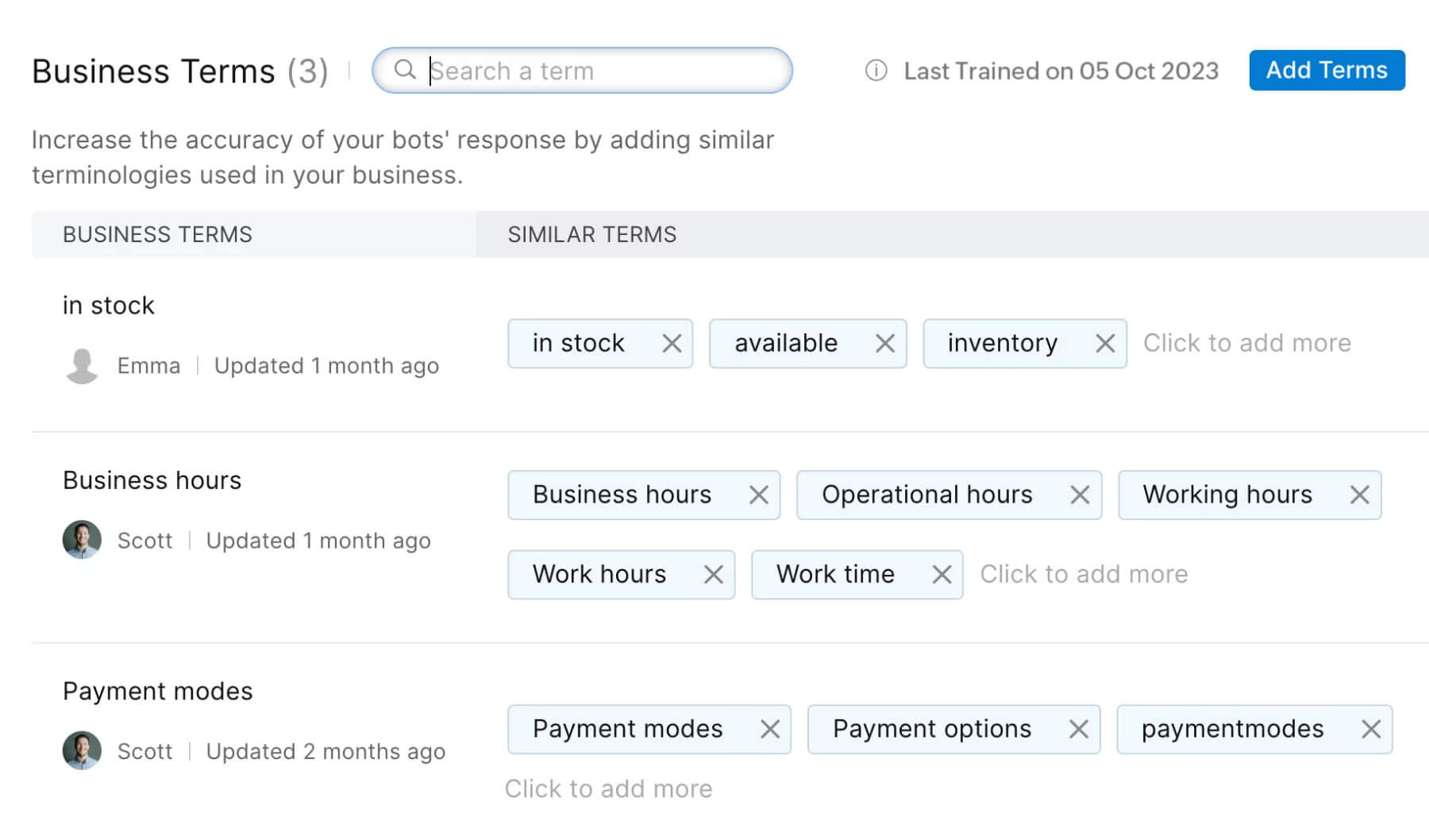 Information hub
Here's all you need to know about a chatbot knowledge base.
What is a chatbot knowledge base?
A chatbot knowledge base is a library of resources like answers to FAQs, articles like product specifications, company policies, and terms and conditions that gives your chatbot the information it needs to answer customer queries and makes it self-sufficient.
Why do businesses need a chatbot knowledge base?
A chatbot knowledge base is indispensable for businesses whose support relies heavily on chatbots. Without a knowledge base for chatbots to fetch answers from, all they can do is go through the pre-programmed loop and connect prospects and customers to live chat agents or create a support ticket when they encounter questions that aren't part of the chatbot program.
When connected to your knowledge base, chatbots can answer all frequently asked questions, leaving your team to focus on those that need their attention, like troubleshooting, bug fixes, or demos.
What are the benefits of a knowledge base for chatbots?
Makes your AI chatbot truly intelligent: Without data, your chatbot is pretty much just a bridge between your customers and live chat agents. Only when your connect it to your knowledge base is a chatbot able to fetch answers and independantly respond to customer queries.
Facilitates near-human chatbot conversations: The main difference between human live chat agents and chatbots is that human beings understand questions no matter how they're phrased, whereas chatbots mostly only understand one or two variations of a question. We can bridge this gap by setting up a chatbot knowledge base with answers to FAQs and adding all possible versions of questions you can think of. Other chatbot knowledge base resources—like phrases that help friendly human-like conversations and business jargon and its synonyms—can further reduce the distinction between a chatbot and a human.
Stores unanswered questions: Another overlooked benefit of integrating your knowledge base with your chatbot is that it helps keep your knowledge base updated. Automate your chatbots to keep track of all customer questions to which answers aren't already available in the chatbot knowledge base. You can add them as new versions of your existing FAQs or even draft new answers or articles on those topics.
How do you create a chatbot knowledge base?
Here are the steps to create a knowledge base for your chatbot.
Before you start building your chatbot knowledge base, you need to analyze the questions your prospects and customers frequently ask your live chat team. You can also include the most searched topics and most visited pages in your website.
Most businesses will already have articles and blogs on these commonly asked topics and an FAQ page on their website. If you do, check if all the questions you've come up with in step 1 are covered and add them if they're not.
If you don't have any content on these topics, drafting these articles and answers to FAQs is the next step.
Add all these articles and FAQs into your knowledge base platform. Here's a detailed guide on bulk-importing your chatbot knowledge base content to SalesIQ.
Connect your knowledge base with your chatbot and automate your chatbot to record customer queries to which answers are not available in the chatbot knowledge base.
Keep your chatbot knowledge base updated by adding answers to the unanswered questions recorded by your chatbot.