Zoho SalesIQ Portal Settings
Advanced settings for Live Chat allows you to personalize chat settings according to your business needs. Advanced chat configuration includes setting your type status, sharing files, viewing chat statistics, collecting chat feedback, recording chat transcripts and a lot more.
How to Access the Portal Settings?
To access the portal settings:
Go to the "Settings".
In the "Portal Settings" section, you can find your configuration options for your Visitor chat window under the "Visitor Chat Window Configuration section".
Switch any of the options On (Green bar and a tick Symbol) or off (Red bar and a - symbol) by clicking whichever icon is currently displayed.
Any changes you make in this section will apply across your entire SalesIQ portal, including all users, departments and embeds.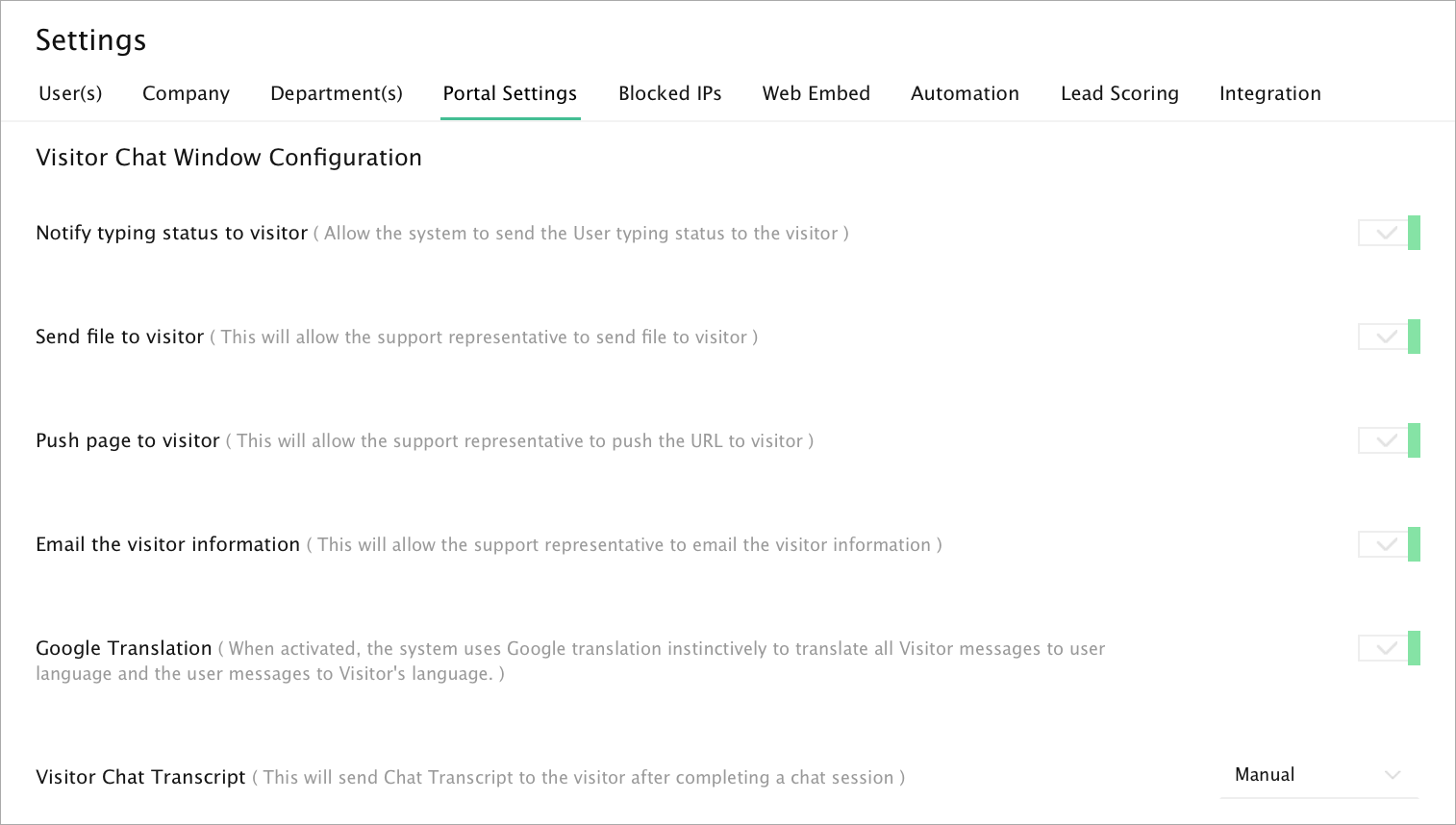 The Visitor Chat Window Settings
Notify typing status to Visitor - Share the user's typing status with the visitor
Send File to Visitor - Allows your user to share files across chat with your customers
Push Page to Visitor - Allows your user to share a URL during a chat session
Email Visitor Information - Allows your user to share customer information like region, browser details etc. via e-mail
Google Translation - Allows your user to get an visitor message instantly translated to user language and Vise Versa through google translation. 
Visitor Chat transcript- This option will send the Chat transcript to the Visitor on completing the chat session, Automated, Manual, Both and None are options given by Zoho SalesIQ for sending the Visitor chat transcript.

Automated – Chat transcript will be sent to the visitor automatically on ending a chat session.
Manual – Allows the visitor to manually send the chat transcript on completing the chat session.
Both – The visitor can send the chat transcript manually on completing chat session, however the visitor will also get an automated chat transcript on selecting this option.
None – The visitor will not have an option to get the Chat transcript.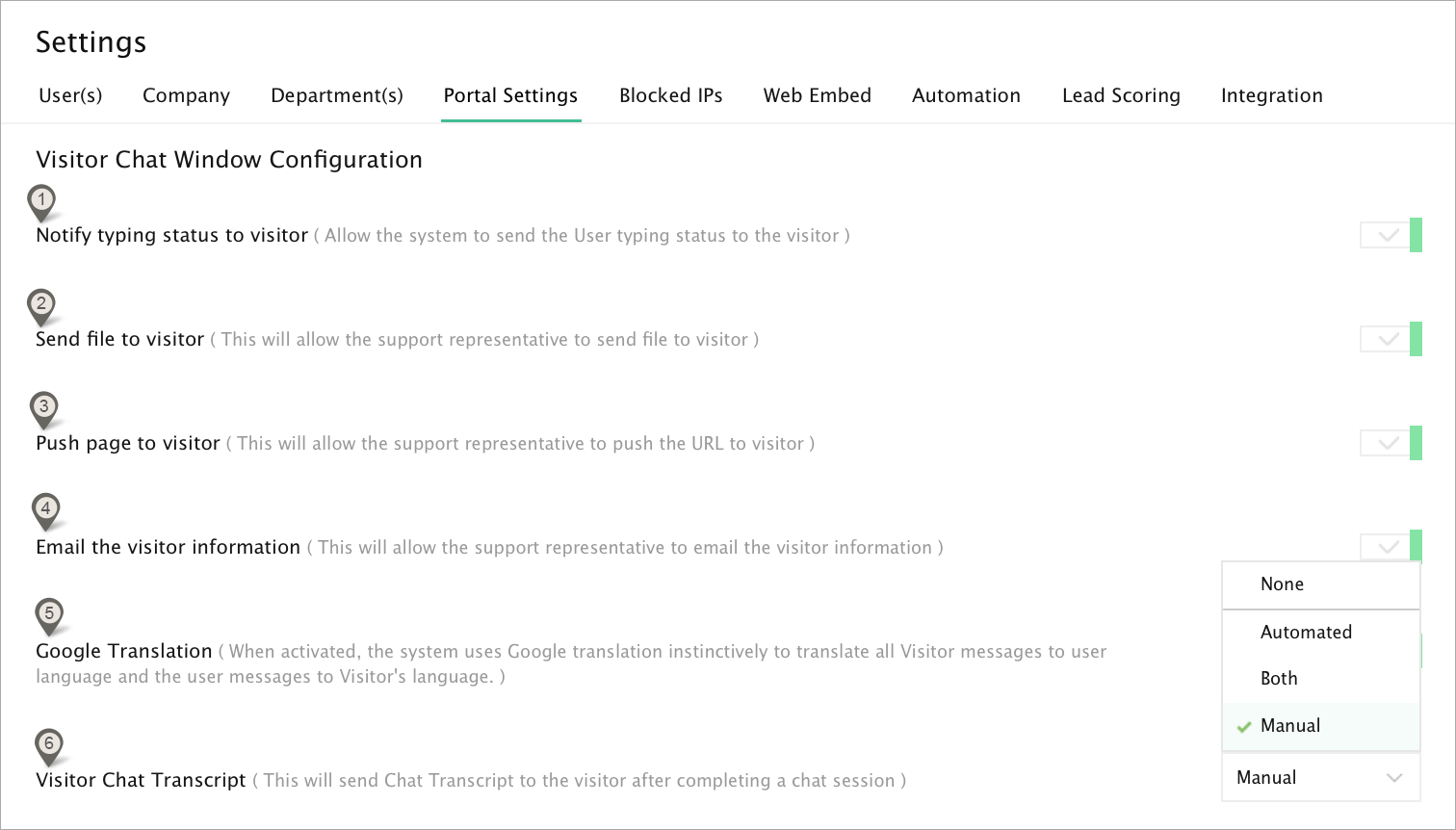 User Availability Configuration
Zoho SalesIQ allows the administrator to control the user chat activity and the idle timeout
Treat idle users as offline
Zoho SalesIQ allows the administrator to control the idle time of an user. This enables the chat widget to go offline after a certain time, when the user is not available leaving the Zoho SalesIQ logged in.

Set user idle time
You can now select a time from the list to set the inactive period for an user to set the status to idle.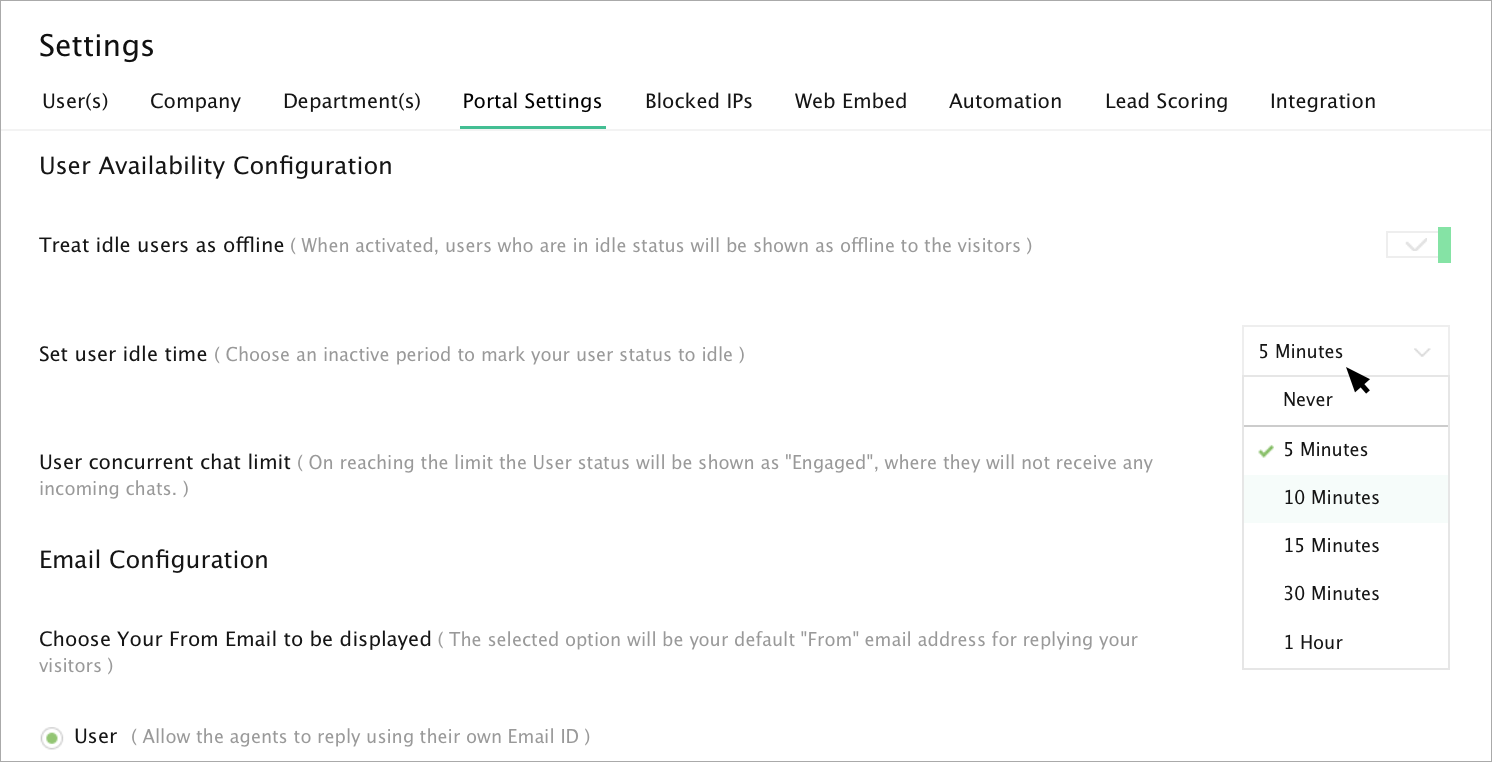 User Concurrent chat Limit
This configuration allows you to set the maximum number of concurrent chats for an user at a particular time. On reaching the limit the user status will be changed to engaged.
Email Configurations
Other portal settings configure the e-mail communications your Zoho SalesIQ can automatically send, to keep you, your users, and others in your company informed of important data from your support operations.
To access and edit your email configurations:
Click on the "Settings".
In the Portal Settings section, scroll down to the "Email Configuration" section.
For each configuration, click the e-mail address field to edit the specific address. Or click the check mark icon on the right of each section, to disable a specific e-mail configuration.
List of Email Configurations available:
The From E-mail Address – Define an e-mail address in the "Choose Your From Email Address to be Displayed" which you want to display while sending emails from Zoho SalesIQ such as replying to visitor's missed chat, Daily Statistics, Chat Transcript once a support session is completed, Missed Visitor Notifications and Visitor Feedback.
You have three different options, you can choose any one of the option to be your default "From" email address for replying your visitors:
User: The User individual Email address will be used as the From Email address, while replying the visitors.
Company: The Company Email address will be used by all the users for replying the visitors. Choosing this option will open the "Configure your From Name & Email Address" section, enter the Company name and company email address.
Both: The User can choose between their own Email address and the company email address to reply the visitors. Choosing this option will also open the "Configure your From Name & Email Address" section, enter the Company name and company email address.
The other Email configurations are as follows:
E-mail Copier - Define an e-mail address, which you want to mark automatically while replying to the visitors.
Daily Statistics – Choose whether, or not, to receive a daily report of statistics from your live chat operation, and where to deliver these statistics.  
Block IP Notification - Receive an e-mail alert when an user blocks an IP address from initiating live chats.
Check/Uncheck Visitor Feedback – Deliver the feedback your visitors leave about your live chat user to a specified e-mail address.
Check/Uncheck Chat Transcript - Distribute complete transcripts of your live chats to a specified e-mail address when each chat session is completed.
Check/Uncheck Missed Visitor Notifications – Notify a specific e-mail address, when a customer's live chat request is unanswered.
Signature chat - Add an E- mail signature to all the mails sent to your visitors to chat back in one click, you could choose your desired email signature. (Abyss, Blast, Ebony, Eclipse, Ecstasy, Luna, Wilderness. Selecting none will not add any e- mail signature.
Note: You can add multiple e-mail addresses to these fields, by adding a comma and then typing the next e-mail address.
Changing Portal Owner
You can change the portal owner at any time, with an user who has an administrator role. If you don't have an user with administrator role, you have to change the role of the existing user to an administrator. You can also add a new user with an administrator role.
To change the portal owner:
Click on the "Settings".
Now in the "Company" section click on the link 'Change owner'.
You can see all the user who has administrator role in that portal. 
Select the required user.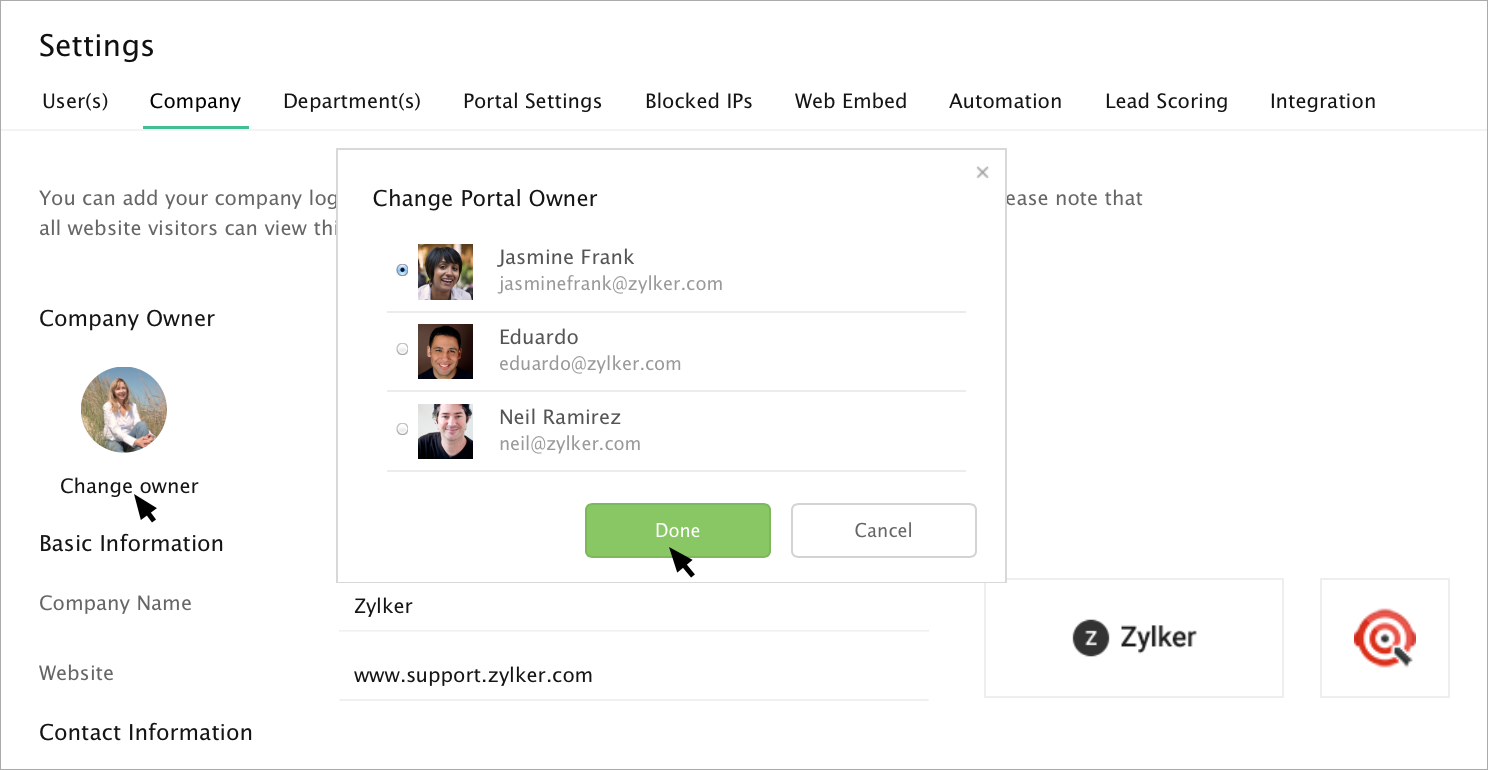 Note: Only an existing "Portal Owner" can assign his ownership to another user.