What is a customer engagement model?
A customer engagement model is the strategy businesses use to build a pathway for their prospects/customers to engage them at any interaction point in their journey, as well as the plan of action to respond effectively to the engagement.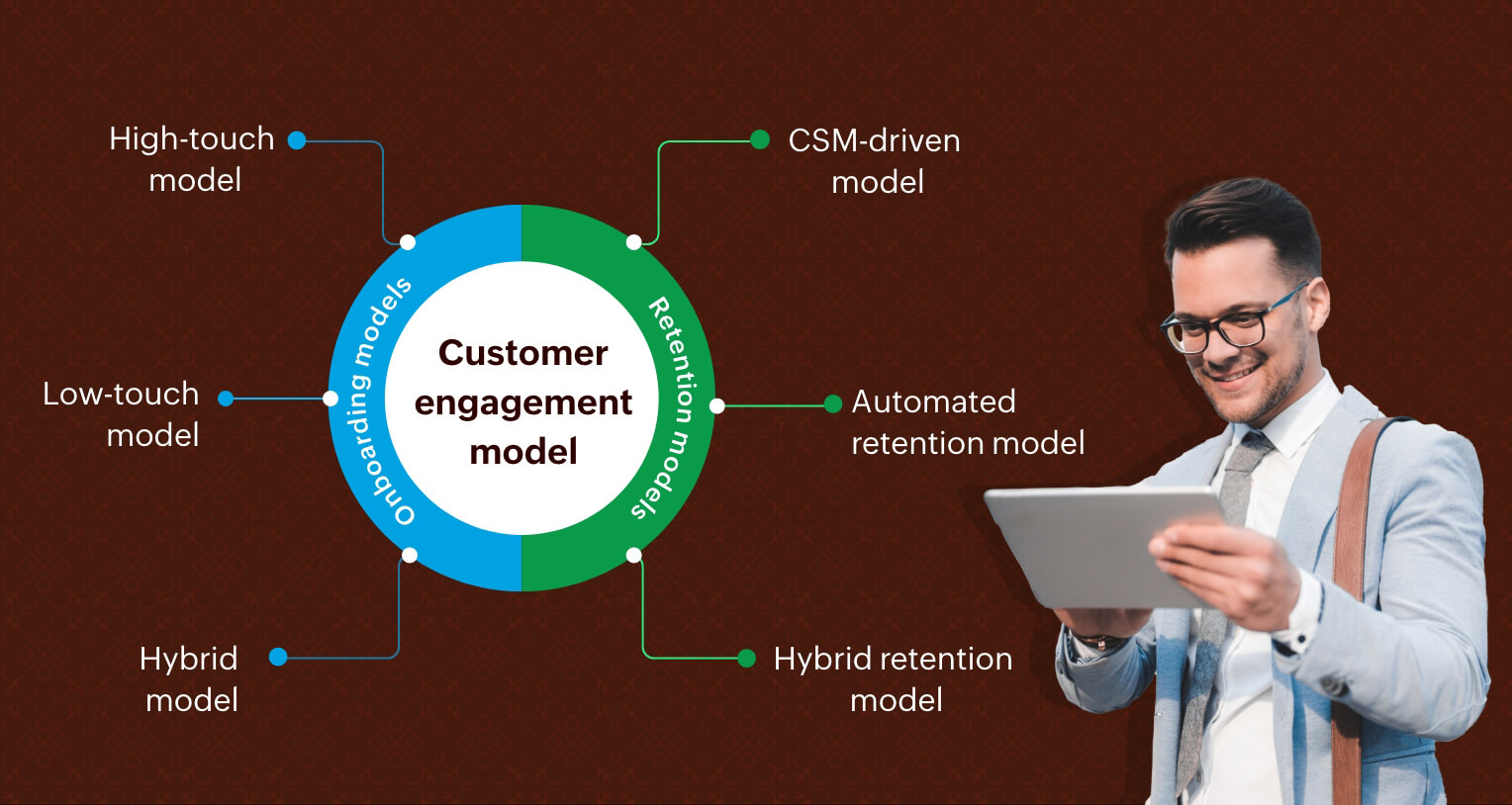 Why are customer engagement models important?
Choices available to people are increasing daily, so businesses can no longer afford to be complacent to upgrade themselves as every prospect and customer expects the best engagement experience from them.
Good customer engagement has become such a non-negotiable experience when people choose a business that if not provided, they'll simply look for an alternative.
We can witness this dynamic shift from both the business and customer's perspective:
Businesses spend a lot of energy, time, and resources in identifying their ideal customer journey, figuring out where the bottlenecks are and how to ease them. They proactively monitor the customer funnel and address the issues then and there to provide the best engagement.
On the customer's front, we see them spending a lot even if there is a cheaper alternative because of the engagement and experience they get from certain businesses. Also, they're willing to compromise a little on the product if the engagement is to their liking.
Customer engagement has evolved to be such a game-changer. Initially, businesses started adopting the best engagement practices as it differentiated them from their competitors, but now they've realized the additional benefits they get to reap.
Benefits of customer engagement models
Better prospect-to-customer conversion ratio: Having customer engagement models helps businesses improve their trial conversion ratio as prospects get instant answers that speed up their decision-making process.
Increased customer satisfaction: As it addresses customer queries and provides instant resolution, customer engagement models help increase overall customer satisfaction.
High customer retention: Because they're satisfied and happy, customers stay with the business longer.
Increased Customer Lifetime Value (CLV): When customers stay longer, they will increase their spending over time, increasing the Customer Lifetime Value.
Stages of customer engagement
Not all customers are equal, and their conversion journeys with you will also be different. That's why businesses devise customer engagement strategies for every customer stage and roll out the plan of action for engagement that will help them maximize conversion. The various customer stages are:
Unaware
People are unaware of your brand's existence and the solution you offer. Even if what you're offering is exactly what they're looking for, they wouldn't know it as they're not aware of your presence.
To acquire customers at this stage, your engagement strategy should promote your brand and imprint the solution you offer on their minds. Because at this customer stage they won't be quite ready to engage, you don't even have to talk about your features, pricing, or how you're better than your competitors.
Discovery
People who know your brand's existence and the solution you offer will come to you when they have a need you can solve.
To those in the discovery stage, your engagement strategy should be about the business value you can offer. Many make the mistake of presenting their list of features to the customers at the discovery stage. The features may make sense to you from your business point of view, but for someone who's just aware of your product, your engagement should be about how you can help them instead of what you have in store.
Consideration
After they're satisfied with the business value, they'll proceed to check the nitty-gritty of your offering to consider how you're better in the market, your pricing, and why they should consider you.
For the consideration stage, you can devise your engagement strategy, which includes feature explainers to help them understand the various functionalities you have in store, comparison battle cards to demonstrate how you're a better choice in the market, and business case studies to let them know that other businesses are making use of your product and succeeding.
You should also add personalization elements in this engagement stage to showcase how your product is the perfect fit for their industry. It'd help them decide in your favor.
Onboarding and retention
After considering, they buy your solution, and you onboard them into your product. The engagement doesn't stop once they buy the product, because if they're unsatisfied at any moment, they'll leave. So, engaging them when they are onboarding is a crucial step.
At this customer stage, your engagement strategy should focus on sharing collaterals that'll help them set up the product and use your extensive functionalities. It'll help them employ your solution across the product and build an affinity towards it, making them stay with you for a long time.
After onboarding, your engagement strategy should aim to earn your customers' loyalty and make them an advocate for your product. Moving them from a paying customer to an unpaid spokesperson isn't easy, but it bears countless benefits.
6 customer engagement models for customer success and how to choose the best models for your business
Onboarding customer engagement models
As onboarding remains one of the crucial stages in engagement, businesses follow three customer engagement models to up their engagement game.
High-touch model
The high-touch model is about creating a one-on-one engagement opportunity for the customers to contact the business at any time to guide them. This customer engagement model is suitable for businesses offering big-ticket products with a longer buying cycle.
For example, say y and an enterprise prospect is evaluating your software for thousands of employees. They wouldn't make that decision in a couple of days. They'd take at least a month to analyze the pros and cons and every nook and corner to check the product's compatibility. Because payroll is a critical function in any organization, the enterprise prospect would require hand-holding at all points of their interaction with your product. With a high-touch customer engagement model, businesses can provide this and close the deal.
Low-touch model
The low-touch model is suitable for businesses dealing with a huge volume of prospects/customers and selling low-ticket products. Their customers wouldn't expect an engagement pathway at every point of interaction as the buying cycle is short. If you're a startup/SMB dealing with low-ticket products, you can do your onboarding with a low-touch model.
Hybrid model
Some businesses require both the customer engagement models we discussed above. They'll sell big-ticket products with longer buying cycles and low-ticket products with shorter buying cycles. If you're a business like this, hybrid is the apt customer engagement model as it combines high and low-touch models.
Some businesses require both the customer engagement models we discussed above. They'll sell big-ticket products with longer buying cycles and low-ticket products with shorter buying cycles. If you're a business like this, hybrid is the apt customer engagement model as it combines high and low-touch models.
Retention customer engagement models
After onboarding, it's vital to retain customers. To help businesses achieve that, there are three retention customer engagement models.
CSM-driven model
Like what we discussed in the high-touch model, CSM-driven is its counterpart in retaining customers. It's suitable for businesses that offer big-ticket products and for which they require instant support.
Businesses would appoint a customer success manager (CSM) as a single point of contact for the customer when they require assistance instead of making them jump through hoops to ask for support. It boosts the customers' confidence in your business and increases their reliability in you. It'd increase their loyalty and help you turn them into your brand advocates.
Automated retention model
A counterpart to onboarding's low-touch model, automated retention is suitable for small businesses that provide economical options and whose customers don't require immediate attention all the time.
Hybrid retention model
The hybrid retention model combines the CSM-driven and automated models to retain customers.
How can Zoho SalesIQ help businesses deploy and run customer engagement models?
Irrespective of the size of your business, industry, or the value of your product/service offering, Zoho SalesIQ, the Engagement Intelligence software, can help you deploy and run the customer engagement model that would directly result in increased customer satisfaction and retention.
Here are SalesIQ's wide range of bot options that businesses can build their engagement model around.
Answer Bot is SalesIQ's NLP (Natural Language Processing)-driven AI knowledge base chatbot. It lets businesses sync their FAQs/knowledge base, and when visitors ask questions, the bot will find the relevant answer from the synced resources. The implementation cost of Answer Bot is zero, and because it's scalable, it's suitable for startups and SMBs that don't have large support teams to handle the volume of tickets. With Answer Bot, you can deploy low agency onboarding and an automated retention customer engagement model.
With the OpenAI integration, Answer Bot is made even more powerful and can be used at every customer engagement stage for better engagement and conversion.
Chatbot options in SalesIQ: codeless and coded, give businesses a free hand in customizing and personalizing the flow to suit their needs. They give powerful options for businesses to deliver various use cases that would be needed for their customers.
Live chat helps businesses provide one-on-one support to their customers. With options such as audio calls, remote access, and screen sharing, they'll be able to deploy high agency onboarding and a CSM-driven customer engagement model. Customer success managers can share SalesIQ's Email Signature Chat to their high-agency customers to chat with them instantly.
Businesses can combine chatbots and live chat to provide the best of both worlds and deploy the hybrid onboarding and retention model.
What are you waiting for? Schedule an exclusive demo to see how SalesIQ can help your business deploy the apt customer engagement model, or sign up for a credit card-free 15-day trial and check it out yourself.