Why is Zobot™ the best AI chatbot software?
Self-service AI chatbots with a human element
Codeless drag-and-drop chatbot builder
Integrations with top AI platforms
Create a virtual assistant with our codeless chatbot builder
You can now build a fully functional chatbot to automate your website live chat without writing a single line of code.
With our codeless website chatbot builder, all you need to do is create a flow for your chatbot using our drag-and-drop interface and type in your bot responses.
Give visitors the answers they need with our AI chatbot builder
Sure, self-service articles reduce your load, but why make prospects forage through articles for information when smart AI chatbots can do the work for them?
Introducing Answer Bot—an NLP-driven AI chatbot that understands common customer queries using Zoho's own AI technology, Zia, and answers them using your resource library. Just kickstart it right from our AI chatbot platform and you're all set!
Train your AI Bot with the right resources
01
Articles
Add documents like product specifications, company policies, and set-up guides that your AI chatbot can share with visitors.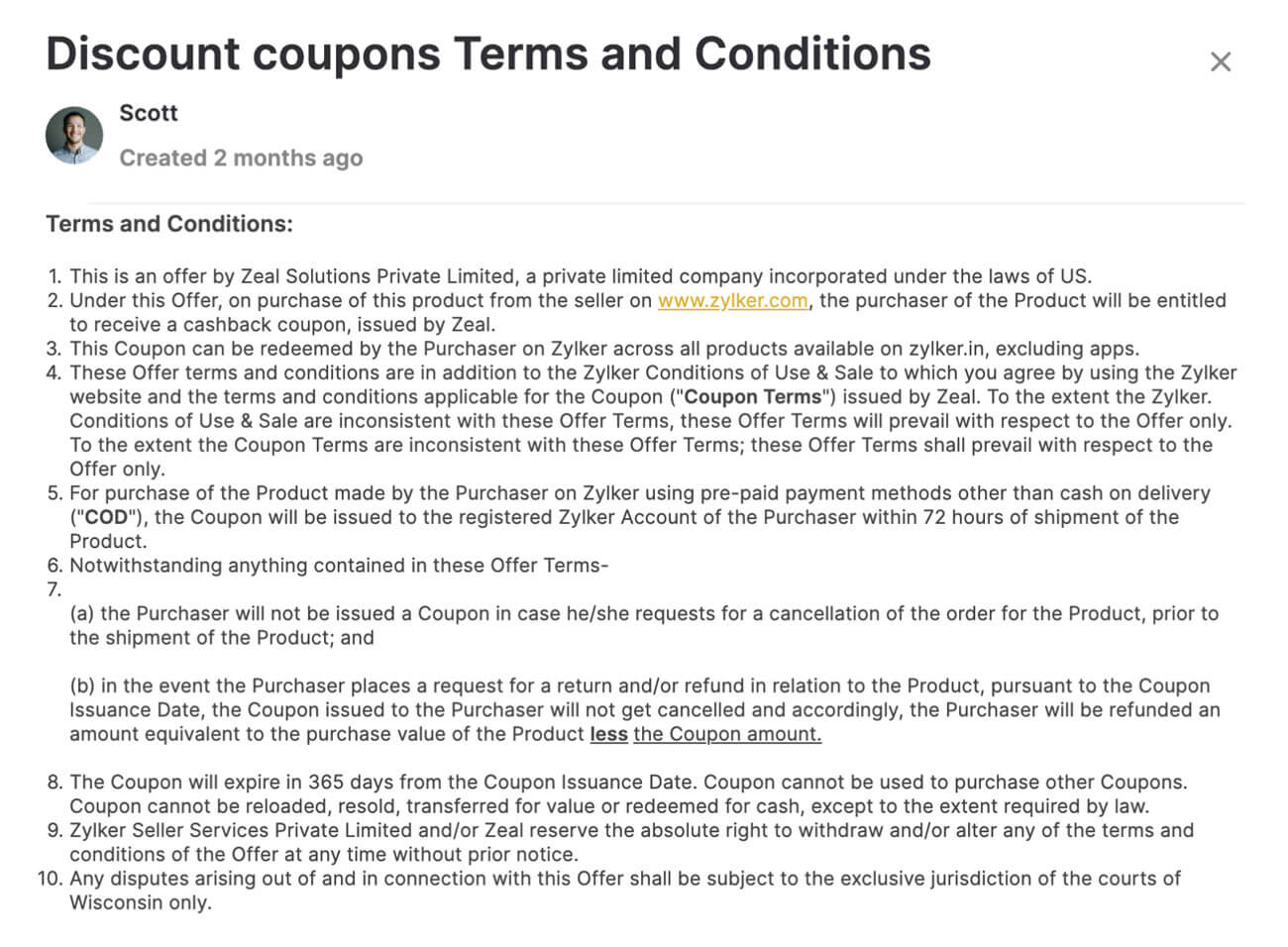 02
FAQs
Provide short responses to common questions that the AI bot can use to directly answer visitor queries.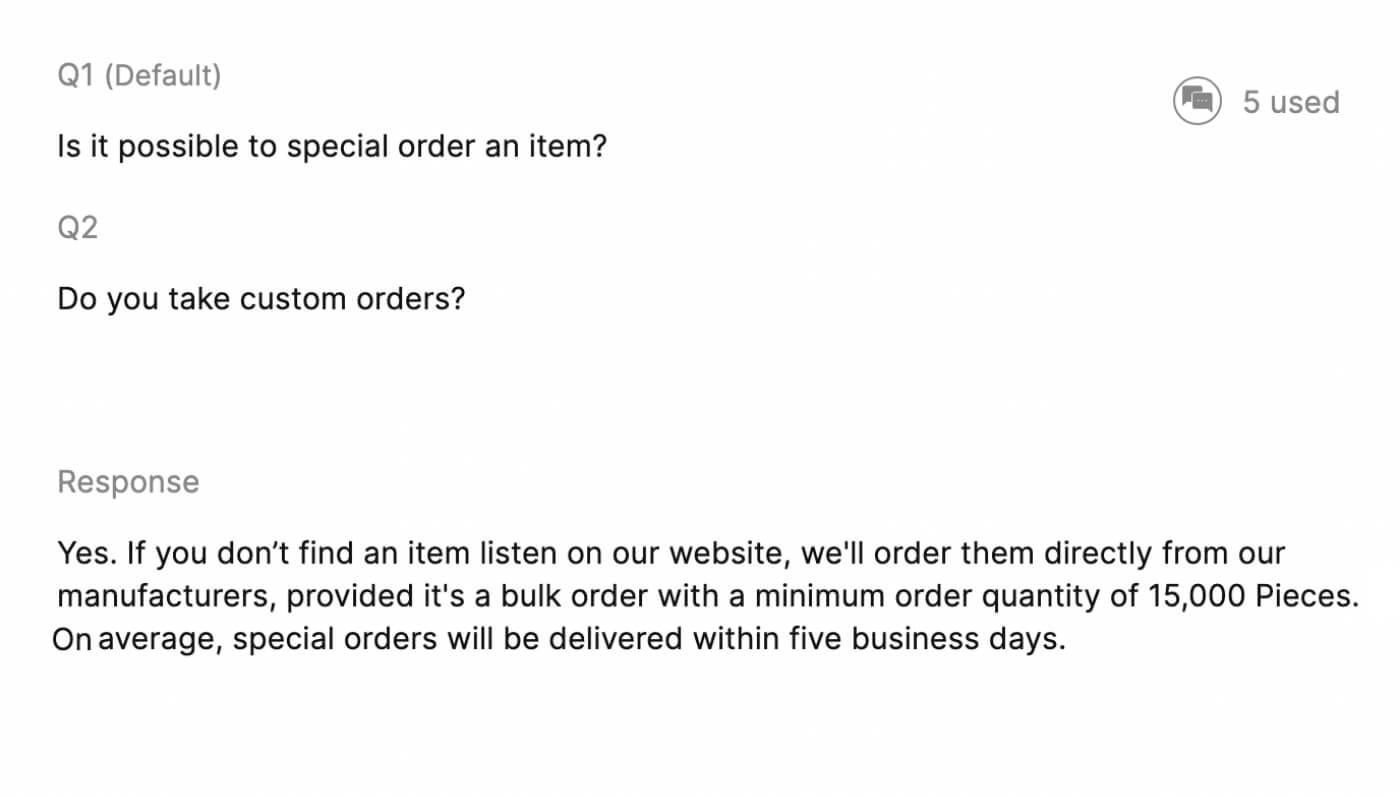 03
Unanswered Questions (UAQs)
Questions that the chatbot cant't find answers to are recorded along with the incidence to help keep your knowledge base updated.
04
Take the
artificial

out of

AI

with Small Talk

Give your AI chatbot a human touch with Small Talk, a library of engaging phrases that facilitates friendly interaction.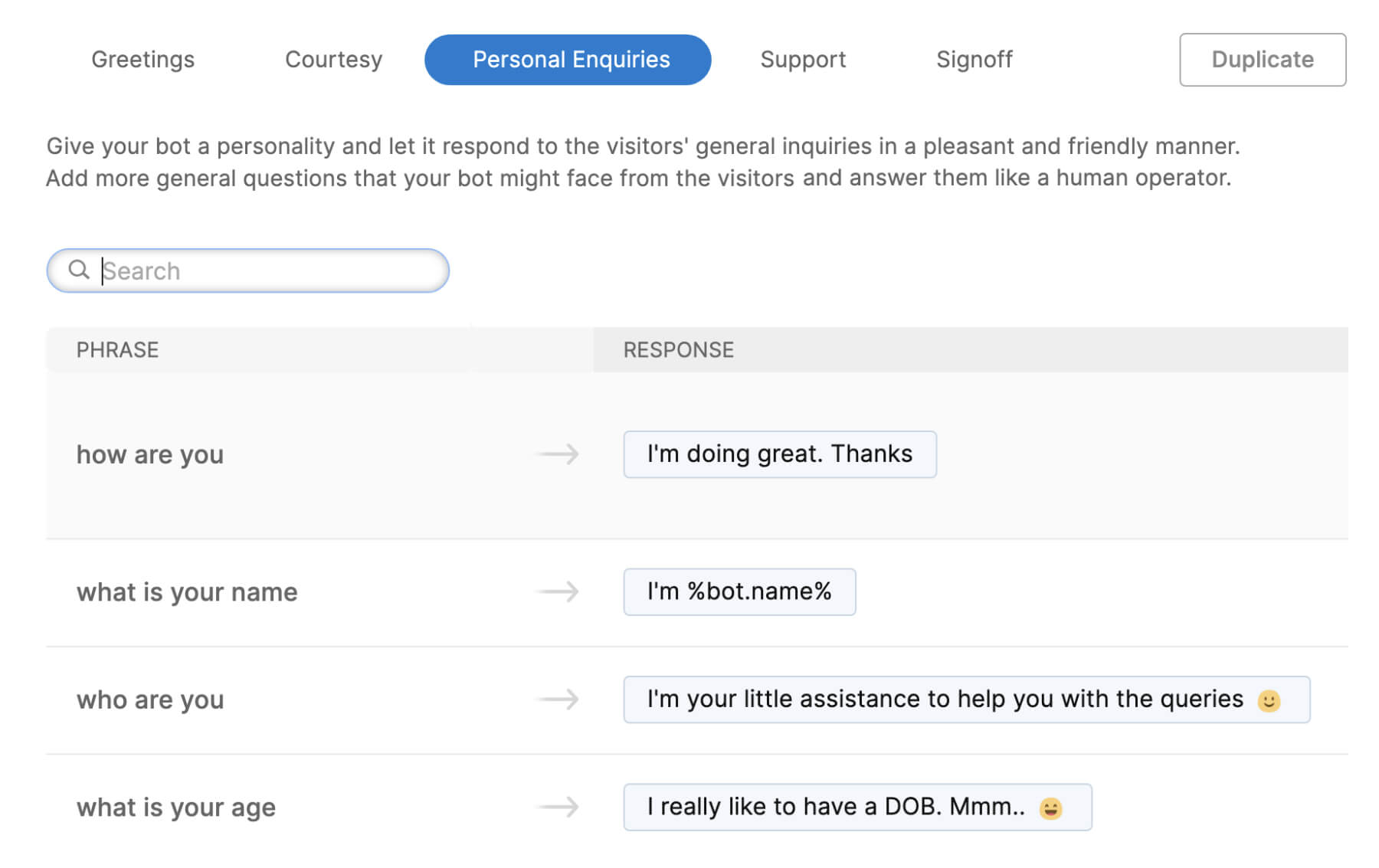 05
Get your AI bot closer to your business with Business Terms
Equip your AI chatbot with Business Terms—a repository of domain and business-related keywords, along with alternates—to respond when customers use jargon.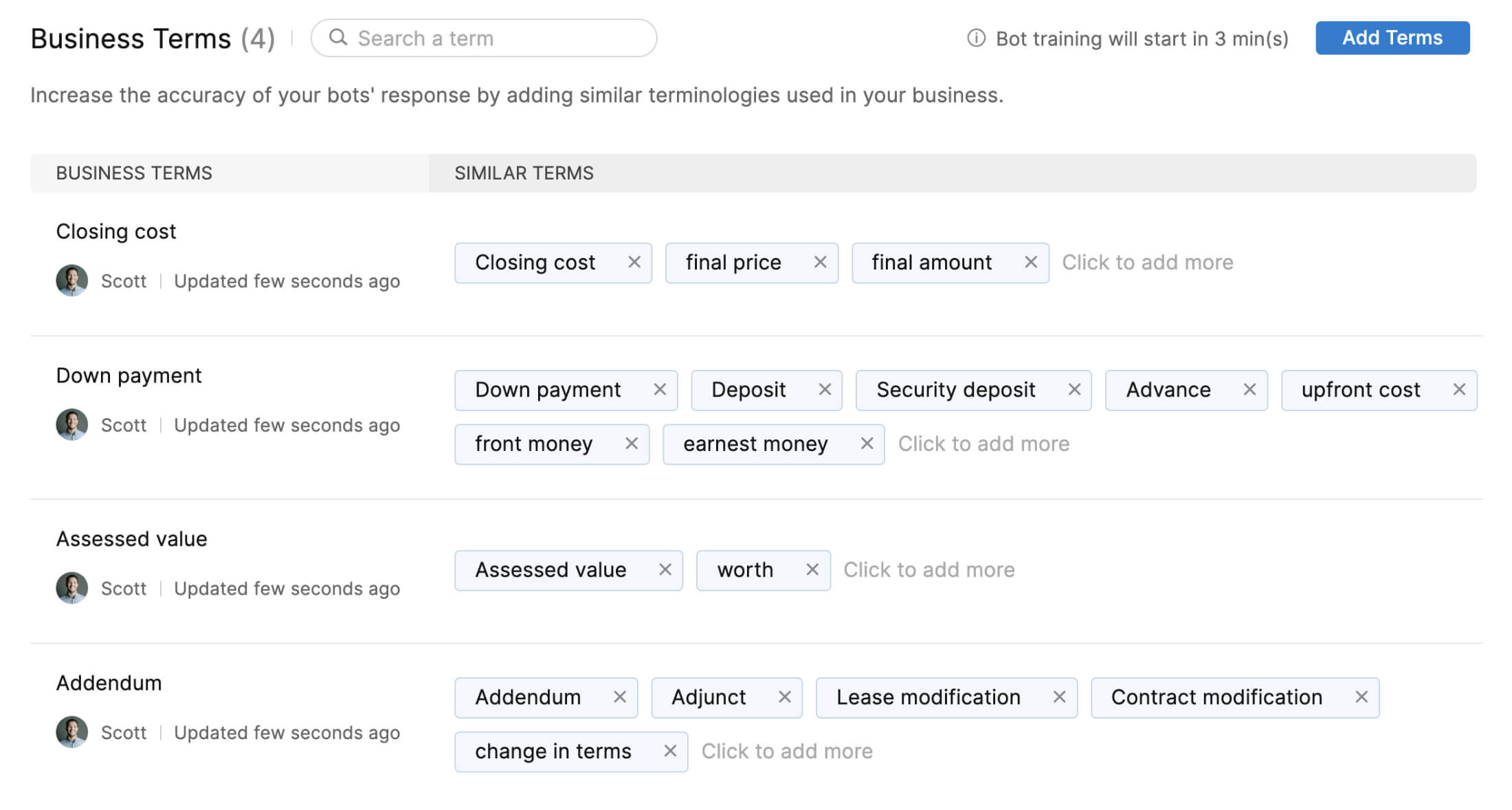 Infuse AI Bot capabilities into your guided bot with Autopilot
You don't have to choose between a guided chatbot or an AI chatbot for your website anymore! Get the best of both worlds with Autopilot—a simple way to add AI bot(Answer bot) capabilities into your rule-based chatbot to make it hybrid.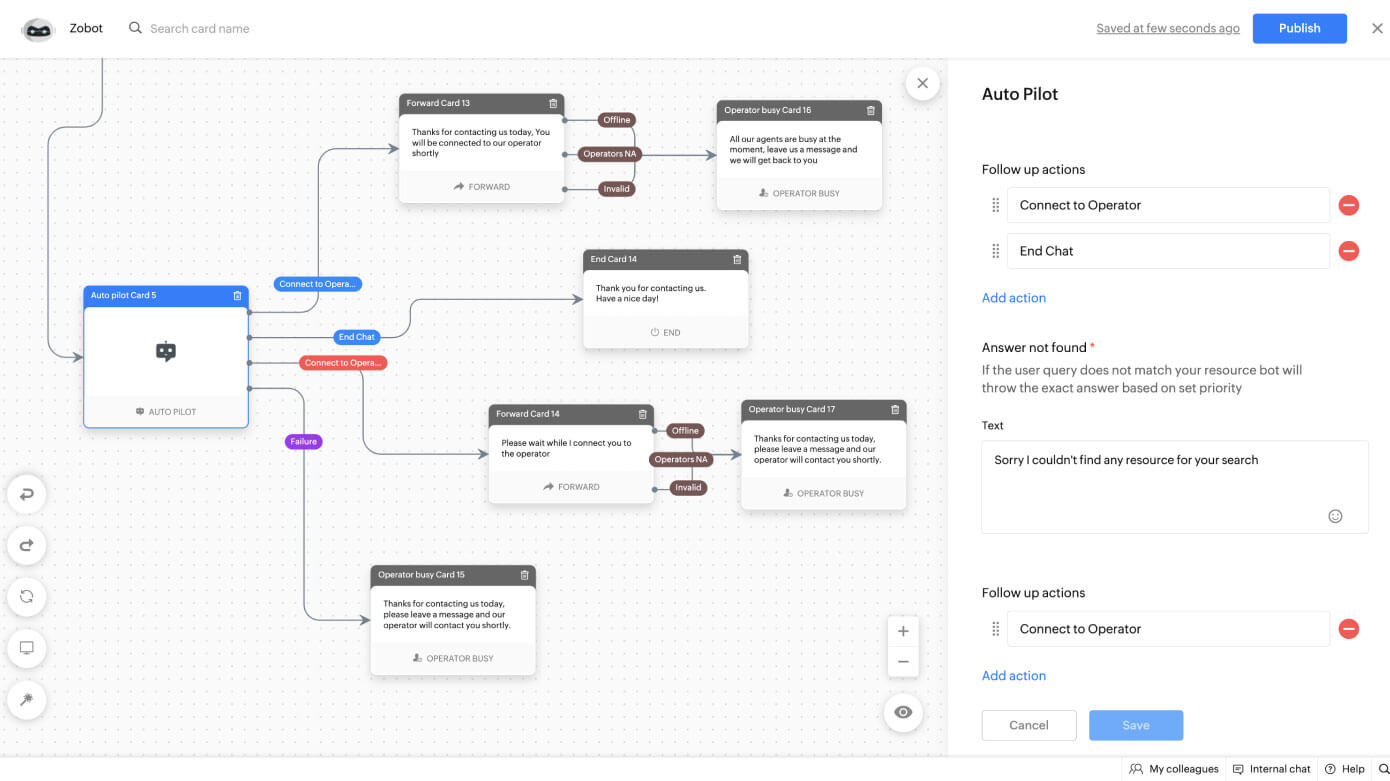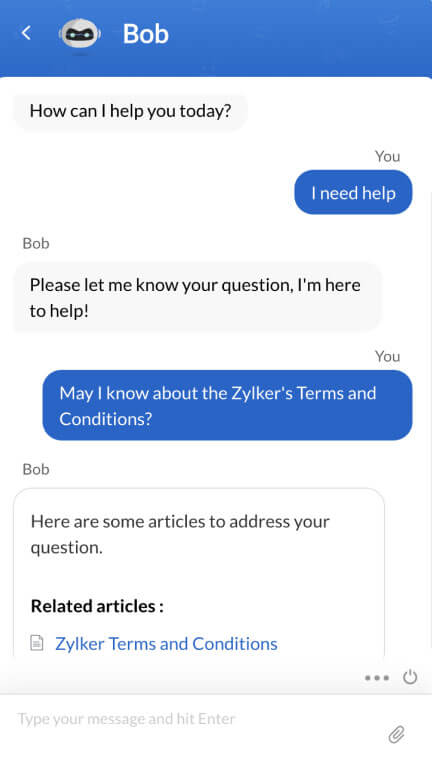 Power your chatbot with your AI technology of choice
Zobot—SalesIQ's chatbot software—also includes an interface that allows you to build AI chatbots with technology you may already be using like IBM Watson, Dialogflow, Microsoft Azure, Haptik and Zia Skills.
Program chatbots your way with our custom chatbot builder
For the coders out there, our chatbot software also includes a programming interface. With some basic coding skills, there's no end to the automation you can do with SalesIQ's chatbot platform.
Our chatbot builder comes with sample chatbot templates you can tweak to your specific industry needs.
Learn more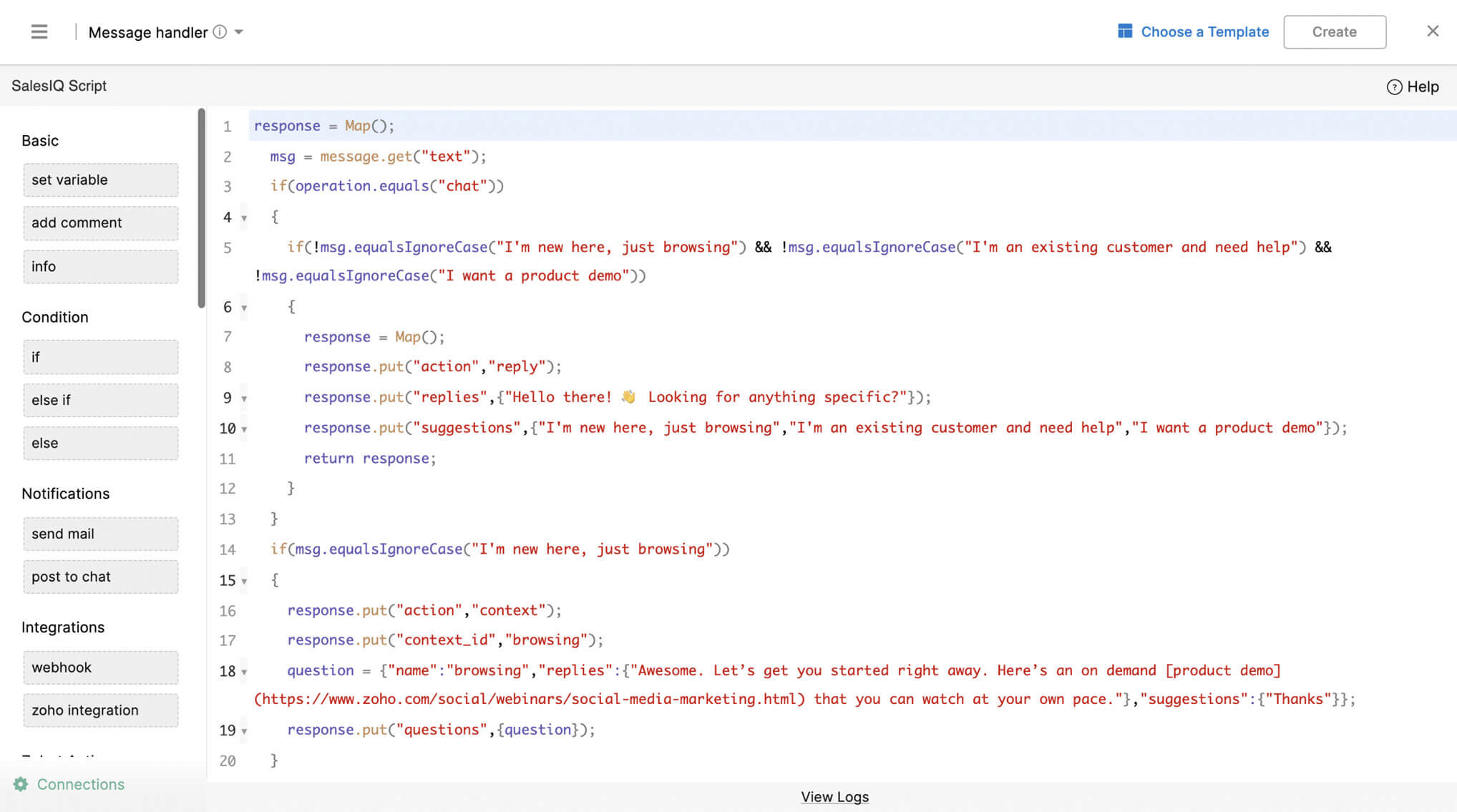 Connect your chatbot with your servers using webhooks
Need a customer service chatbot that's connected to all your internal databases and web servers? Our chatbot software has webhooks to help you do exactly that.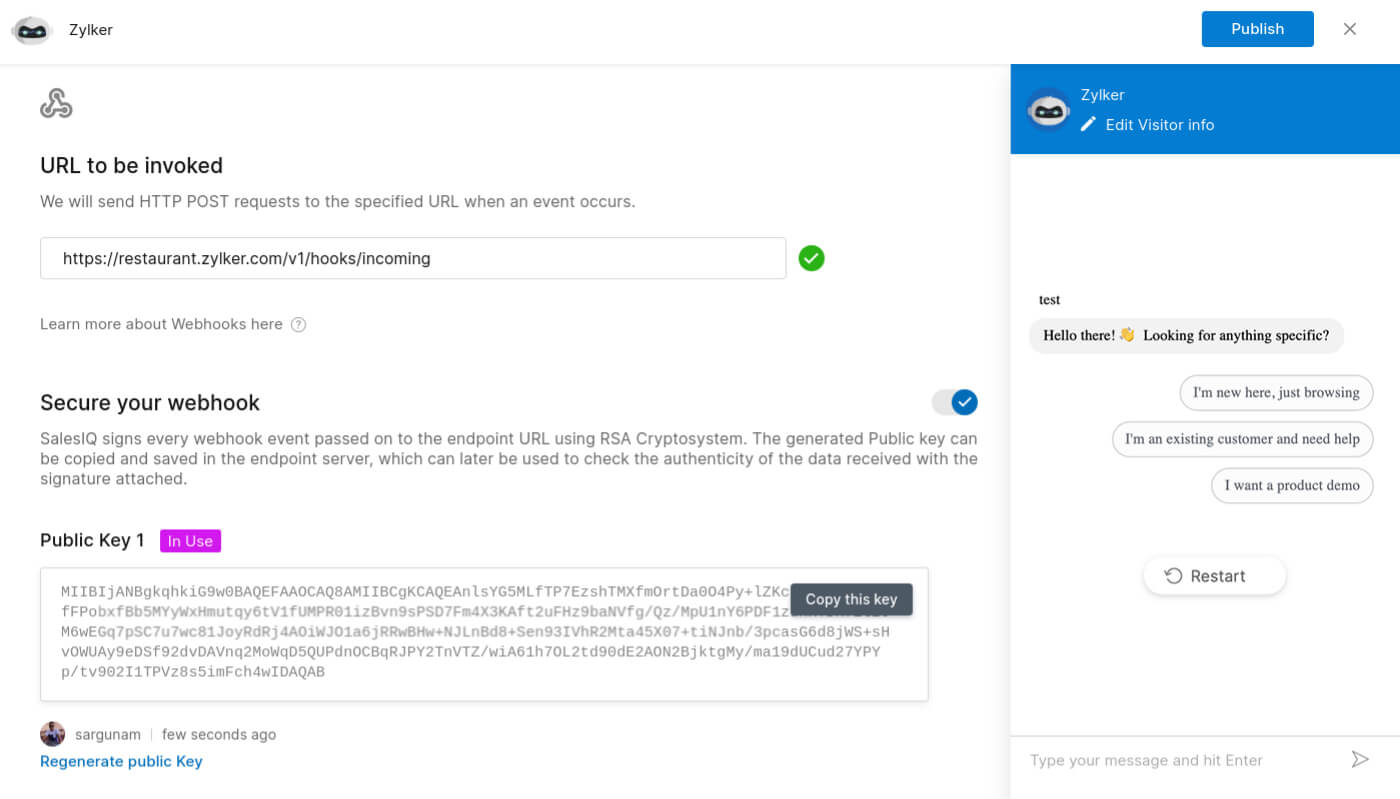 Hear from our customers
"I'd been using Tidio's chatbot but just was not happy with it. When I read about Zoho SalesIQ's new codeless bot builder, I decided it was the one for me. I then watched a couple of how-to videos and started building my bot. Once I got the hang of it, it was so easy to build, and I actually had fun doing it."
Francell BurnettOwner/Agent, Clements Realtors
"Setting up a chatbot in SalesIQ using our existing Google Dialogflow was straightforward. Since Mahindra has multiple brands, like Mahindra Thar and Mahindra XUV 700, we need our chatbot to function based on the content of the webpage, which is possible with SalesIQ"
Vinayak Medhekar Backend Developer, Mahindra and Mahindra
"Hands down Zoho SalesIQ's chatbot saved 35-40% of our agents' time. When a customer enters the live chat, the bot will search their email address in CRM, pull their respective advisor's info, and automatically connect the customer to the right advisor. We're now in the process of developing a diversified FAQ Answer Bot with an Autopilot card to amp up our existing bot."
Ashwath, CRM Executive, FundsIndia
Related resources
Here are some business use-cases and actionable insights to help you make the best use of our chatbot platform
Frequently asked questions
What is a chatbot builder?
Chatbot builder is a software tool that helps businesses create custom website chatbots to automate communication between the business and its prospects and customers.
Types of chatbot building platforms
There are mainly three types of chatbot platforms available on the market:
Rule-based chatbot builders:

- Codeless chatbot builder with a drag-and-drop interface
- Programmable chatbot builder

Smart AI chatbot platforms
Hybrid chatbot builders
Key Features of an AI chatbot builder
Here are some of the key features of an AI chatbot maker:
Completely customizable
Natural language processing
Pairs with your internal knowledge base
Easy hand-off to a human agent
Integrates with all your sales and support tools
Chatbot conversation analytics
Benefits of AI chatbot software
Round-the-clock scalable support with minimal human intervention
Automated lead generation and nurturing
Faster responses and resolution
Consistency in response tone
Helps you save support costs
Better website conversion
Why do websites need an AI chatbot maker?
Here are some signs your website needs chatbot software:
Your website has a lot of traffic that doesn't convert
High intent pages have a high bounce rate
Your sales and support teams have a high load
You receive a lot of support requests outside business hours
Most of your support queries are repetitive
How to choose the best AI chatbot builder for a website?
Here are some attributes to consider while looking for an AI chatbot builder for your website:
Ease and speed of deployment
Customizability and scalability
Auto-recording of information gaps so you can keep it updated
The chatbot learns over time
Closeness to human conversations
Ability for the bots to be easily fixed with little to no downtime
Conversation and data security and privacy
Integrability with your existing tech stack