SalesInbox - A Screen Tour
Access emails via SalesInbox
Once you have configured your email account in Zoho CRM via IMAP, you will see a tab called SalesInbox in your CRM account.
If you have not yet configured your email account via IMAP, please refer to this document >>Configure SalesInbox in Zoho CRM
Click on the SalesInbox tab to view emails from your leads, contacts and colleagues in the sales context and work with the emails. If you have already configured your email account via IMAP in Zoho CRM, go to the SalesInbox tab and click Try Now to start receiving your emails.,
The CRM View
The SalesInbox CRM view is primarily divided into four sections: Deals, Contacts & Leads, Not in CRM, and Colleagues. These sections organize the mailbox and make it easy for salespeople to prioritize, find and respond to an email.

Deals: Deals are the new opportunities that arise from leads/contacts. Email from those contacts with open deals associated to them, will be grouped under this section. A tiny green information strip showing the amount of every potential will appear beside each email.
Contacts & Leads: Contacts are the people in an organization with whom your company has business communications in pursuit of business opportunities. Leads are the unqualified contacts or sales opportunities in your business. They are the raw details gathered about individuals or representatives of organizations collected from trade shows, seminars, advertisements and other marketing campaigns. Email from any of these two customer categories will be populated under this section.
Colleagues: Email from persons with the same domain name as yours, will automatically be grouped under this category. For example, for the account patricia@zylker.com, email sent from addresses from the domain "zylker.com" will fall under Colleagues.
Not in CRM: Mail received from email addresses which are not listed in Zoho CRM or have the same domain name as the host account, will be gathered in this section.
Folders
Zoho SalesInbox comes with default folders such as Inbox, Drafts, Sent and so on. Folders help you categorize emails for easy access and prioritization. SalesInbox also has two pre-existing CRM based folders - Closing This Month and Customers.
Customers: This folder displayes emails from contacts with whom all deals are "Closed Won"
Closing this month: Emails from contacts with whom deals are closing in the same month that the email is received.
You can create new folders and filters from Email Settings. See also: Managing Folders.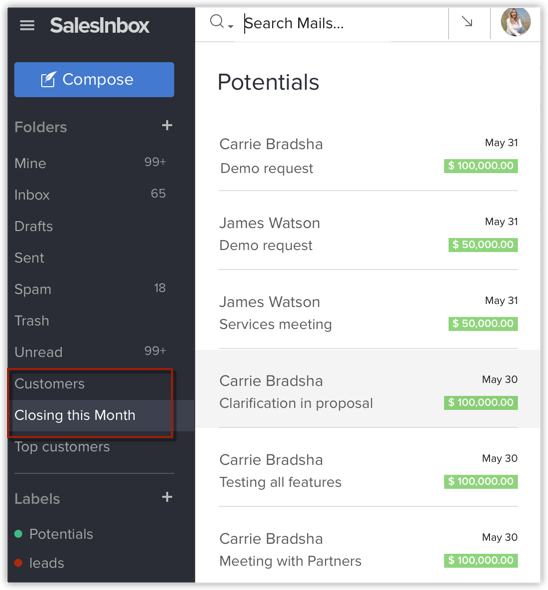 Labels
Labels are tags that can be associated to certain emails for easy recognition - for example, you can apply the label "Tradeshow" to all leads from a tradeshow. These labels are applied on emails that satisfy these criteria.
See also: Manage Labels
Views
The email Views section in Zoho SalesInbox displays emails based on email statistics. Using this section will help you follow up with emails to and from customers.
See also : Email Views
The Email Detail View
The Right Pane
When you open an email, there's a details panel on the right. For all listed (leads/contacts) addresses, the details panel presents the following sections:
Info: This contains contact information of the sender. You can also view a list of all deals associated with that address, and also create a new one if required. Activities can also be seen or created anew, and notes can be taken.
Conversations: This contains a history of all previous conversations with that particular lead/contact. You can choose to view emails sent only by you, or from all users in your CRM account.
Timeline: The Timeline is a chronological list of all activities around the selected record.
For unlisted email addresses that are grouped under Not in CRM, the details panel will have the options to either add them as a lead or contact.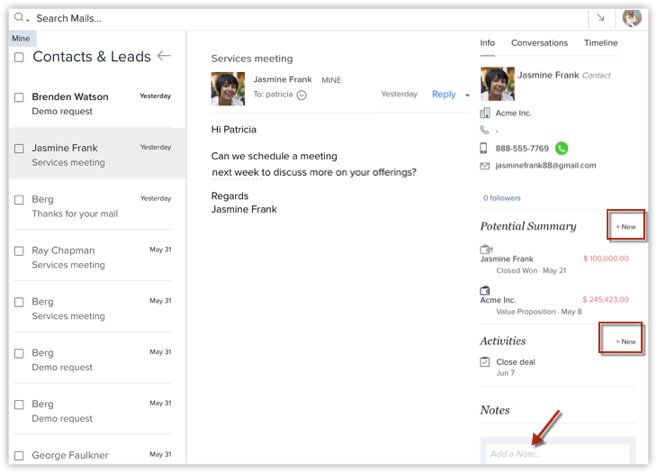 You can create a new potential, activity or note from the Email detail view and this will be added in Zoho CRM.
Add contact Not in CRM as a Lead/contact
One of the key options provided by SalesInbox is the ability to add a Lead/Contact directly from an Email. When an Email is clicked in Not in CRM section, in its details page you would find the option to add that particular mail as a Lead/Contact.
Upon clicking, a pop-up would appear. Enter the details and click Save.
Note:
Emails from colleagues will not be listed under the Colleagues stream in the following cases:

When the private domain of the incoming email address is not the same as that of your email address. In that case, emails will appear in Not in CRM stream. You can convert that sender as a collegue by dragging and dropping the email into the Colleagues stream. From then on emails from that domain in question will be displayed under Colleagues.
When the domain of the incoming email address is a public domain. For example, if the sender's email address is from Gmail, Hotmail etc, the email will appear under Not in CRM. However, these emails cannot be converted as Colleagues as they are public domains.
To view the list of public domains, click here.