How to migrate the trial balance from Wave to Zoho Books?
You can download your trial balance from Wave using the Wave connect add-on. Here's how:
Click the + icon at the bottom left corner to create a new sheet.
Click the Add-ons tab at the top bar then select Wave Connect then go to Reports, then click Trial Balance.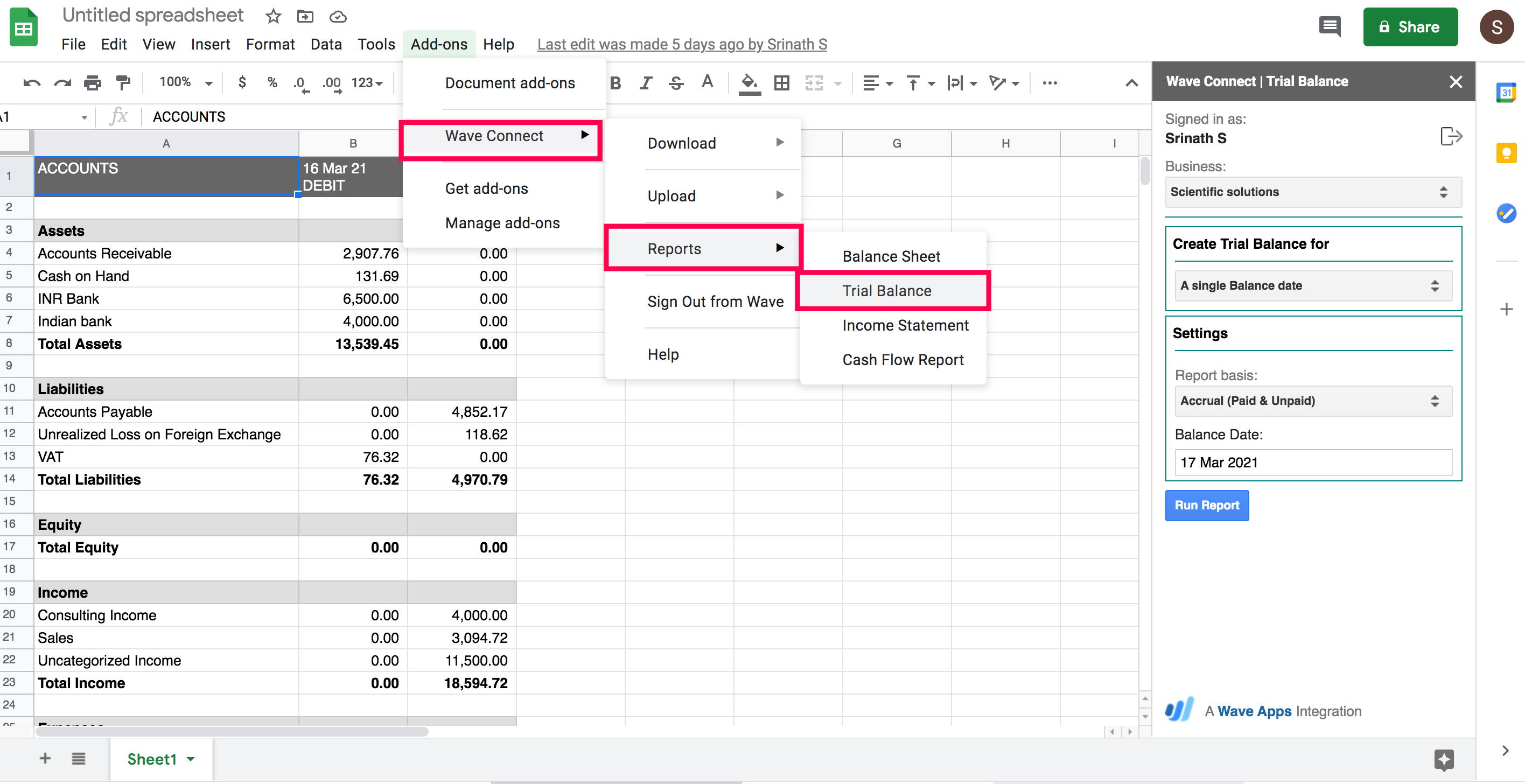 Select the Balance Date in the popup on the right side of the page.
Click Run Report and the report will be downloaded to the Google Sheet.
Next, click the File tab at the top bar, select Download, and select Comma-separated values (.csv, current sheet). The sheet containing the list of your customers will be downloaded to your device as a CSV file. Now, you can use these CSV files to import your data to Zoho Books.
Once you have exported the trial balance from wave, you can import it to Zoho Books. Here's how:
Notes: If your a new user, you can import the trial balance using the migration wizard in the getting started page. To import manually, use the steps below.
Login to your Zoho Books account.
Go to Settings from the left sidebar and then navigate to Opening Balance. Note: The balance in the trial balance account in wave will be the opening balance in Zoho Books.
Click Edit and enter the relevant balances for all the accounts or click the Import Opening Balances option in the top right corner of the page to import the balances.
Choose the file that you downloaded from wave.
Ensure that all the fields are mapped correctly in the Map Fields page.
Mark the box Save these selections for use during future imports if you want to use a similar import format next time and click Next.
In the Preview page, click Import.