I would like to charge my client's credit card/bank account. Can I save it in Zoho Books?
Yes, you can.
You can keep your customers' credit card and bank account details on file so that you can charge them whenever necessary.
Navigate to the Contacts module, select a contact and click on Add New Card/Add Bank Account from the More drop-down. Enter the credit card and/or bank account details and click on Save.
The contact's credit card details will now be saved in your account and you can use it charge him/her.
For Invoices:
Navigate to the Invoices module and select an invoice for which you wish to charge your customer. Make sure you've associated a payment gateway to the invoice at the time of creating it.
Click on the Record Payment drop-down and select the Charge Customer option.
In the pop-up that follows, enter the Credit Card Details and/or Bank Account Details and click on Proceed.
The payment for this transaction will now be processed.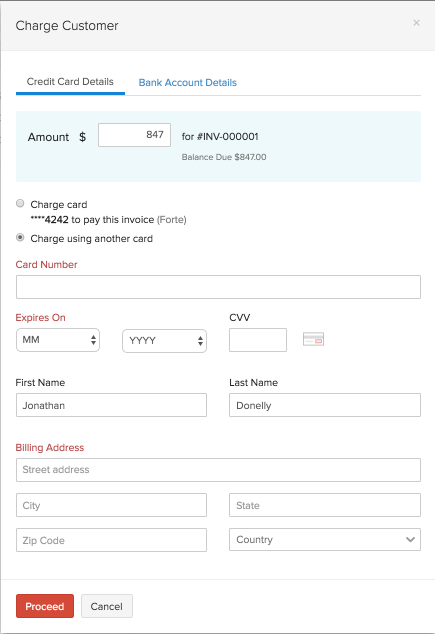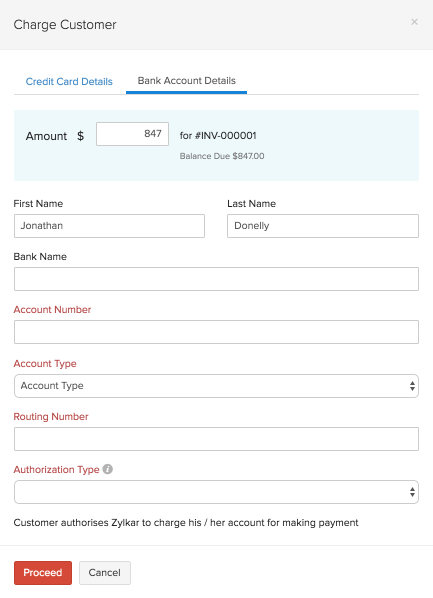 For Recurring Invoices
There are two pre-requisites to charge customers for recurring invoices:
Click on the Gear icon on the top right corner and navigate to Preferences -> Recurring Invoice -> Create, Charge and Send Invoices. Make sure this option is selected and click Save.
You need to integrate with a payment gateway that supports the 'Auto-Charge' feature.
Next, follow the steps mentioned above to add the Credit Card/Bank Account Details to process the payment for recurring invoices.
Note:
Authorize.Net, GoCardless, PayPal Payflow Pro, Stripe, PayPal Payments Pro, CSG Forte, WorldPay and Square are the payment gateways that support the Auto-Charge feature.
Only CSG Forte & Authorize.Net payment gateways support ACH payments. CSG Forte allows both USD & CAD transactions whereas Authorize.Net allows only USD transactions.