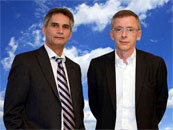 Bart Verhaegen & Phillipe Creytens Cloudcamper, IT Services - Cloud Computing Systems,
A Little about Cloudcamper
Cloudcamper provides cloud computing solutions and online software to small and medium-sized businesses as well as to divisions within larger enterprises. We are systems integrators and migrate organizations off legacy on-premise communication system and/or collaboration tools and move them to cloud-based solutions such as the Zoho suite and Google Apps. We also train and support companies as they embrace the new, cloud-oriented IT paradigm. In addition to or main office in Oostende, Belgium, we have five more remote offices, each staffed by one of our five partners.
Cloudcamper's Challenge
One of our clients, Dutch residential real estate firm Dewaele Property, was using spreadsheets to manage its recruitment - tracking job openings, resumes, candidates, contacts, etc. That's actually a pretty common approach for a lot of companies, especially small and medium-sized businesses. But even some larger firms with in-house, corporate HR departments use Excel instead of a dedicated applicant tracking system. It's not ideal, but it happens.

Dewaele Property has about 12 offices, and each one maintained its own information. One of the limitations of using a spreadsheet to manage information is sharing that information with others, and that was the challenge for Dewaele Property. The company's HR officer is located in one central office, but she didn't have one consolidated list of all candidates. Instead she had to poll each office individually to retrieve its candidate information.
Zoho Solution
By moving Dewaele Property on to Zoho Recruit, we were able to help them share candidate information as well as automate their entire hiring process, from reviewing resumes to conducting interviews and more.

Now, the company has gather resumes from different sources and reach the candidates more quickly. Resumes sent to Dewaele Property as email attachments can be automatically extracted and parsed, with the candidate details transferred directly into Zoho Recruit. The ability to automatically parse and transfer data into Zoho Recruit extends to resumes from social networking sites and other sources, too.

Using Zoho Recruit, Dewaele Property is also in a better position to manage resumes and track candidates' progress throughout the recruitment process. Instead of a static entries in a spreadsheet, the company now has dynamic tools created expressly to help gather its resume database, schedule interviews, etc. And the overall recruitment workflow in Zoho Recruit can be customized to Dewaele Property's unique recruitment process.
Zoho Recruit Impact
Since we moved Dewaele Property to Zoho Recruit, their HR officer has gained an overview of all HR activities. Now, there are four people working with Zoho Recruit, and all office managers have access to the candidates and interviews. Overall recruitment activities are much better organized and centralized.