Easy
'Easy' saves time. 'Easy' saves money. Zoho is an easy company to deal with. Zoho apps are easy to use.
We make it easy to evaluate your options by giving you a fully-functioning trial version of our software for free.
When you're closer to a purchase, we make your comparisons easy by providing predictable, transparent pricing. There won't be any hidden charges that appear out of the blue.
We make it easy to buy systems the way you want: monthly, annually or on a multi-year deal - whatever suits your OPEX or CAPEX budgets.
We make it easy to buy what you want: individual products or product bundles, any number of users, basic or advanced editions. It's even easy to upgrade and downgrade any time you like.
We make Zoho apps easy to learn and easy to use because easy apps make us all more productive.
Pricing
When we say 'value' it's natural to think of 'price'. Why not? Budget always matters.
When you do a like-for-like comparison between Zoho and our competitors you'll find we offer you a massive advantage.
Even if you have a substantial budget, every pound saved on software licences is a pound that can be spent elsewhere.
Here's how we stuck up to the competition
Salesforce Sales
Cloud Enterprise
Microsoft Dynamics 365 Sales Enterprise
Hubspot Sales
Hub Enterprise
Creatio Enterprise

+

Creatio Studio
Affordable
As if a low ticket price wasn't enough, Zoho goes even further to make our systems the most affordable on the market.
The integrations that cost so much time and money from other vendors are an integral part of Zoho's platform.
You can buy product bundles that group functionally-related apps together. CRM Plus, for example, brings customer-facing apps for sales, marketing and service together.
Not only do bundles save you money on the apps you need today, they often include the apps you'll need next year. When you do need them, they're available to you with no extra licence fees.
Customisable
There's something special about Zoho customisation: it's the kind of customisation normal folks can do. You don't need a degree in computer science. You don't need a technician with 20 years of programming experience.
This makes your initial deployment faster.
This makes your system more adaptable to new processes you might adopt next year.
This brings you more value from your system.
Quicker
Zoho deployments are fast.
The integrations that have to be built with other systems are an integral part of the Zoho platform. Our CRM system, for example, already talks to the email marketing system, the project management system, the service desk system, the web chat system, the analytics system, the survey app, the meetings app, the accounting app, the event management app, etc.
When you need to develop different screen layouts to suit different departments, drag and drop what you need on-screen with Canvas.
When you need to develop the workflows and automations that make your business run efficiently, do it with the no-code systems that brings personalisation within anybody's reach.
Single-Source
Dealing with one supplier makes so many lives easier in your organisation.
It's great for your users: they get a single sign-on and single interface for several apps.
It's great for your IT team: they only have to deal with one vendor, one contract and one renewal.
It's great for your finance team: they only have to deal with one supplier.
"So it's quite easy to see a cost saving as a business when we can rationalise from multiple vendors and suppliers and platforms to a single solution. It also means it's easier to manage."
- Richard Thompson, Black Ox
Your value is our goal
As one of the largest privately-held, organically-grown SaaS companies in the world, Zoho can concentrate on delivering value to our customers instead of focusing on investors, acquisitions and IPOs.
"We see creating great software that delivers high value as a craft, akin to a work of art. Our mantra has always been to invest in people and products. That's why most of our investments go towards R&D."
Sridhar Vembu, CEO Zoho Corporation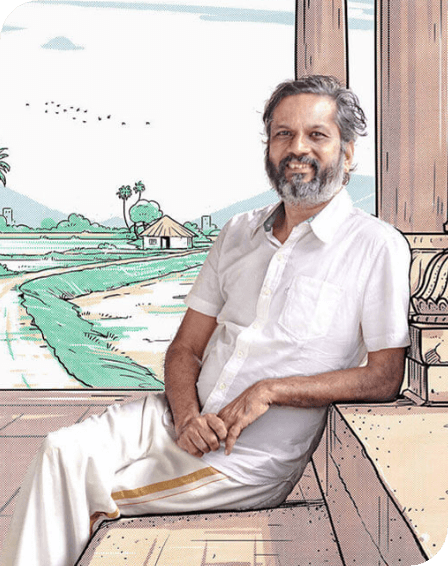 Privacy
In 25 years of being in business, we've been mindful of our users' privacy from the very start. Long before GDPR came into effect, the tenets of data privacy were woven into our corporate tapestry.
We are fanatical about data privacy, and about giving you more control rather than less. It's why we extended GDPR protections to customers around the world.
Moreover, we've never sold customer data or made a single penny from showing third-party ads inside the products. And, we never will.
We've also removed all trackers from our website that ship data to third-parties: your business should be your own, no one else's.