Can I create invoices for the projects in my Zoho Projects account?
Yes you can.

Go to the Timesheet module on the left sidebar.
Select a project that you are currently working on.
Click the New Transaction tab on top of the page.
Select Create Invoice.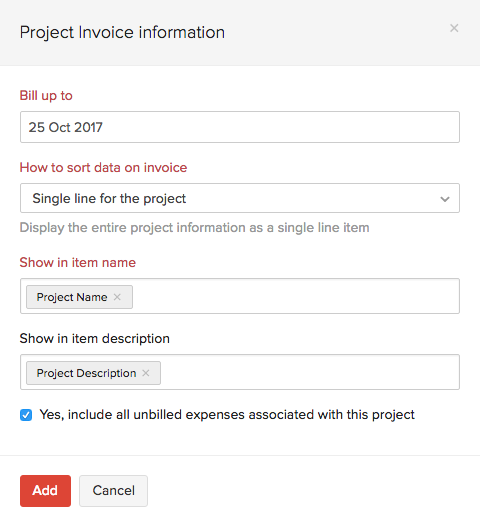 | Fields | Description |
| --- | --- |
| Bill up to | Select a date until when you would like to bill your customers for the work done. |
| How to sort data on invoice | Choose how the project, timesheet, tasks and user information should be displayed on the invoice, from the options provided in the drop down. |
| Show in item name | Select either the project, task or staff name to be displayed as the Item Name in the invoice. |
| Show in item description | Select from a list of options from the drop down to display as item description. |
If there are any unbilled expenses in this project and if you would like to bill your customer in the invoice, please check the Yes, include all unbilled expenses associated with this project.
Click Add and you will be navigated to the invoice creation page, with all the details added. Make changes in the invoice, if any and send it to your customer.