Effortless management is the keyword of our Resource Utilization chart
Show off your resource availability for specified periods in Zoho Projects with our Resource Utilization software. The most important aspect of any online project management tool is to monitor the workload of each resource. Some resources might be optimally allocated whereas some might be over-allocated with tasks. The Resource Utilization software allows you efficiently to manage resources proportional to their workload and availability.
The benefits of the resource utilization chart are endless: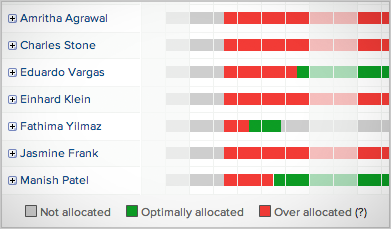 Resource Availability vs. Workload
Allocate work based on the availability of resources. Compare resources and their workload to allocate tasks consistently. Managing workload, proportional to the available resources is daunting but with Resource Utilization chart you can now easily find the over allocated resources and those with available time. And the color codes help in distinguishing the work load.
Red - Over allocated
Green - Optimally allocated
Grey - Not allocated
Team Status for the Selected Period
View your teams task for the selected week or month - all in one place. You can view resources and their allocated tasks for the selected week or month. Plus you can also select a date or month to views its schedule.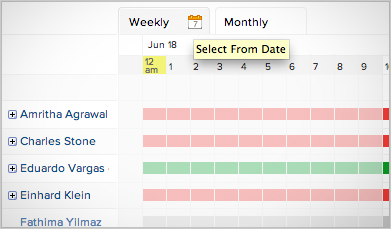 Edit Tasks
Edit tasks and change task owners in seconds. Expand a selected user to view his tasks and then click on the task bar to edit its properties. All this can be done right from the Resource Utilization chart.