Project Meetings
With Zoho Projects you can schedule team meetings, gather notes, post slides and manage all important happenings from a central place. If you miss any important meeting don't worry you can see past meetings which lists details of meeting like presentations, gathered notes and everything that happened during the course of a meeting.
Schedule team meeting
There may be an approaching milestone and you would like to know the progress of the project by your team. So for this you need to schedule a meeting with your team to know the latest status.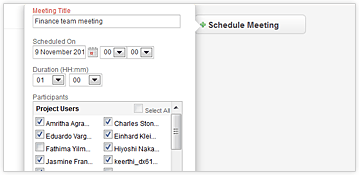 See open meetings
You can see all your scheduled meetings getting listed in Open Meetings categorized as Today, Tomorrow and Later along with meeting date, meeting location, attendees and associated documents (if any).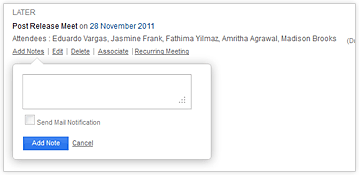 View elapsed meetings
We've provided an option to see Elapsed Meetings where you can check the logged details of meeting like presentations, references etc happened during the course of a meeting. With this, keep yourself up-to-date on the latest happening inspite of missing a meeting.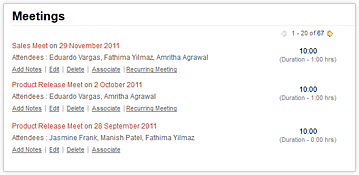 Add notes / documents for a meeting
You may schedule a fortnightly seminar for your team on a particular subject and may feel like your participants must be aware of the basics of the subject prior to the meeting. So for this, you can associate a meeting with documents and useful materials as references.