Taskslist
A taskslist (also to-do list) is a list of tasks to be completed, such as steps toward completing a project. A group of tasks comprises a tasklist in Zoho Projects.
Table of Contents
Add a Taskslist
The tasklist gets created and you can start adding your tasks for this tasklist.
Edit / Delete a Taskslist
To edit a tasklist :
Mouseover the tasklist. A small menu gets displayed
Click Edit Tasklist from the menu
Update Task List form opens up with editable contents
Make required changes and Click Update Task List icon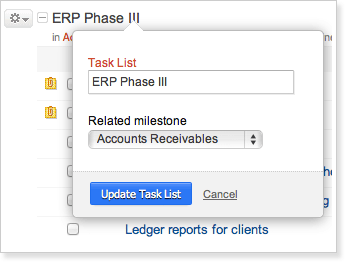 To delete a tasklist :
Mouseover a tasklist to find delete link
Click delete link shows an alert message Do you want to remove this todolist and related todo tasks
Click OK button. This deletes your tasklists and related tasks.
Reorder Taskslist
You would've added a set of tasklists and later need to priortise and rerrange based on project needs.
Click Reorder Taskslist link
Mouseover the tasklist you can find a drag and drop icon to reorder it
Click Save Order icon