Task Dependency in Projects
Task Dependency is a relationship in which a task is dependent on other task(s). Zoho Projects supports Finish to Start dependency.
 Task dependency view
Task Dependency view helps the project team to get bird's eye view of dependent tasks. Also dependency view links tasks so that the dependent tasks are automatically adjusted when a top task is rescheduled. A sequence number is given to Tasks based on start date. Seq.No's are used when adding dependencies. 
Here is the community link to our user discussions about task dependencies in Zoho Projects.

We've put help snippets for you to know more about Task Dependencies implemented in Zoho Projects.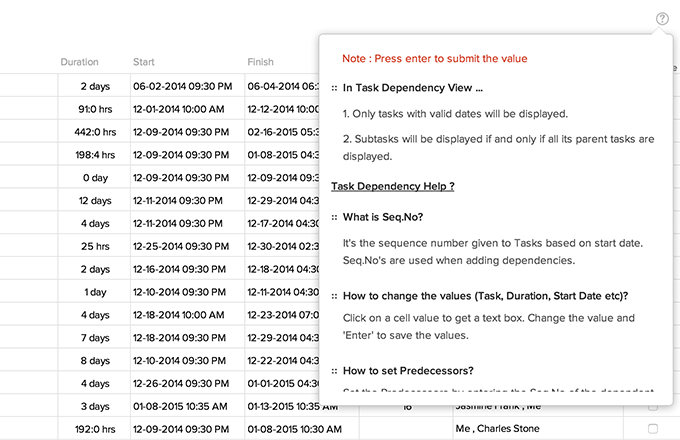 Note:
If you modify the End Date of the parent task, the Start Date of the child task is also altered at times. Based on Business Hours settings, if the child task or successor task falls on a weekend or non-business hour, the Start Date of the child task is adjusted to the next working day or business hour.
 Predecessors
Predecessor task is whose start or finish date determines the start or finish date of it's successor task. You can set dependency between tasks from this view. You can click the Predecessors column against any particular task, enter the parent task's S.No and then click Enter to save the dependency link.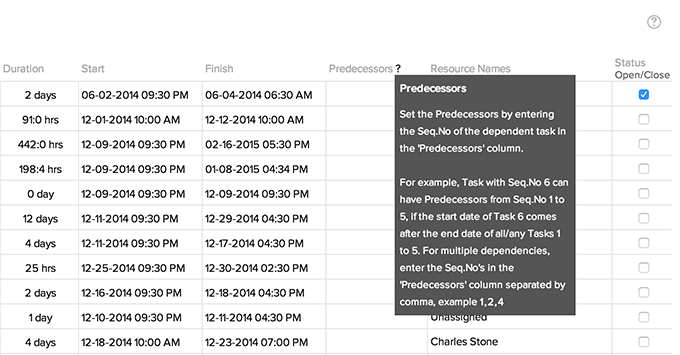 Validations for task dependency
You cannot set dependencies, between tasks with the same Start and Finish dates. 
A warning message about task conflicts is displayed if the dependent tasks share the same dates. The warning message is also displayed whenever there are other kinds of date conflicts between the dependent tasks. 
You cannot set dependencies, between a child task whose Start date is the same as the Finish date of the parent task.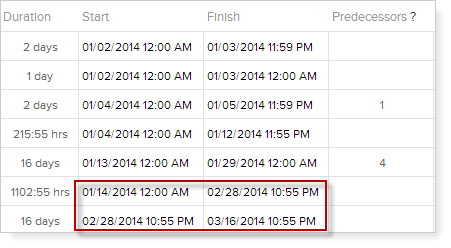 Note:
However, you can set dependencies for these tasks if the Start time of the child task is later than the Finish time of the parent task.
If you pre-pone the Start date of the successor or dependent task without modifying the predecessor's Finish date, a warning message is displayed.


If you post-pone the Finish date of a predecessor task, then the Start and Finish dates of the dependent or successor task(s)
 will also be updated to reflect the number of days or hours shifted in the Finish date of the corresponding predecessor task.
A successor or dependent task will have a Start date later than the predecessors Finish date.
You can close a successor task only if its predecessor task(s) is closed. A warning message is displayed, if you try to close a dependent task without closing its predecessor task(s).
You can set dependencies for tasks across task lists.
 More about dependency view
You can add comments about predecessors, view the task dependency list and task details from the Dependency view. Learn More about how you can use task dependencies in real time.
Related Topics
Tasklist | Tasks | Subtasks | Copy / Move tasks | Gantt View