Project Customization
Project customization facilitates options to reorder and organize tabs, file bugs, post a forum topic and upload documents all through an email. The Project Customization icon is displayed on the right side of the dashboard. You can view a comprehensive list of all the project activities such as weekly digest, task progress, bug progress, overdue tasks and so on for the selected project.
 Organize dashboard
Select the required project, and then click Project Customization on the right side to customize your project settings. 
You can select the required project wizards as well as reorder the wizards and save the order to be displayed on the dashboard. You can just drag and drop the wizard to reorder.
 Organize project tabs
Organize the project tabs based on your choice. You can drag and drop the tabs to reorder and save the new order. The Portal Owner can organize and reorder tabs as per the project needs. This way unused tabs can be conveniently disabled. Also the most wanted tabs can be reordered as per the priority of the project. In addition, this feature is also extended for client users too. Click For client users, and choose the tabs, that you want to share with your clients, so that they can view the information only from those tabs enabled for them. 
 Edit project
Project overview helps your team members and clients to quickly understand the purpose and scope of this project. The project overview is displayed on the dashboard only if you have enabled the Show this project overview by default check box in the project. If required, you can edit the overview from the dashboard. You can click on the Maximize icon to expand the Edit Project screen and edit .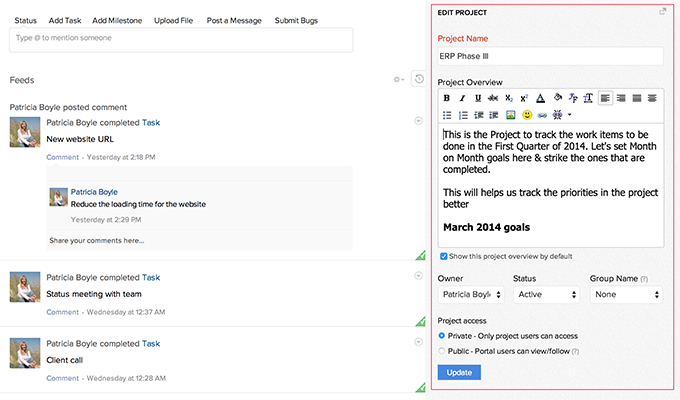 You can also edit the project overview from Projects.
 Related Topics
Latest Activites | Dashboard Updates | Feed Updates | Quick Add