You can configure parameters like email settings, notifications and client permissions to track bugs and set access privileges.
Notifications
Notification pattern allows you to notify the respective project users about the bug details. You can notify the assignee, reporter or selected resources in the project. You can set the default notification pattern for bugs.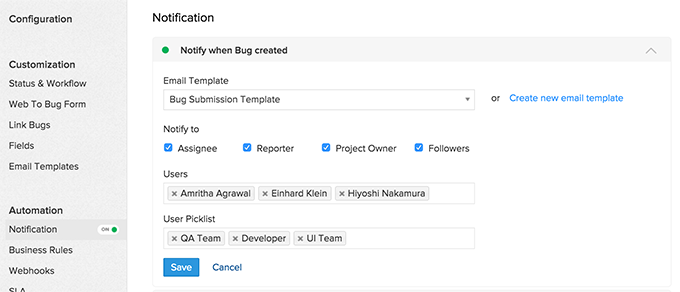 You can enable notification mails when a bug is created, assigned, closed, reopened, etc.
In

Projects

, select the required project, and click

Bugs

. Choose

Bug Settings

from the displayed option and in

Automation

, click

Notification

.

You can enable or disable the notifications.

Configured notifications are highlighted in green and the yet to be configured notifictaions are in grey.

Also, click on the notifications to expand or collapse them.

In Email Tempalte, choose or create an email template for your mails.
In Notify to, select the required option. You can notify an Assignee, Reporter, Project Owner, and Follwers.
In Users, select your required mail recipients.
In User Picklists, select the required picklist.
Click Save to send the notification mail.
With Email Template, you can customize the notification mails to be sent. Learn More about Email Templates.
Configurations
Configuration allows you to add a bug prefix to every project, set the authorization rights for the clients, and configure email settings.
In Projects, select the required project, and click Bugs. Choose Bug Settings from the displayed option and then choose Configuration.
Bugs prefix
You can add a common prefix for the bugs filed from a project. You may be working on multiple projects and it's confusing when you do not know to, which project a bug belongs to. Adding a prefix to the bugs filed from every project makes categorizing much easier.
In Bugs Prefix, you can add a prefix and configure the bugs.

Client permissions
Configure your client permissions and privileges. You can set the default client permissions to view the bugs for the selected project. And you can collaborate with your clients and work on the bugs.
In Client Permissions, select the required permissions for the selected project.
Note:
Bugs can be assigned to client users only when Assign external Bugs to client users is selected.
Email settings for bugs
Configure email settings, to forward bugs to Zoho Projects from your configured mail ID. Email settings allows you to configure an email account as a POP account. In addition, add "@pop.zohoprojects.com" ID as a forwarding address in your email account.
In Email Settings, add the required mail ID to forward the filed bugs.