Project Notifications in Feeds     
Feeds in Zoho Projects gives a bird's-eye view of all the happenings in a project. You can view all the project related notifications such as Status, Announcements, Forums, Documents, and Activity Stream. In addition, you can filter your timeline based on any selected month.
Updates in feeds
It is possible to view the project's progress right from your Feeds.You can view the notification for all the projects in the Home page Feeds and the individual project updates inside the selected project Feeds.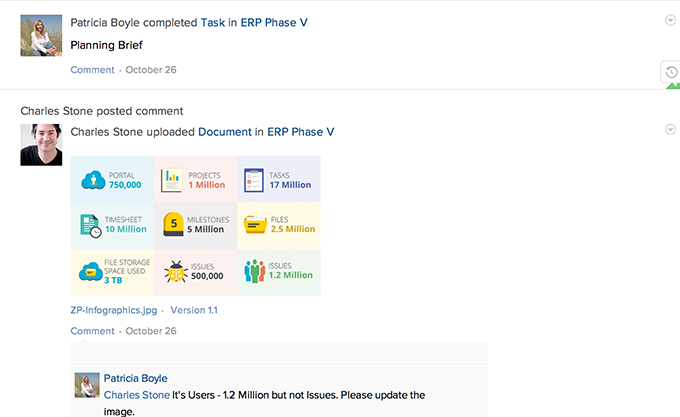 Activity stream
Catch a glimpse of all that's happening in all the projects in your portal. Activity Stream helps you to know who is doing what. 
You can see a stream of activities for each update in tasks, bugs, milestones, forums, and documents. You can view everything in a logical order.
You can click on a user profile in Feeds and view the complete activity stream of the selected user. You can also send a direct message to the user or Chat or Follow the user.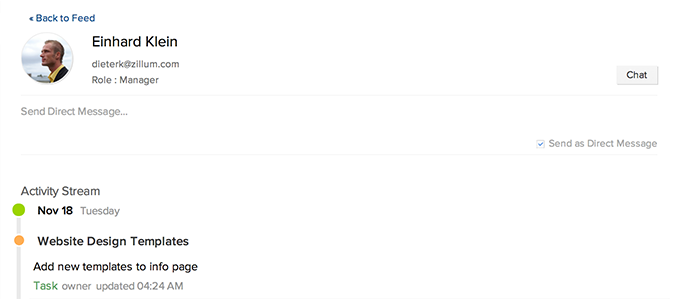 When you are into a projects dashboard, you can filter the recent project activities based on announcements, status, forums, activity stream, and documents.
Set priority, progress and close a task
You can set priority, change the progress percentage, and mark a task complete directly from the feeds view. Click the down arrow next to the task feed and then click Set Priority and set the priority.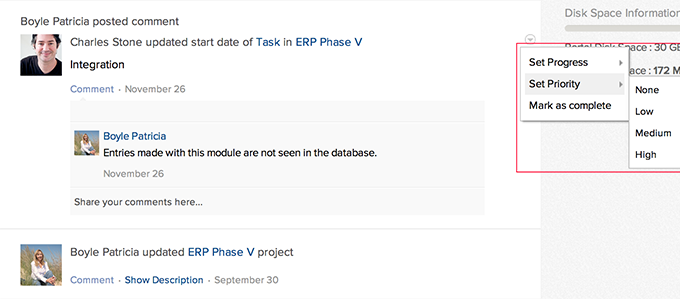 Click the down arrow next to the task feed and then click Set Progress to select the percentage.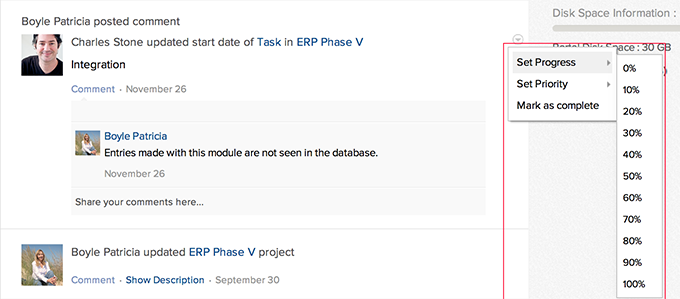 Click the down arrow next to the task feed update and then click Mark as complete to close the task.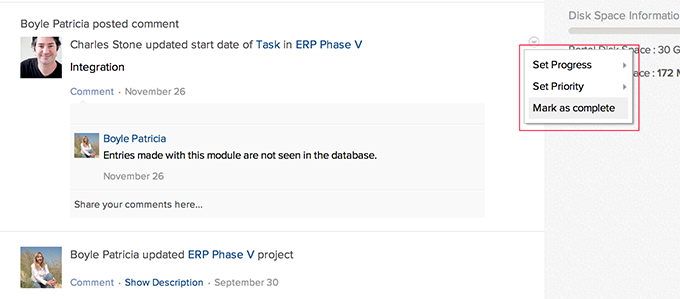 Resolve a bug
Click the down arrow next to the bug feed update and then click Resolve Bug to close the bug. You can add attachments or screenshots when resolving a bug. Once a bug is resolved you can Show or Hide Resolution directly from the feed itself.