Latest Activities
Latest Activities in Zoho Projects gives a bird's eye view of all happenings in a project. It keeps you well informed on the progress of a project.
 Latest Activities
Latest activities view list all the latest happenings going on in a project. Each update is differentiated visually for a better understanding of the update.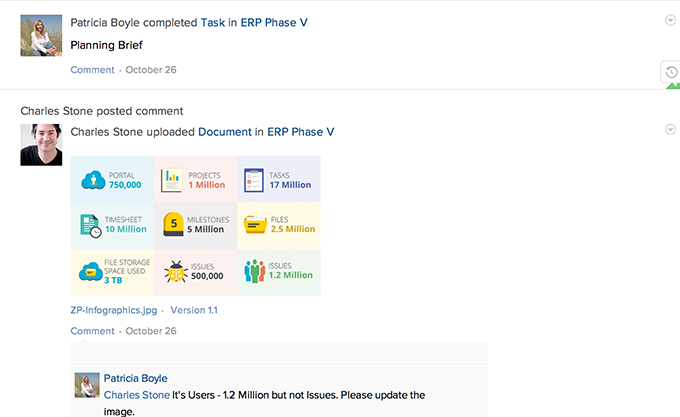 What am i working on right now..?
You can tell your project team mates now what you are working on, for example...Want suggestions for credit and ledger redesign. By this let your team members know what you are currently working on.

 User Status
Find out what other team members are working on. The Users Status tab lists all details of your project members.
To delete user status :
Click Delete icon
An alert message Do you want to delete this status ? is displayed
Click OK button. This deletes the user status from dashboard
Your user status will get deleted.

 Project Overview
Create an overview of your project to help your team members and clients quickly understand the purpose and scope of this project. You can specify your project goals too.
Note:
Show Project Overview and Hide Project Overview are present as toggling views.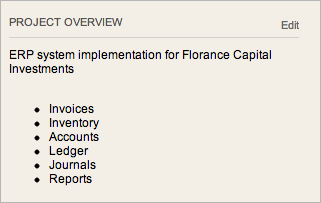 We've provided an option to edit your project overview.
Click Edit Overview option
This opens a Project Overview form with editable contents
Make required changes in the contents
Click Update icon
Your latest project overview is updated.